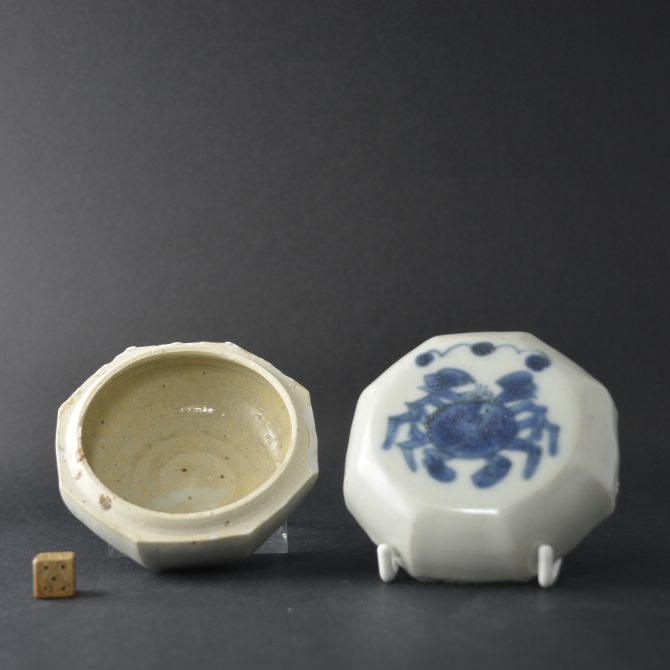 A Ming Blue and White Porcelain Box and Cover, 16th Century
A Ming Blue and White Porcelain Box and Cover, 16th Century. The octagonal form is undecorated apart from the top which depicts a crab. Boxes of this type were widely exported to South East Asia during the 16th century. Crabs appear on Ming porcelain, normally combined with fish and aquatic plants. They appear to have not specific symbolism for the Chinese, so it is possible crabs had a meaning for the people who imported the porcelain. Boxes and covers of this type were shipped with their covers attached, so that the correct cover stayed with its base. However, in this case they had a problem removing the cover because some glaze had filled in between the joint, this has caused some damage to the edges when it was divided in the 16th century. In the past I had some tiny porcelain boxes and covers from the Vung Tau Cargo (Kangxi c.1690-1700) that still had their covers attached and were full of sea-water.
Condition

In good condition, original damage (see description). Chip to footrim.

Size

Diameter 8.9 cm (3 1/2 inches).

Provenance

N/A

Stock number

25307

References

For Ming porcelain boxes and covers from this period see : Chinese Blue and White Ceramics (S.T Yeo and Jean Martin, South East Asian Ceramics Society Exhibition, Singapore 1978, Arts Orientalis 1978). page 135, plate 36.
More info