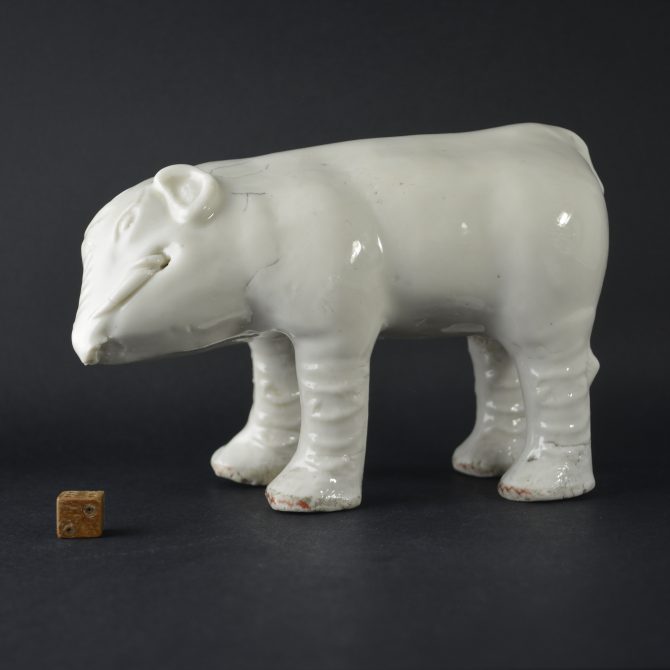 A Kangxi Blanc de Chine Porcelain Elephant
1662 - 1722
A Kangxi (1662-1722) Blanc de Chine Model of an Elephant, Dehua Kilns, Fujian Provence. This mould Blanc de Chine porcelain elephant would have been made for export to the West and would have been a strange, unfamiliar and rather whimsical object. The luting lines are rather open and the trunk was lost during biscuit-firing but this was no concern, they just glazed over the stump. Proof of its early arrival in the West is provided by traces of unfired red pigment that still remain. It is difficult to know how many Blanc de Chine porcelain imports were Cold-Painted in Europe as all too often the fragile water soluble pigment was washed or rubbed away.
Condition

In good condition except for firing faults. One of the back legs has an open firing crack the whole way around it. Further firing faults include the from leg, side and around the ear.

Size

Length 17.8cm (8 inches) Height 11.7 cm (4 1/2 inches)

Provenance

N/A

Stock number

25282
More info
Information
Elephants / Xiang :
Although symbolically important the elephant is not commonly depicted on Chinese ceramics. When it is the depiction, unlike so many animals, it can look unreal and rather odd. Presumably this is because the ceramic artist would have been unfamiliar with an animal, their numbers became diminished and were limited to certain areas of the country. It is thought that China`s elephant population is only in the region of 300 today. The Asian Elephant (Elephas Maximus) is sometimes depicted on Chinese ceramics as an animal with a rounded back and with lose fitting skin, but it can be shown as a powerful animal decked in rich cloth and carrying a vase on it`s back. Like so many other Chinese symbols the meaning it conveys is connected with the pronunciation of the word. Xiang (elephant) is a homonym for the word happiness. A rebus is formed when an elephant is depicted with a rider, usually a child, this conveys a `wish for happiness`. An elephant with a vase forms a rebus meaning `perfect peace in the universe`, this is expanded if there is a saddle cloth to mean `perfect peace and harmony in the universe`. The elephant is also closely connected with the Buddhist religion. An uncommon but interesting image of an elephant can be found on a few pieces of blue and white porcelain from the Transitional period. These scenes depict the Buddhist ritual of washing an elephant. For a Transitional blue and white brushpot dating to c.1640 with a version of this scene see : Late Ming, Chinese Porcelain from the Butler Family Collections (Exhibition catalogue, Sir Michael Butler, Musee National d`Histoire et d`Art Luxembourg 2008. ISBN 978-2-87985-029-0) page 125, plate 86. Another blue and white porcelain Transitional brushpot shows a boy with a brush cleaning the elephants back, see : Seventeenth-Century Blue and White Porcelain and Copper-Red and Their Predecessors (Exhibition Catalogue, S Marchant & Son, London, June 1997) page 53, plate 30.
Blanc de Chine Porcelain :
The porcelain known in the West as Blanc de Chine was produced 300 miles south of the main Chinese kiln complex of Jingdezhen. The term refers to the fine grain white porcelain made at the kilns situated near Dehua in the coastal province of Fujian, these kilns also produced other types of porcelain. A rather freely painted blue and white ware, porcelain with brightly coloured `Swatow` type enamels as well as pieces with a brown iron-rich glaze. However it is the white blanc de Chine wares that have made these kilns famous. The quality and colour achieved by the Dehua potters was partly due to the local porcelain stone, it was unusually pure and was used without kaolin being added. This, combined with a low iron content and other chemical factors within the body as well as the glaze, enabled the potters to produce superb ivory-white porcelain.