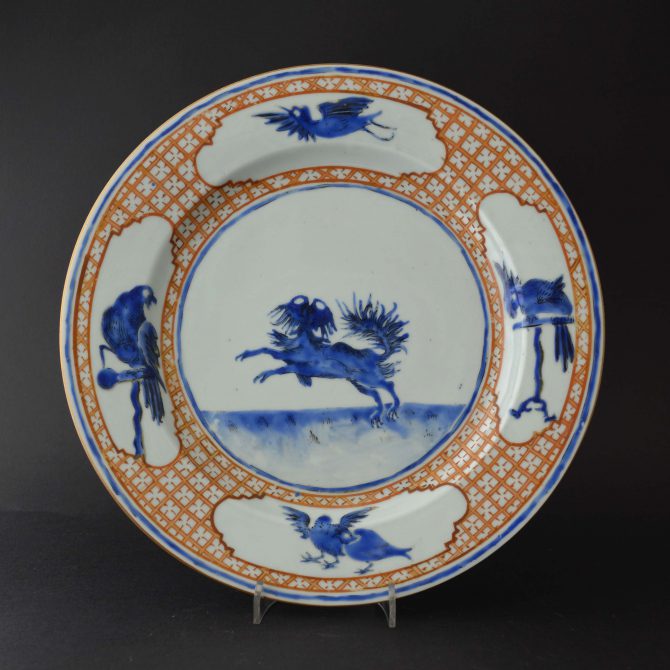 Chinese Export Porcelain Dish 'The Pekinese and the Parrots'
c.1735 - 1745
A Chinese Export Porcelain plate with the 'The Pekinese and the Parrots' pattern, early Qianlong c.1735 -1745. Perhaps from the studio of Cornelis Pronk (1691-1759). Decorated at the centre in blue enamel with a leaping pekinese dog, the iron-red trellis border reserved with parrot and other bird cartouches.

Condition

In very good condition. There is a flake to the back from the rim, this is mostly glaze c.4 x 4 mm. Some very minor wear.

Size

Diameter : 26.5 cm (10 1/4 inches)

Provenance

N/A

Stock number

24828

References

For a very similar Chinese Export Porcelain Plate See : Ancient Chinese Trade Ceramics from The British Museum, London (Various authors, Chen Kang-Shuen,1994) Pages 182 and 183 Item 78.
More info
Information
This design displays close similarities to those drawn up by the Dutch draughtsman, Cornelis Pronk, who was commissioned by directors of the Dutch East India Company from circa 1734-1738 to produce designs to be transferred on to Chinese porcelain. Although the drawings for this particularly pattern have not been discovered, such examples may well have been made in his studio, since they would appear to be of very similar date and design. David S. Howard and John Ayers refer to this design as "The Pekinese and the parrots" (China for the West, vol. I, London, 1978, p. 296) and also suggest that it may have been designed in the Pronk studio.