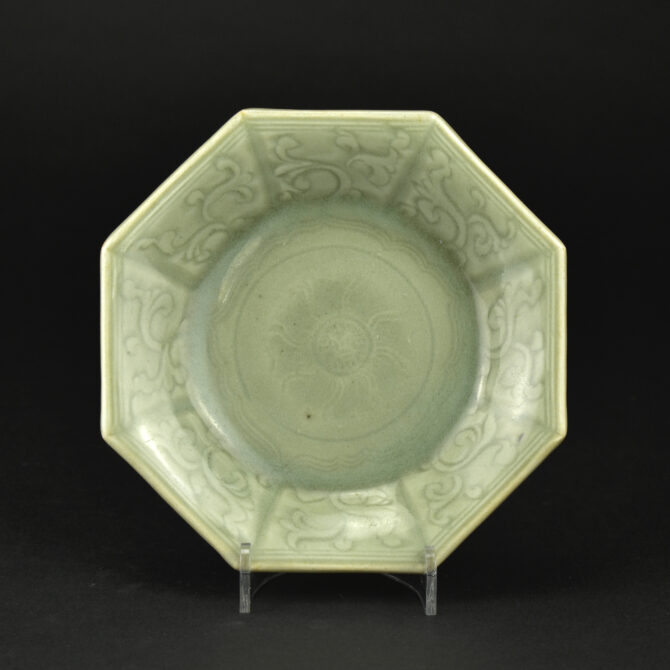 15th Century Ming Longquan Celadon Dish
Ming 15th Century
A Fine 15th Century Longquan Celadon Ware Dish, Longquan Kilns, Zhejiang Province, from the collection of John Drew (see Provenance). This small thickly potted Ming celadon dish has a very good colour, strong enough to have a rich appearance but thin enough to expose the decoration. The central design is lightly moulded and consists of a flower head within a circle, this is framed by a carved triple line bracketed border. The panels of the hexagonal dish are incised with foliage and the dish is finished with three parallel close to the rim.  The back is also carved.  The base is wiped clear of glaze and has fired a brown iron rich colour. There is a central lump of glaze adhering to the middle of the base.
SOLD
Condition

In very good condition, minor wear that can be seen in a racking light (see Photograph Gallery below).

Size

Diameter 14.8cm (6 inches).

Provenance

The John Drew Collection John Drew was born in 1933 in Tideswell, Derbyshire, where his father was curate. The family moved to Norfolk whilst he was still a baby and his father became the rector of the parish of Intwood and Keswick. He was educated at Sedbergh School and after National Service in the R.A.F. being taught Russian, he went to Queens College, Oxford to read Greats (Classics). He spent nearly all his working life in various African countries as an archivist, moving to a post at Cape Town University in 1978. He remained in Cape Town after his retirement until his death in 2006. He had a great love of the English countryside (but not the climate) and this is shown in many of the pieces he collected. His taste was varied and ranged from Neolithic right through to the 18th Century. When we sent photograph to his home in Cape Town of pieces we thought he might be interested in, he would write long funny well observed letters back, wanting to add many of the items to his growing collection. Over the years we got to know him better and better, and during the last few years it was very rare for him to not want all the pieces we offered him. We knew his taste, even though his taste was so varied. This was in no small part because he had a very good eye and it was a pleasure finding things that interested him, because they were also very interesting to us. He never got to put his collection on display, something he hoped to do while on retirement in England, so it is with a mixture of pleasure and sadness that we offer these pieces from his collection this June. Each piece has a John Drew collection label, so when the collection is split up there will be some lasting record of the love and hard work he put into his two decades of collecting.

Stock number

26654
Information
Celadon Ware
Celadon is a term used to describe several types of Chinese stoneware and porcelain, as well a ceramics from other countries, notably from Korea and Japan. The term is a imprecise one, applying to various types of green glazed ceramics, but not all ceramics with green glazes, there are several wares that have a green glaze that are not refereed to as celadon. For example Green Jun and Ge Ware. For this reason there has been a move to try to clarify the situation by using the term `Green Ware`. But for now Celadon is a more familiar and therefore useful term. The origins of the term Celadon are not clear, one theory is that the term first appeared in France in the 17th century and that it is named after the shepherd Celadon in Honoré d`Urfé`s French pastoral romance, L`Astrée (1627), who wore pale green ribbons. (D`Urfe, in turn, borrowed his character from Ovid`s Metamorphoses.) Another theory is that the term is a corruption of the name of Saladin, the Ayyubid Sultan, who in 1171 sent forty pieces of the ceramic to Nur ad-Din, Sultan of Syria. Yet a third theory is that the word derives from the Sanskrit sila and dhara, which mean "stone" and "green" respectively. Celadon ware originated in Zhejiang Province in the Eastern Han Dynasty, however green monochrome glazes can be found on stoneware much before that date. Zhejiang is were the famous Longquan Celadons were made but Celadon wares were also produced at Jiangsu, Hubei, Hunan and Jiangxi. The production of Celadon Ware required a reducing atmosphere of around 1300 degrees C., the colouring agent was a mixture of iron oxide and titanium. The glaze was applied very thickly, and was full of tiny bubbles which defuse the light giving the appearance of richness and softness.