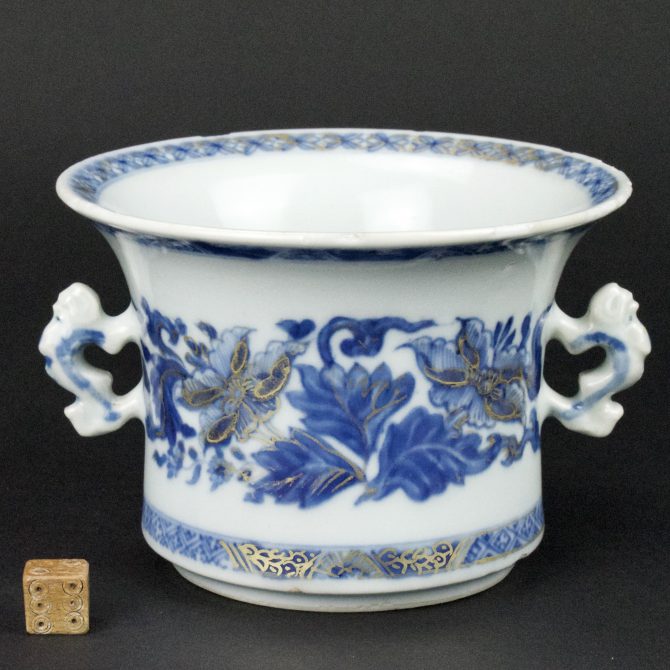 A Rare Kangxi or Yongzheng Porcelain Mortar Based on a European Bronze Original
Kangxi or Yongzheng c.1715 - 1735
A Rare Kangxi or Yongzheng Porcelain Mortar Based on a Dutch or Flemish Bronze Original. This Chinese porcelain vessel has been adapted from a European original, the complex moulded forms would have been very difficult for the Chinese to imitate. Therefore, a simplified version was produced. A thin flared form was used, the only attempt at copying the bronze casting of the original is confined to the applied handles. It is interesting to note that the handles are not dissimilar to a type of handle used on mainstream Chinese porcelain. The decoration of flowering plants with geometric borders is somewhat similar to the Baroque designs found on bronze mortars of the 17th century but in fact the design is Chinese.
View details
Buying Antique Ceramics From Robert McPherson Antiques
Read more
Robert McPherson Antiques
Specialist in Oriental and European Ceramics
WELCOME TO OUR WEBSITE We hope you find it easy to navigate and enjoy looking at what we have on offer. As well as the objetcs we have for sale, we offer a selection of scholary pages to inform you about the different subjects concerning Oriental Ceramics. We pride ourselves on offering genuine pieces of rare and unusual Chinese and Japanese porcelain and pottery. Everything we sell is guaranteed to be in the condition we describe it as on the website and on the invoice. If you have any questions please get in contact with us. We also have a mailing list that you can subscribe to. You will receive a newsletter when the website is updated. Regards, Robert McPherson.
About us