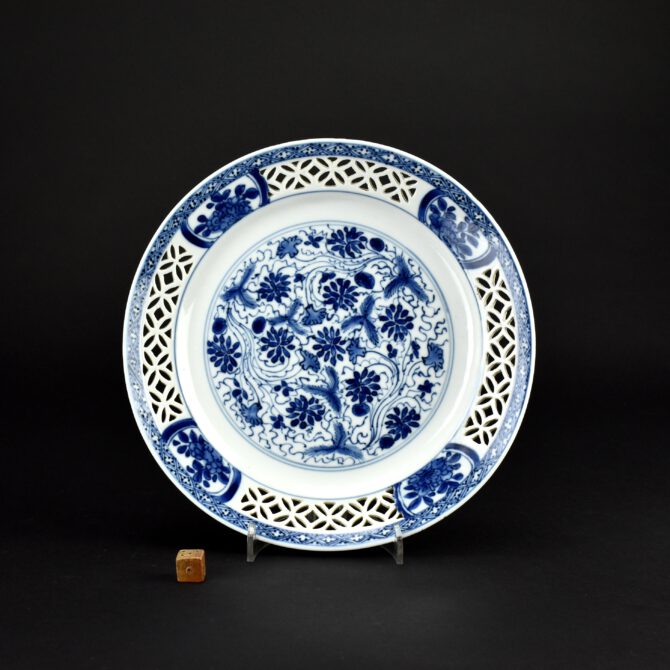 Kangxi Reticulated Blue and White Plate
Kangxi 1662-1722
A Kangxi Blue and White Export Porcelain Reticulated Plate c.1690-1720. Objects of this type would have been much more expensive at the time they were made, it involved extra highly skilled work and there would have been more wastage as the cut decoration means they firing process would be more likely to fail. The center is decorated in rich tones of cobalt blue with aquatic plant in water, the border has three cut through panels leaving porcelain in the form of the emblem for wealth, cash. There are four painted panels of flowering plants and a diaper border. The reverse has four 'Precious Objects' tied with ribbon. The base has a snail mark. The present piece is an example of what can be referred to as `reticulated` porcelain, reticulated meaning having the form or appearance of a net, it was used as early the beginning of the 18th Century by the famous Père Francois Xavier d`Entrecolles (1664-1741) to describe this type of work on porcelain. Another popular term for this type of pierced or cut decoration is `Devils Work` or Guigong. However the Chinese term Linglong is gradually replacing the previous terms, helped by the publication of Jorge Welsh`s book `Linglong` (Jorge Welsh,London,2004.ISBN 972-99045-2-9). There does not seem to be any difference in the use of terms between the free standing pierced porcelain or that supported by an inner wall, nor a distinction made between the most refined work or the type with larger cut-out sections of porcelain.
View details
Buying Antique Ceramics From Robert McPherson Antiques
Read more
Robert McPherson Antiques
Specialist in Oriental Ceramics
WELCOME TO OUR WEBSITE We hope you find it easy to navigate and enjoy looking at what we have on offer. As well as the objetcs we have for sale, we offer a selection of scholary pages to inform you about the different subjects concerning Oriental Ceramics. We pride ourselves on offering genuine pieces of rare and unusual Chinese and Japanese porcelain and pottery. Everything we sell is guaranteed to be in the condition we describe it as on the website and on the invoice. If you have any questions please get in contact with us. We also have a mailing list that you can subscribe to. You will receive a newsletter when the website is updated. Regards, Robert McPherson.
About us