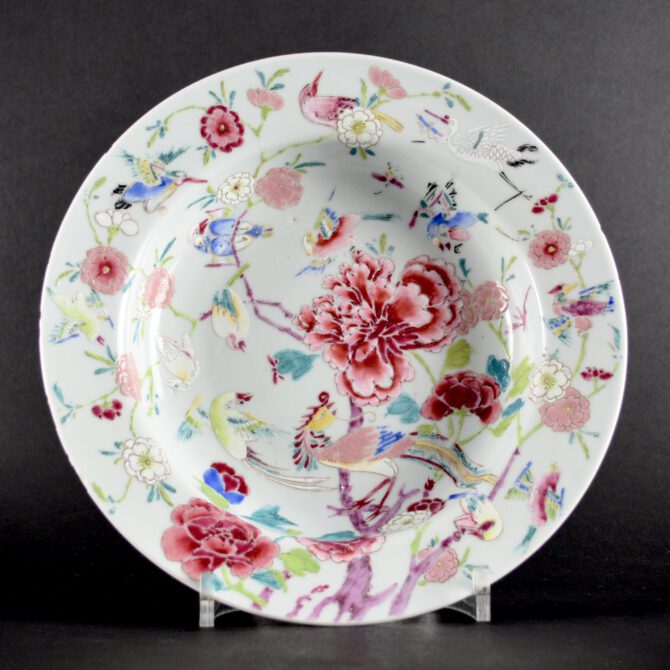 An Unusual 18th Century Chinese Export Porcelain Dish
c.1730 - 1745
An Unusual Famille Rose Porcelain Dish, Late Yongzheng or Early Qianlong c.1730 - 1745. The fantastical rich design is painted with a purple and green tree with white, pink and red flowers and a large flowering peony. The branches and sky are busy with mythical as well as real birds. These include a phoenix, kingfishers and a white crane carrying a scroll suspended with a red ribbon from its beak. The enamels are typical of the early phase of Famille Rose. The deep rose-red enamels are of a rich hue and painted over white enamels or mixed with allot of white to create a thick opaque pink. There is also a large amount of thick white enamel employed, some of which has thin green enamel painted on and bleed into the opaque white enamel. There is a space that appears as if it were too small to add another bird, the solutions was to add a flying insect.
View details
Buying Antique Ceramics From Robert McPherson Antiques
Read more
Robert McPherson Antiques
Specialist in Oriental and European Ceramics
WELCOME TO OUR WEBSITE We hope you find it easy to navigate and enjoy looking at what we have on offer. As well as the objetcs we have for sale, we offer a selection of scholary pages to inform you about the different subjects concerning Oriental Ceramics. We pride ourselves on offering genuine pieces of rare and unusual Chinese and Japanese porcelain and pottery. Everything we sell is guaranteed to be in the condition we describe it as on the website and on the invoice. If you have any questions please get in contact with us. We also have a mailing list that you can subscribe to. You will receive a newsletter when the website is updated. Regards, Robert McPherson.
About us