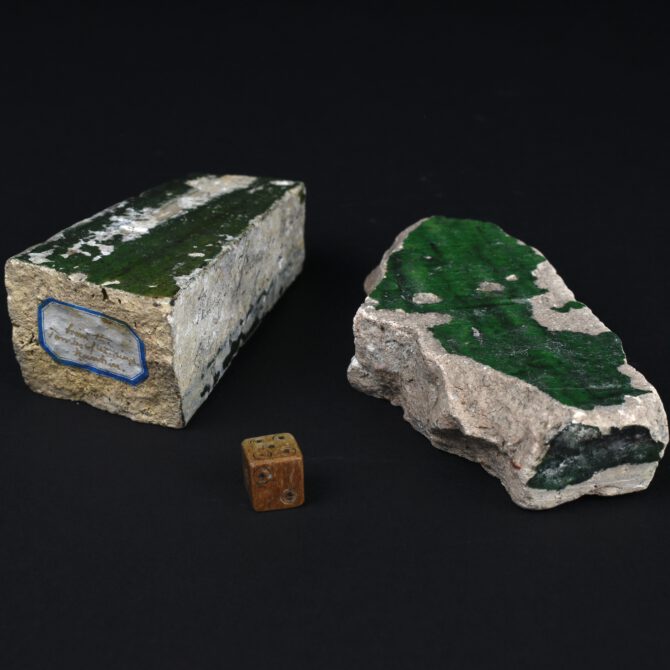 Two Ming Pottery Fragments from Ming Tombs, Perhaps Early 15th Century
Ming Dynasty 1368 - 1644, perhaps early 15th century
Two Ming Pottery Fragments, 1368-1644. Recovered from Ming tombs in around 1900, perhaps from Da Bao'en si, Nanjing, Jiangsu province. They were purchased from a small collection of curios put together in around 1900 with an early Ming porcelain brick from Da Bao'en si, Nanjing dating to c.1412-1419. The present fragments comprise a tapered square section of green lead-glazed brick which has glaze on four sides, the top and bottom are broken and therefore are unglazed. One side has residue of rice paste mortar consistent with tomb building. The other fragment appears to be from a thick tile. The tapered fragment is inscribed on an old label from the late 19th or early 20th century as "from the tomb of the Mings...." the place name is difficult to read but it could be 'Nanking', now referred to as Nanjing, home of the Ming Xialong Imperial tombs . There is also an feint inscription in pencil directly on the pottery.
View details
Buying Antique Ceramics From Robert McPherson Antiques
Read more
Robert McPherson Antiques
Specialist in Oriental Ceramics
WELCOME TO OUR WEBSITE We hope you find it easy to navigate and enjoy looking at what we have on offer. As well as the objetcs we have for sale, we offer a selection of scholary pages to inform you about the different subjects concerning Oriental Ceramics. We pride ourselves on offering genuine pieces of rare and unusual Chinese and Japanese porcelain and pottery. Everything we sell is guaranteed to be in the condition we describe it as on the website and on the invoice. If you have any questions please get in contact with us. We also have a mailing list that you can subscribe to. You will receive a newsletter when the website is updated. Regards, Robert McPherson.
About us