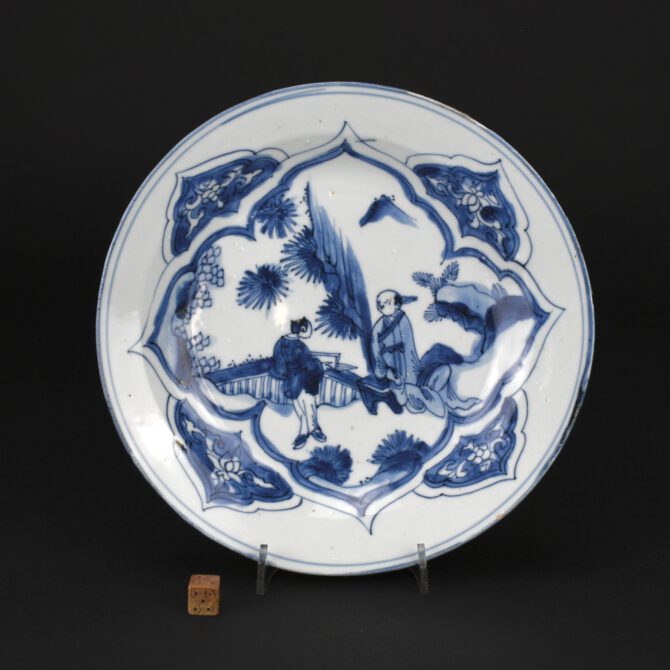 A Ming Porcelain Ko-Sometsuke Dish
Tianqi or Chongzhen c.1620-1640
A Large Late Ming Ko-Sometsuke Dish, Tianqi or Chongzhen Period (1621-1644). This Transitional dish is decorated with a servant approaching a scholar in a garden landscape. For another dish of this type see below the photographs. Ko-Sometsuke is a term used to describe Chinese blue and white porcelain made for Japan, it means 'old blue and white'. This late Ming porcelain was made from the Wanli period (1573-1620) until the Chongzhen period (1628-1644), the main period of production being the 1620`2 and 1630`s. The porcelain objects produced were made especially for the Japanese market, both the shapes and the designs were tailored to Japanese taste, the production process too allowed for Japanese aesthetics to be included in the finished object. Its seems firing faults were added, repaired tears in the leather-hard body were too frequent to not, in some cases, be deliberate. These imperfections as well as the fritting Mushikui (insect-nibbled) rims and kiln grit on the footrims all added to the Japanese aesthetic. The shapes created were often expressly made for the Japanese tea ceremony meal, the Kaiseki, small dishes for serving food at the tea ceremony are the most commonly encountered form. Designs, presumably taken from Japanese drawings sent to China, are very varied, often using large amount of the white porcelain contrasting well with the asymmetry of the design. The term used for Ming blue and white porcelain for the Japanese Tea Ceremony is Ko-Sometsuke which means old blue and white.
View details
Buying Antique Ceramics From Robert McPherson Antiques
Read more
Robert McPherson Antiques
Specialist in Oriental Ceramics
WELCOME TO OUR WEBSITE We hope you find it easy to navigate and enjoy looking at what we have on offer. As well as the objetcs we have for sale, we offer a selection of scholary pages to inform you about the different subjects concerning Oriental Ceramics. We pride ourselves on offering genuine pieces of rare and unusual Chinese and Japanese porcelain and pottery. Everything we sell is guaranteed to be in the condition we describe it as on the website and on the invoice. If you have any questions please get in contact with us. We also have a mailing list that you can subscribe to. You will receive a newsletter when the website is updated. Regards, Robert McPherson.
About us