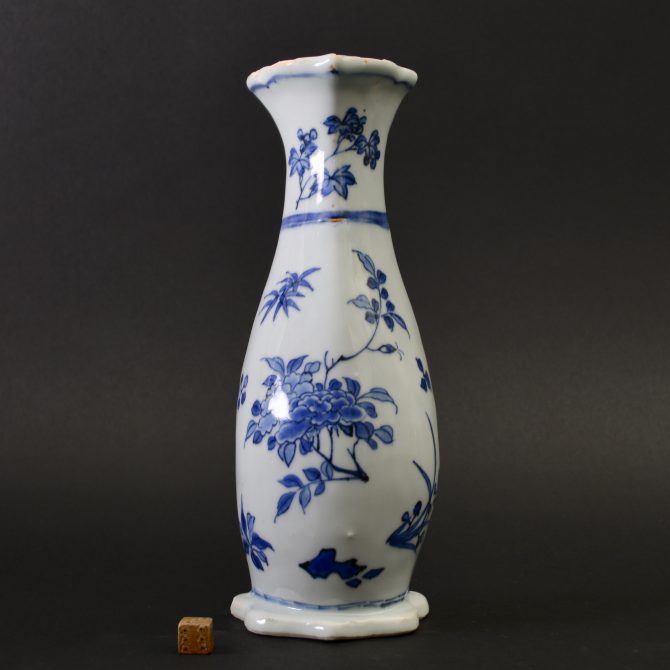 A Transitional Blue and White Porcelain Wall Vase, Chongzhen or Shunzhi
Transitional c.1640 - 1650
A Transitional Blue and White Wall Vase. Late Ming, Chongzhen Period 1627 - 1644 or early Qing, Shunzhi 1644 - 1661. This rather large Transitional Porcelain wall vase is decorated with a central flowering peony branch, a flowering orchid as well as bamboo and a collection of small rocks. The shaped foot reflects the barbed flaring rim at the top. The recessed base is left in the biscuit and shows clear evidence of scraping tools. The flat glazed back has an hole cut prior to glazing to affix the vase to the wall.
View details
Buying Antique Ceramics From Robert McPherson Antiques
Read more
Robert McPherson Antiques
Specialist in Oriental and European Ceramics
WELCOME TO OUR WEBSITE We hope you find it easy to navigate and enjoy looking at what we have on offer. As well as the objetcs we have for sale, we offer a selection of scholary pages to inform you about the different subjects concerning Oriental Ceramics. We pride ourselves on offering genuine pieces of rare and unusual Chinese and Japanese porcelain and pottery. Everything we sell is guaranteed to be in the condition we describe it as on the website and on the invoice. If you have any questions please get in contact with us. We also have a mailing list that you can subscribe to. You will receive a newsletter when the website is updated. Regards, Robert McPherson.
About us