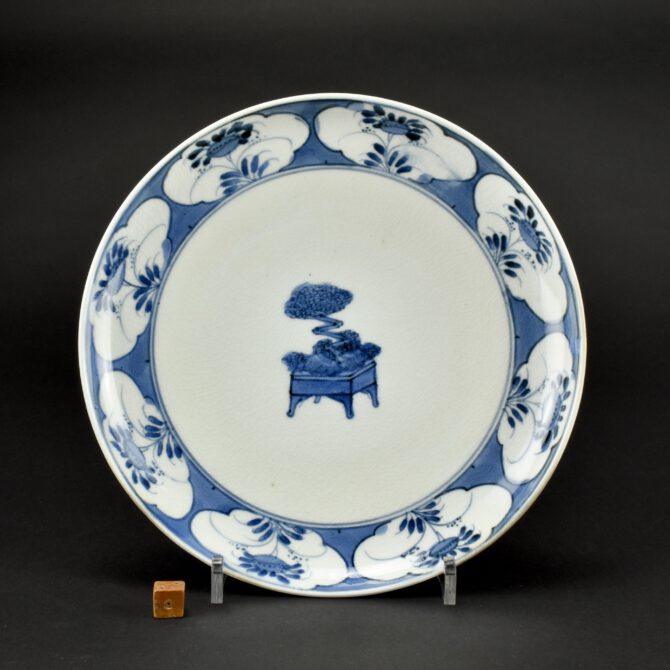 17th Century Japanese Blue and White Porcelain Dish
Kanbun (1663–1673) or Enpô Era (1673 - 1681)
A Japanese Blue and White Porcelain Dish of Ko-Kuntani Type, Arita Kilns, Kanbun 寛文 (1663–1673) or Enpô 延宝 era (1673 - 1681). The central design depicts a bonsai tree with a zigzag trunk among small stones and low level plants set in a raised plant container which would probably be made of metal. The border has eight quatrefoil panels set against a mid-tone blue wash. The back has five concentric rings in underglaze cobalt blue, the center has a large seal mark among three spur-marks. The glaze has a pale blue-green tint which is common with the Ko-Kutani type the glaze is evenly crazed to the front and back.
View details
Buying Antique Ceramics From Robert McPherson Antiques
Read more
Robert McPherson Antiques
Specialist in Oriental Ceramics
WELCOME TO OUR WEBSITE We hope you find it easy to navigate and enjoy looking at what we have on offer. As well as the objetcs we have for sale, we offer a selection of scholary pages to inform you about the different subjects concerning Oriental Ceramics. We pride ourselves on offering genuine pieces of rare and unusual Chinese and Japanese porcelain and pottery. Everything we sell is guaranteed to be in the condition we describe it as on the website and on the invoice. If you have any questions please get in contact with us. We also have a mailing list that you can subscribe to. You will receive a newsletter when the website is updated. Regards, Robert McPherson.
About us