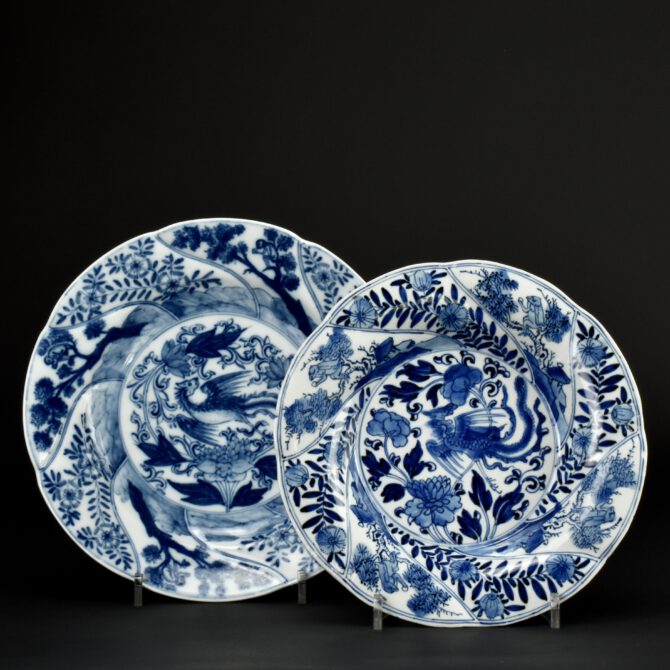 Rare Meissen Blue and White Dish Copying Kangxi, and a Kangxi Original
Kangxi c.1700-1720 and Meissen c.1745
A Rare 18th Century Meissen Lobed Blue and White Porcelain Phoenix Dish c.1745, and an example of the type of Kangxi dish it was based on. The central design is a phoenix among flowering peony (Meissen dish with peony and lotus), the ogee borders with a monkey eating a peach, interspersed with flowering plants. The Meissen dish is marked with
crossed swords
and
a dot
, the painter's mark
Mö 
(possibly for Johann Carl Möbius the younger) and a small, impressed mark
32
(former's number). The Kangxi dish has a simple flowerhead as a mark. The shape of the Kangxi dish, which is the smaller of the two dishes, is somewhat different to the Meissen example. The ogee shaped border rises more sharply than the Meissen dish, the fluting is more rounded, and it finishes at a right angle. All of this is less pronounced in the Meissen example, which only has a slight angle as it reaches gently upward. The painting of the Meissen dish is also different to the original, the phoenix looks quite different and is symmetrically arranged above the flowering lotus. The center of the Kangxi is asymmetrical, less formal and has huts by rocks in the border, these are omitted in the Meissen version. The design is a well know Chinese export one which is on European silver shape dishes, perhaps via Dutch Delft pottery. It is very likely Kangxi dishes of this shape, which are nearly always with this design, were in The Japanese Palace in Dresden formed by Augustus the strong. So it it is not surprising the Meissen factory copied them, well made their own version of them. These Kangxi dishes could have been copied exactly, however they chose to make their own interpretation of them at Meissen. The phoenix looks quite Baroque among scrolling foliage.
See Below For More Photographs and References.
SOLD
View details
Buying Antique Ceramics From Robert McPherson Antiques
Read more
Robert McPherson Antiques
Specialist in Oriental Ceramics
WELCOME TO OUR WEBSITE We hope you find it easy to navigate and enjoy looking at what we have on offer. As well as the objetcs we have for sale, we offer a selection of scholary pages to inform you about the different subjects concerning Oriental Ceramics. We pride ourselves on offering genuine pieces of rare and unusual Chinese and Japanese porcelain and pottery. Everything we sell is guaranteed to be in the condition we describe it as on the website and on the invoice. If you have any questions please get in contact with us. We also have a mailing list that you can subscribe to. You will receive a newsletter when the website is updated. Regards, Robert McPherson.
About us