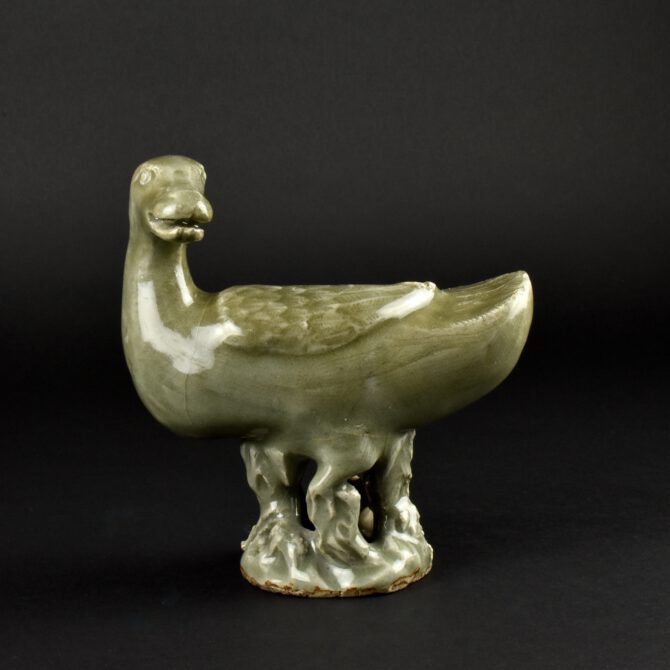 A Ming Duck Shaped Celadon Censer
c.1450 - 1600
A Ming Longquan Celadon Duck Shaped Censer, Longquan Kilns, Zhejiang Province, c.1450-1600. This sculptural Ming censer depicts a duck on a circular base which is modeled as a rocky outcrop. As with the British Museum example, a gift from George Eumorfopoulos (B.M 1911,0607.27), there is a detachable wing. This exposes the body cavity where lit incense can be placed. Then the wing can be put back, so the smoke can escape from its mouth, and somewhat surprisingly its bottom. This is an object was probably made for the domestic desk in China, according to the British Museum (See below for photographs and details of the British Museum example). This makes sense to me, however censers of this form and variants of it, are known in Japan. It seems likely that some were exported to Japan during the Ming dynasty. These celadon censer are similar to the Ming bronze bird shaped censers that occur in a wide variety of forms. Formerly in the collection of Lieutenant Colonel Kenneth Dingwall (1869-1946) see Provenance. See below for more photographs and references.
View details
Buying Antique Ceramics From Robert McPherson Antiques
Read more
Robert McPherson Antiques
Specialist in Oriental Ceramics
WELCOME TO OUR WEBSITE We hope you find it easy to navigate and enjoy looking at what we have on offer. As well as the objetcs we have for sale, we offer a selection of scholary pages to inform you about the different subjects concerning Oriental Ceramics. We pride ourselves on offering genuine pieces of rare and unusual Chinese and Japanese porcelain and pottery. Everything we sell is guaranteed to be in the condition we describe it as on the website and on the invoice. If you have any questions please get in contact with us. We also have a mailing list that you can subscribe to. You will receive a newsletter when the website is updated. Regards, Robert McPherson.
About us