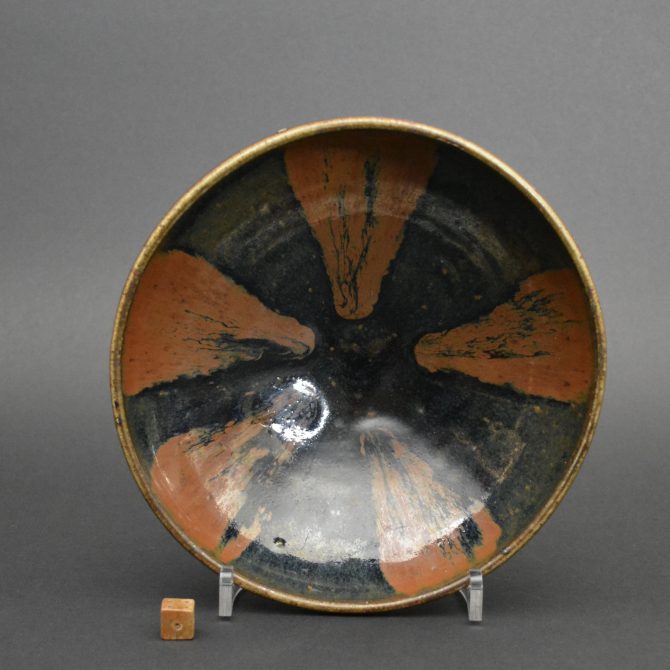 A Fine Song or Jin Dynasty Black Pottery Bowl of Cizhou Type
1100 - 1200
A Fine Song or Jin Dynasty Pottery Wan Bowl of Cizhou type from the Henan-Hebei area 12th or 13th century. This Cizhou bowl from Northern China is of a pale grey clay resembling the colour of oatmeal. It is covered with an iron-oxide rich black glaze which is marked with five distinct russet-brown markings. The marking run down the interior of the bowl, in places the rich black glaze is visible beneath. These russet markings, created with a lower concentration of iron-oxide than the black can be felt on the surface of the bowl towards the well. The black is rich, the splashes of russet are unctuous with subtle rust coloured Hare's Fur speckles further enhancing the black surface of the bowl. The depth of black and its glossy appearance has been achieved by 'double dipping', that is to say a thin layer of glaze was applied first, followed by a thicker layer. The two layers can clearly be seen as well as felt on the back of this Cizhou bowl, the second layer was much thicker, it steps down to the thinner first layer on the back. The rim has only a light covering of glaze with the pale tones of the body showing beneath. The thick deep unglazed cut footrim is not flat, it is smooth, tending to gently incline on either side. The base is cut so the middle is somewhat raised with the center coming to an almost sharp point.
View details
Buying Antique Ceramics From Robert McPherson Antiques
Read more
Robert McPherson Antiques
Specialist in Oriental and European Ceramics
WELCOME TO OUR WEBSITE We hope you find it easy to navigate and enjoy looking at what we have on offer. As well as the objetcs we have for sale, we offer a selection of scholary pages to inform you about the different subjects concerning Oriental Ceramics. We pride ourselves on offering genuine pieces of rare and unusual Chinese and Japanese porcelain and pottery. Everything we sell is guaranteed to be in the condition we describe it as on the website and on the invoice. If you have any questions please get in contact with us. We also have a mailing list that you can subscribe to. You will receive a newsletter when the website is updated. Regards, Robert McPherson.
About us