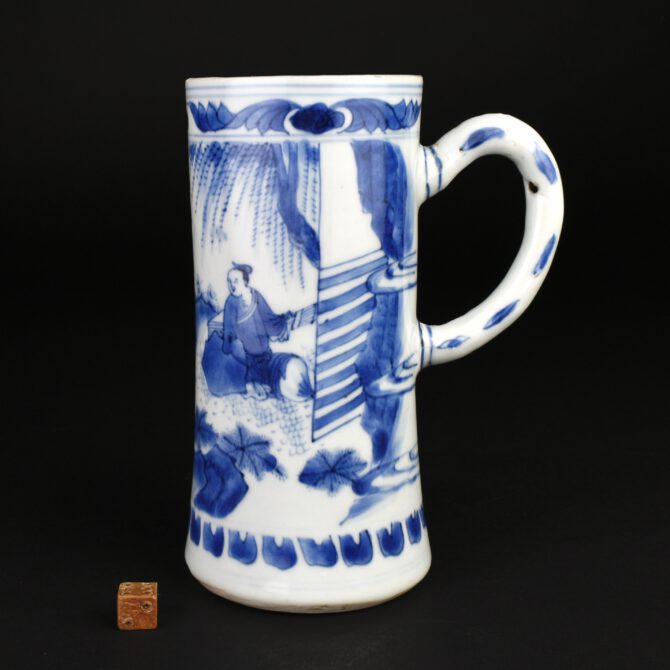 A Transitional Blue and White Porcelain Tankard
Ming Dynasty, Chongzhen 1627 - 1644
A Ming Blue and White Tankard or Snelletje, Chongzhen Period c.1636 - 1644. Transitional porcelain Snelletje or Snelleken were ordered by the Vereenigde Oostindische Compagnie (the Dutch East India Company or V.O.C.) from 1635, so they would probably have started manufacture in 1636. They sent stoneware tankards that were made in Cologne in Germany to Jingdezhen to be copied, clearly only the form was used, the decoration is entirely different. This early Chinese export tankard is therefore a mixture of European form and Chinese subject matter. Some of the Chinese tankards had silver mounts with a lid made for them when they arrived in the Netherlands. The present example has rather thin walls and a stout base. The painting in bright tones of cobalt blue and is typical of the 'High Transition' style with V shaped grass. The subject shows a scholar in a garden landscape beneath a willow tree. He is shown seated and leaning against a rock for support, behind him are a stack of books, he is being greeted by a traveller holding onto his stick and a diminutive assistant peers from his side .
View details
Buying Antique Ceramics From Robert McPherson Antiques
Read more
Robert McPherson Antiques
Specialist in Oriental Ceramics
WELCOME TO OUR WEBSITE We hope you find it easy to navigate and enjoy looking at what we have on offer. As well as the objetcs we have for sale, we offer a selection of scholary pages to inform you about the different subjects concerning Oriental Ceramics. We pride ourselves on offering genuine pieces of rare and unusual Chinese and Japanese porcelain and pottery. Everything we sell is guaranteed to be in the condition we describe it as on the website and on the invoice. If you have any questions please get in contact with us. We also have a mailing list that you can subscribe to. You will receive a newsletter when the website is updated. Regards, Robert McPherson.
About us