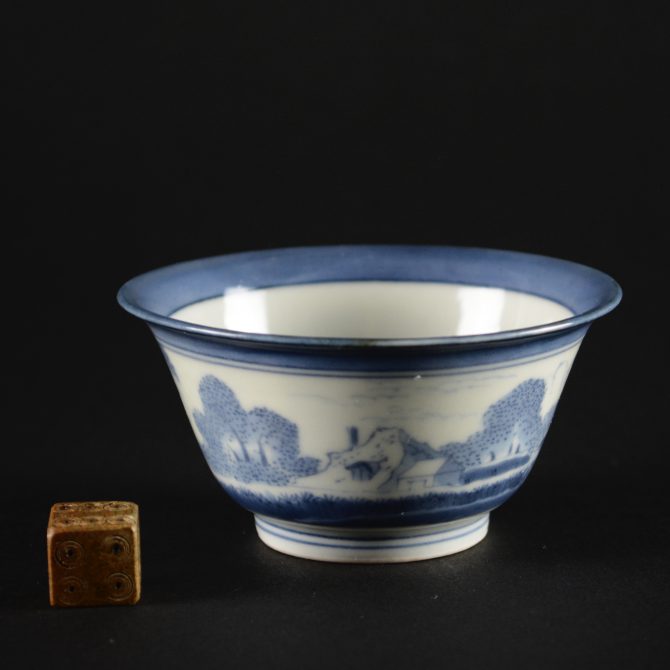 A Van Frytom Style Japanese Porcelain Teabowl
c.1690 - 1710
A Rare Japanese Blue and White Porcelain 'Van Frytom' Teabowl, Arita Kilns c.1690 - 1710. This Japanese porcelain teabowl is painted after the well-known Dutch Delft artist Frederik Van Frytom (1632 - 1702). It is finely painted with a rural scene from the Netherlands, depicting a huntsman on a galloping horse, a Frisian farm house known as a kop-hals-rompboerderij  (Head-neck-body, these also exist in Groningen and North Holland as these areas were originally part of Friesland) and people walking in the countryside. The well of the bowl shows the huntsman's prey, a deer in flight. The base with a four character Chenghua mark (Ming 1465-1487). As far as Japanese and Dutch trade is concerned, Van Frytom is known for an incredibly important series of Delftware dishes he made for export to Japan, the bases of which were marked MB and dated 1684. For more information see 'References' and additional information below the photographs.
View details
Buying Antique Ceramics From Robert McPherson Antiques
Read more
New Items
Robert McPherson Antiques
Specialist in Oriental and European Ceramics
WELCOME TO OUR WEBSITE We hope you find it easy to navigate and enjoy looking at what we have on offer. As well as the objetcs we have for sale, we offer a selection of scholary pages to inform you about the different subjects concerning Oriental Ceramics. We pride ourselves on offering genuine pieces of rare and unusual Chinese and Japanese porcelain and pottery. Everything we sell is guaranteed to be in the condition we describe it as on the website and on the invoice. If you have any questions please get in contact with us. We also have a mailing list that you can subscribe to. You will receive a newsletter when the website is updated. Regards, Robert McPherson.
About us