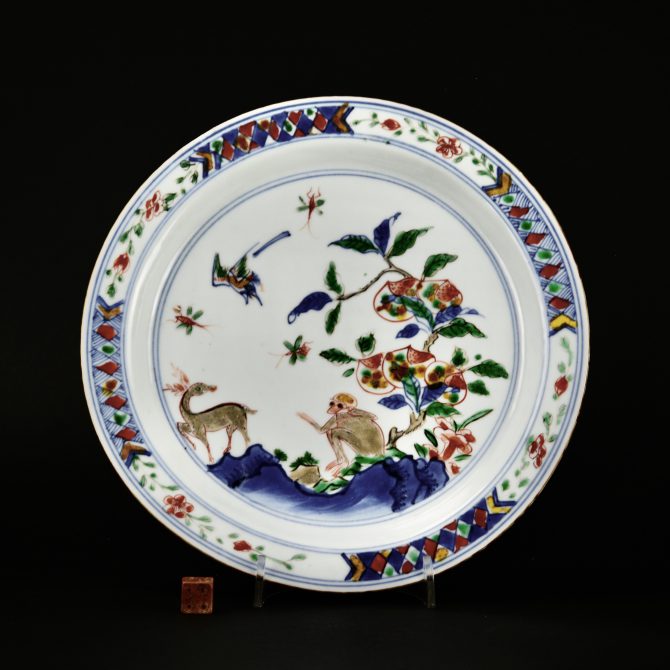 A Large Transitional Porcelain Dish for the Japanese Market, Chongzhen Period
c.1635
A Ming Wucai Porcelain
Kaiseki
Serving Dish, Early Chongzhen Period c.1635. This Transitional Porcelain dish was made for the Japanese market for use in the Tea Ceremony. This sturdy dish is painted in under-glaze cobalt blue with the addition of overglazed red, yellow and green. The design if of a monkey seated on a rocky outcrop below a fruiting peach tree with a deer in front of him and two wasps below a bird in flight. Parts of this design forms the rebus,
juelu fenghou,
meaning 'may you receive high rank and emolument'. The elements taken from the design to create the rebus are ; monkey is
hou
with a deer
lu
and wasps
feng.
The peach reprents the wish for long life
.
This dish is published in 'Transitional Wares and Their Forerunners' An exhibition presented by the Oriental Ceramics Society of Hong Kong at the Hong Kong Museum of Art in 1981 (see References).
RESERVED UNTIL MONDAY 16TH 
View details
Buying Antique Ceramics From Robert McPherson Antiques
Read more
Robert McPherson Antiques
Specialist in Oriental and European Ceramics
WELCOME TO OUR WEBSITE We hope you find it easy to navigate and enjoy looking at what we have on offer. As well as the objetcs we have for sale, we offer a selection of scholary pages to inform you about the different subjects concerning Oriental Ceramics. We pride ourselves on offering genuine pieces of rare and unusual Chinese and Japanese porcelain and pottery. Everything we sell is guaranteed to be in the condition we describe it as on the website and on the invoice. If you have any questions please get in contact with us. We also have a mailing list that you can subscribe to. You will receive a newsletter when the website is updated. Regards, Robert McPherson.
About us