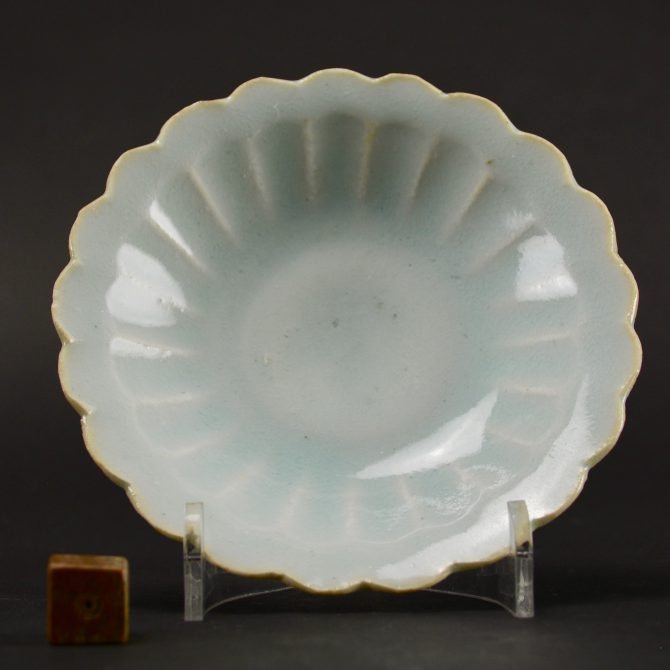 Song Dynasty Qingbai Porcelain Flower Shaped Dish
1100 -1300
A Small Song Qingbai Ware Porcelain Chrysanthemum Flower Shaped Dish, 12th century or 13th Century, probably from a kiln at Jingdezhen, perhaps Hutian. This Song porcelain dish is rather thick, especially the base. The petals of the chrysanthemum flower are moulded and the foliate rim is cut. This small Qingbai ware dish sits on a flat unglazed based that has left the clay somewhat darker where it sat on the kiln support. The area around the base has been cut to create a barrier to prevent any glaze that might have run in the glaze firing. This is not common practice for Qingbai porcelain. The colour is good, rather better than the photographs might suggest.
View details
Buying Antique Ceramics From Robert McPherson Antiques
Read more
New Items
Robert McPherson Antiques
Specialist in Oriental and European Ceramics
WELCOME TO OUR WEBSITE We hope you find it easy to navigate and enjoy looking at what we have on offer. As well as the objetcs we have for sale, we offer a selection of scholary pages to inform you about the different subjects concerning Oriental Ceramics. We pride ourselves on offering genuine pieces of rare and unusual Chinese and Japanese porcelain and pottery. Everything we sell is guaranteed to be in the condition we describe it as on the website and on the invoice. If you have any questions please get in contact with us. We also have a mailing list that you can subscribe to. You will receive a newsletter when the website is updated. Regards, Robert McPherson.
About us