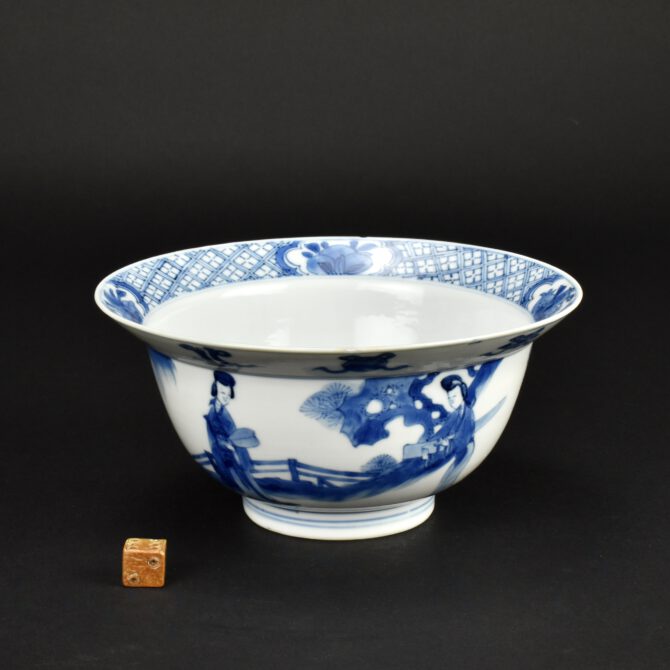 Kangxi Blue and White Porcelain Klapmuts Bowl
Kangxi 1662 - 1722
A Kangxi Blue and White Porcelain Klapmuts Bowl, Jingdezhen Kilns c.1690-1710. This bowl with its apocryphal Chenghua mark is typical of the Chinese porcelain imported by the V.O.C. into the Netherlands. The shape, a Klapmuts goes back to the late Ming dynasty and was first used for Kraak porcelain. This Dutch term refers to a circular bowl with an everted rim, if you look at the bowl when it is upside down, the origin of the word becomes apparent. It is is similar to Dutch hats of the 17th century, these were hats often used by the poor and made from wool, more expensive versions were made from beaver. The kraak examples were shallow, the rim made an idea place to rest a spoon. The kangxi versions are far deeper, such as the present example. These were used for decoration and can be seen in different sizes adorning the tops of furniture in 17th century Dutch paintings. The scene of ladies might well be from Romance of the Western Chamber / Xi Xiang Ji. See below for two examples. Kangxi blue and white export porcelain object are sometimes found with the six character mark of the emperor Kangxi (1662-1722) to the base. These none-imperial reign marks are referred to as minyao in Chinese, denoting them as `popular wares` not destined for court use. However the majority of the marked pieces bare the mark of earlier Ming dynasty emperors, some are Jiajing (1522-1566), occasionally Wanli (1573-1620) but by far the most commonly encountered marks are those of Chenghua (1465-1487). David Howard in `The Choice of the Private Trader` (David S. Howard, Zwemmer, 1994) notes that "The Chenghua mark .... was not intended as a forgery, but rather as a compliment to the quality of the piece and to replace the mark of Kangxi who had forbidden the use of his name on porcelain made for export after 1682; a ban which nominally remained in force until the late 19th century". It appears this ban was not enforced, or if it was only partly enforced, as we have had many Kangxi export pieces made after this date (1682) that bare the six character Kangxi mark. It is worth noting that many 19th century copies of Kangxi blue and white porcelain bare a four character Kangxi mark, something you do not on the original, all Kangxi marks on porcelain of the period were of six character form. See below for more photographs and references.
View details
Buying Antique Ceramics From Robert McPherson Antiques
Read more
Robert McPherson Antiques
Specialist in Oriental Ceramics
WELCOME TO OUR WEBSITE We hope you find it easy to navigate and enjoy looking at what we have on offer. As well as the objetcs we have for sale, we offer a selection of scholary pages to inform you about the different subjects concerning Oriental Ceramics. We pride ourselves on offering genuine pieces of rare and unusual Chinese and Japanese porcelain and pottery. Everything we sell is guaranteed to be in the condition we describe it as on the website and on the invoice. If you have any questions please get in contact with us. We also have a mailing list that you can subscribe to. You will receive a newsletter when the website is updated. Regards, Robert McPherson.
About us