WEBSITE UPDATES AND NEWS 2023
SUBSCRIBE : Receive an email when our Website is updated ; If you would like to be notified when our website is updated, do subscribe to our newsletter and we will send you a notification when the website is updated.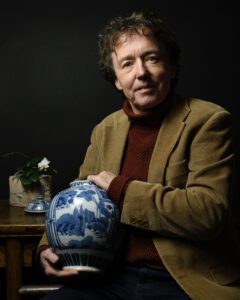 Robert McPherson Antiques. Established 1980.
SUBSCRIBE :
Receive an email when our Website is updated.
If you would like to be notified when our website is updated, do subscribe to our newsletter and we will send you a notification when the website is updated.
You can subscribe at the bottom of the homepage. Just enter your email address and click on  Sign Up
You can also fill in the short form  'Send a Message'. This way you can be sure you won't miss out !
NEXT WEBSITE UPDATE  : MARCH 2023 
A Set of Six Ming Porcelain Dishes From The Peony Pavilion Collection ;
Published : The Peony Pavilion Collection ; Chinese Tea Ceramics for Japan (c.1580-1650). Christie`s London 12th June 1989.
Provenance : From a Private Collection, they purchased these pieces as well as many others from the The Peony Pavilion Collection at the Christie's sale of 1989. I was able to buy the complete group from this private collection.
To Be Sold Separately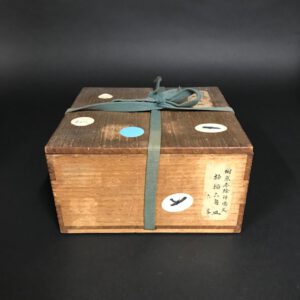 One of the six dishes….
.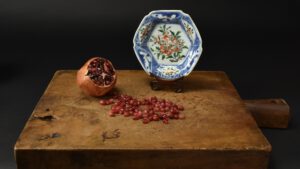 Recently Published Reference Books :
Leaping The Dragon Gate.
An Excellent Book a must for anyone interested in Transitional Porcelain.
The Sir Michael Butler Collection Of Seventeenth Century Chinese Porcelain
By Teresa Canepa ,Katharine Butler.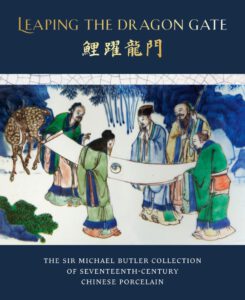 A catalog raisonné of the world's most complete collection of seventeenth-century Chinese porcelain.
With six hundred stunning full-colour illustrations, this book celebrates the most important collection of seventeenth-century Chinese porcelain in the world, assembled by the distinguished British diplomat Sir Michael Butler (1927–2013). Butler's lavish collection covers most types of porcelain produced at Jingdezhen, in Jiangxi province, during the seventeenth century.
This comprehensive volume features nearly all of the pieces in the collection, presented in sections featuring the main categories of porcelains in the collection: Late Ming, High Transitional, Shunzhi, Early Kangxi, Mid-Late Kangxi, Monochromes, and Famille Verte, as well as disputed pieces. An introduction by Katharine Butler tells the fascinating story of the circumstances that encouraged her father to acquire, collect, and passionately study Chinese porcelain of the seventeenth century; how he found rare pieces with dates, interesting inscriptions, seal marks, or narrative scenes; and how the collection and his scholarly publications came to be internationally renowned.
544 pages | 600 color plates | 9 3/4 x 11 3/4
Chinese and English Text.
Brushpots: A Collector's View
By Sam Marsh.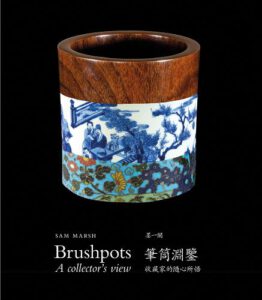 The Chinese title of this book reads "The Profound Reflection of Brushpots: A Collector's Enlightenment" literally, citing reference to the book Imperial Profound & Reflective Encyclopedia commissioned by Emperor Kangxi of the Qing Dynasty, and The Collected Works of Long Ying, published during the reign of Emperor Wanli, Ming Dynasty. The word "Profound" was chosen meticulously to highlight the breadth and variety of the brush pots collected, and the proposition of their illustrations. The author's intent to make this book an encyclopedia of brush pots was fairly explicit. On the other hand, "reflection" comes from a mirror, which shows how you look and who you are. It represented the collector's experience in soul-searching and self-reflection during his journey of art appreciation.
Text in English and Chinese.
Publisher: CA Book Publishing
ISBN: 9789887440895
Number of pages: 288
Weight: 1626 g
Dimensions: 282 x 239 mm
Small China, Early Chinese Miniatures
By Koos de Jong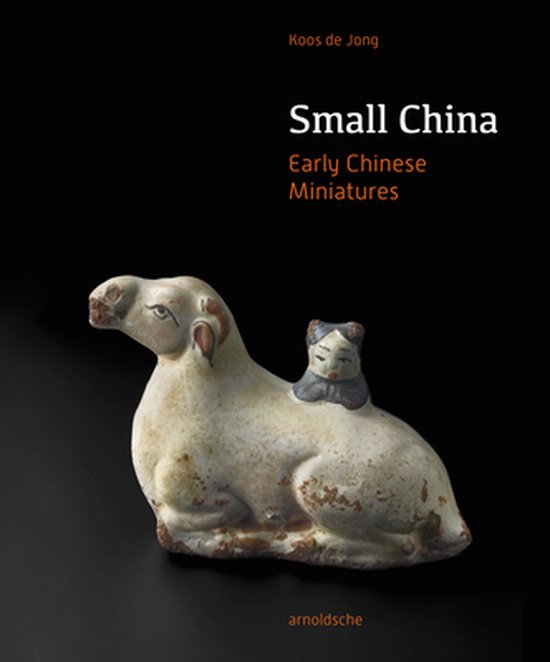 Small China presents Chinese miniatures from 5,000 BC up to the 15th century. The pocket size representations of supernatural beings, people, animals, or everyday objects are virtually uncharted in East Asian crafts – even in China, these objects in jade, bronze, ivory, and porcelain are little known. Koos de Jong explores their arcane meanings and traces their production and the market for such treasures, which, contrary to official secular and religious art, include those devoted to taboo subjects such as erotica or humour. The miniatures had many different functions, from insignia, fetishes and devotional objects to burial gifts or toys. They could express good wishes or even serve as bribes. A rare glimpse into the everyday life of ordinary people and into Chinese handicrafts from thousands of years ago.