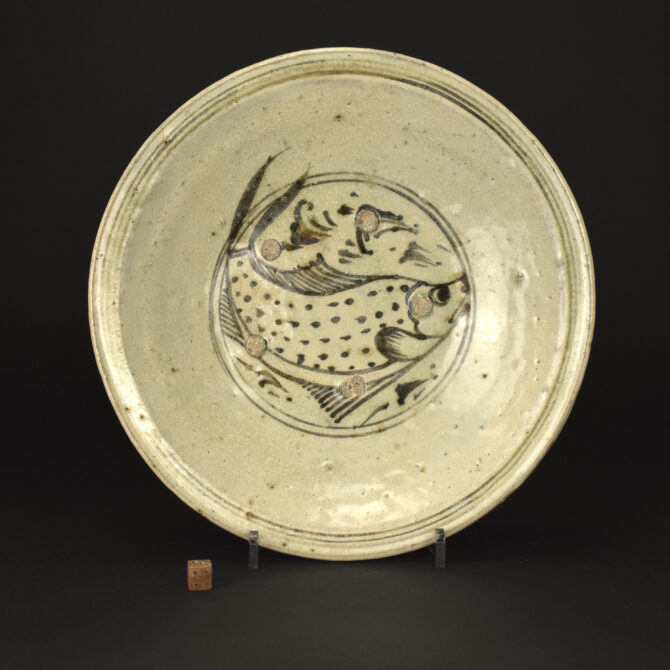 Thai Sukhothai Pottery Fish Dish
14th to 16th Century
A Thai Sukhothai Pottery Fish Dish, Sukhothai Kingdom or Ayutthaya, Sukhothai kilns, North Central Thailand, 14th to 16th Century. The production of ceramics from the Sukhothai kilns was large, the kilns were set up by potters from the Sawankhalok kilns to fulfill increased demand within Thailand but also for export, the Philippines being a major importer. The production at the Sukhothai kilns included architectural elements and small pots, about half the pieces produced were fish dishes like the present example. These lively dishes were often full of imperfections of glaze and the rough body was covered with a slip to make the surface to be painted smoother. The fish is not confined by the concentric circles, the painted rim is slightly everted. The spur-marks are right in the center of the design, they are wide and have left the remains of the kiln furniture embedded in the glaze, in fact they are so deep they have sunk into the body. This suggests the piece was not biscuit-fired but painted and glazed while the dish was still rather wet.
Condition

In excellent condition.

Size

Diameter 27 cm (10 1/2 inches).

Provenance

N/A

Stock number

26239

References

The Beauty of Fired Clay, Ceramics from Burma, Cambodia, Laos, and Thailand (Hiromu Honda and Noriki Shimazu, Oxford University Press, 1997. ISBN 983-56-0020-1. For a selection of closely related Thai fish dishes from the Sukhothai kilns see pages ; 174 to 178.
More info