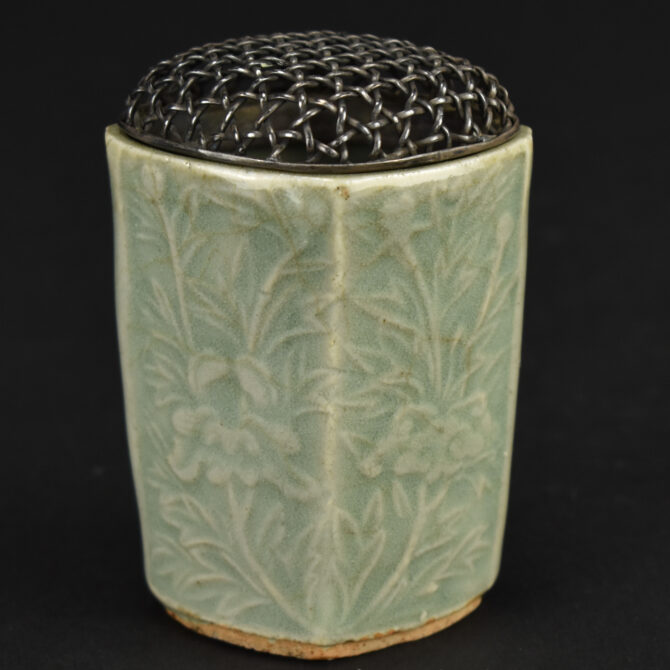 17th Century Japanese Celadon 'Koro'
c.1650 - 1670
A Japanese 17th Century kōro or Beaker c.1650-1670. This small lozenge form object has four moulded panels, each depicting a flowering plant, these panels are divided in two two by broad plain ridges. The biscuit base is flat and recessed from the main glazed body. The silver coloured (unmarked silver and of a later date) basket-weave cover indicates that at some point in its life it was used as a kōro. A kōro is a Japanese censer, much used in tea ceremonies. It was purchased as being Ming celadon, early 16th century, see provenance.
SOLD
Condition

Crazed, one of the crazed lines is probably a crack as it is visible on both sides.

Size

height 6.4 cm (2 1/2 inches).

Provenance

Kunsthandel Aalderink B.V. (Established in 1929) Spiegelgracht 15, Amsterdam 17th November 2018. Described on the invoice as being from China and dating to the early 16th century, sold for €4,750P.J. Stolk collection.

Stock number

26077

References

For a almost identical example dated to c.1650-1670 see : Complete Catalogue of Shibata Collection (Contributors Saga Kenritsu Kyūshū Tōji Bunkakan. Published by the Kyushu Ceramic Museum, 1990) page 93, plate 0681.