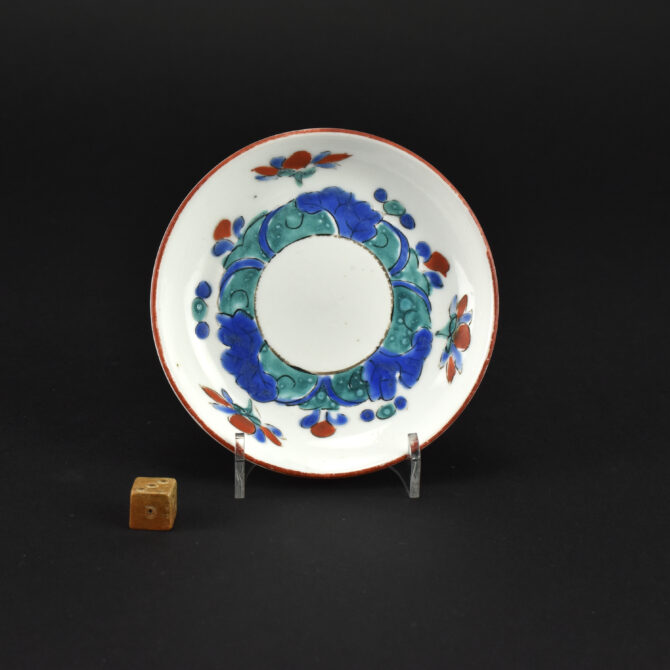 17th Century Japanese Porcelain Saucer
c.1660-1680
An Early Japanese Enamel Decorated Saucer c.1660-1680. This unusual saucer or perhaps dish is part of a group of enamel decorated Japanese that has various names. It is sometimes described as early Kakiemon or early Kutani, Dr.Oliver Impey describes this type as "early enamels". So much more straightforward when there isn't enough evidence to divide them into groups or attribute the whole group to one kiln. It has been pointed out to me that some early 18th century Meissen porcelain is finished, as with this piece, with concentric iron-red rings around the foot and body. Presumably based on this type of decoration? These early enamel pieces are rather scarce in European collections but it is clear that some pieces arrived in Europe in the late 17th century. The enamels on this saucer are deeply coloured and thick, the colours are rather striking. The green has very large burst bubbles that have receded to leave shallow craters. See 'References' for a related dish in the Shibata Collection.
SALE PENDING
Condition

In good condition minor wear to the rim and very slight wear to the central design.

Size

Diameter 11.1 cm (4 1/3 inches).

Provenance

N/A

Stock number

26054

References

For a saucer of this type see : Complete Catalogue of Shibata Collection (Contributors Saga Kenritsu Kyūshū Tōji Bunkakan. Published by the Kyushu Ceramic Museum, 1990) page 175, plate 1344.