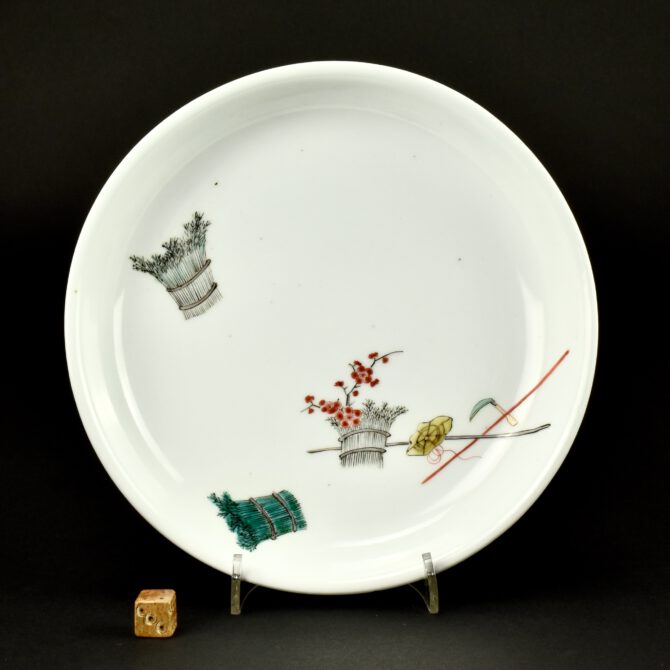 Rare and Fine 17th Century Kakiemon Saucer Shaped Dish
c.1680 - 1700
A Fine and Rare Kakiemon Dish, Kakiemon Kilns, Nangawara, c.1680-1700. This 17th Century Japanese saucer-shaped Kakiemon porcelain dish is decorated in overglaze enamels on the front, with the back decorated using high quality cobalt blue. The design depicts gardening implements, together with Shibagaki brushwood fencing, referred to as banded hedges when describing English porcelain in the Kakiemon style. Shibagaki is a type of Japanese fence made of bundles of twigs together. It is a common feature of Kakiemon porcelain, one of the Shibagaki fences in this design has a flowering prunus branch. Ume (Prunus mume) symbolises purity and renewal, again it is a frequently depicted image on Kakiemon ware. The small hand-held sickle was used, and still is used, in Japanese gardens. Although it is multifunctional, it would be the perfect tool for cutting twigs to form a Shibagaki hedge. A long strip of pliable rush or wood is tucked behind a hedge, this would have been used to bind the hedge together. The loose looking yellow object might be a hat, with a red ribbon to secure it while working. The back has a neatly painted Karakusa scroll designs, the base has a well-drawn Fuku mark. 
See below for more photographs and references.
Condition

Excellent, a few minute scratches. A firing fault, a very small dent to the rim, prior to glazing.

Size

Diameter 18.3 cm (7 1/3 inches)

Provenance

N/A

Stock number

26185

References

For Kakiemon dish of this design but fractionally larger (18.7cm) dated 1680-1700, see : Complete Catalogue of Shibata Collection (Contributors Saga Kenritsu Kyūshū Tōji Bunkakan. Published by the Kyushu Ceramic Museum, 2019) page 261, plate 2080.
More info