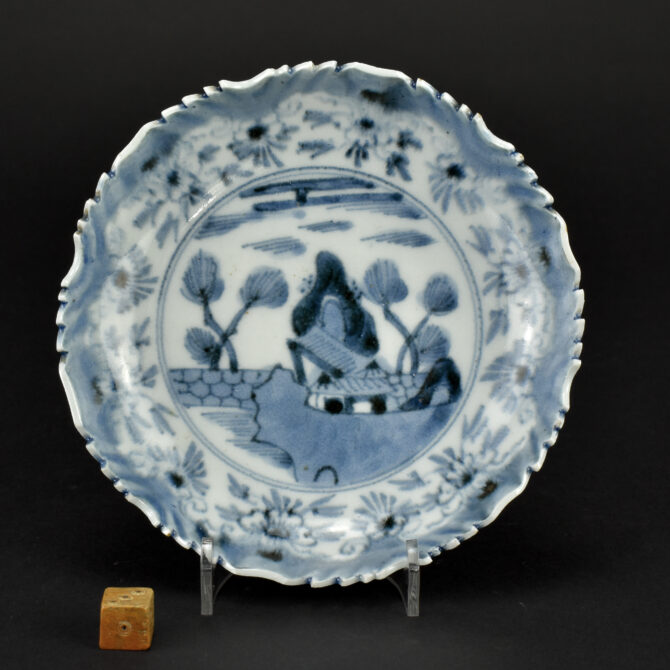 18th Century Japanese Delft Style Tripod Dish
c.1740 - 1770
An 18th Century Japanese Blue and White Porcelain Delft Style Dish, Arita Kilns c.1740 – 1770.  This dish is based on contemporary Dutch Delftware, which was itself an adaptation of a Rococo style silver shape. The potting is light and the sides of these shallow tripod dishes are thin, so in that sense they are superior to the Delftware originals. The rims are cut leaving sharp crests, the Delft pottery originals would have had moulded edges. The feet are simpler than the originals, essentially the dishes rest on three moulded triangles with a ridge that is decorated with a simple design of raised dots. The painting of the central landscape owes little to the West but the border is clearly Western in style.
SOLD
Condition

Excellent condition, two minute chips to the sharppoints of the cut rim.

Size

Diameter 13.9 cm (5 1/2 inches)

Provenance

For another 18th Century Japanese porcelain tripod dish of this type dated to c.1730 see : Japanese Export Porcelain, Catalogue of the Collection of the Ashmolean Museum, Oxford (Oliver Impey, Hotei Publishing, Amsterdam,2002) page 229, plate 398.

Stock number

N/A

References

For a related Japanese porcelain tripod dish dated to the late 18th century see : Fine and Curious, Japanese Export Porcelain in Dutch Collections (Christian J.A. Jorg, Hotei Publishing, 2003. ISBN 90-74822-16-9. Page 255, plate 328.
Information
A Pair of Very Similar Japanese Dishes in the Delft Style
Robert McPherson Sold Archive - 25617