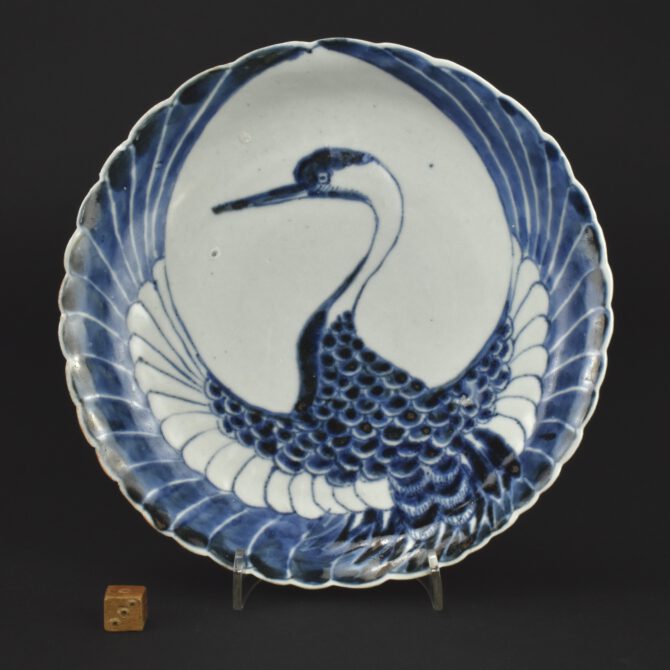 18th Century Japanese Moulded Porcelain Dish
c.1740 - 1770
A Small 18th Century Japanese Porcelain Dish, Arita Kilns c.1740-1770. The thickly potted dish is filled with a single Mon, a Japanese family crest, the design of this Mon is referred to as a 'crane in a circle'. Despite it relating to a family crest this design was and still is popular in Japan, and therefore I think it is impossible to associate it with any one family. The back has a running FuKu mark to the center and the reverse is decorated with meandering ribbon with three bows and three pairs of cash. This moulded dish relates closely to dishes of a larger size which were decorated in blue and white or blue with overglaze coloured enamels, like the dish at the Ashmolean Museum in Oxford (see references). Small blue and white dishes of this design seem to be rare, I haven't seen a crane mon dish as small this before. The blue is very varied in intensity, in the darkest areas it has been laid on so thickly tiny amounts of cobalt have migrated through the glaze to the surface, this leaves very small matt deposits on the glaze surface. Underglaze blue is the description of how the pigment was applied, if you look at the glaze in cross-section, after firing, it could best be described as 'in glaze blue'. During firing, cobalt raises up, it migrates from the porcelain surface it is painted on through the glaze, but doesn't normally reach the surface. This dying or staining of the glaze is what creates the effect of blue and white porcelain.
SOLD
Condition

In very good condition, two minute chips to the rim and two minor kiln fault to the glaze on the front. The body of this dish is slightly grey.

Size

Diameter 18.7 cm (7 1/4 inches)

Provenance

N/A

Stock number

26208

References

For a very similar smaller 18th century Japanese porcelain dish but decorated in enamels in addition to blue and white see : Japanese Export Porcelain, Catalogue of the Collection of the Ashmolean Museum, Oxford (Oliver Impey, Hotei Publishing, Amsterdam,2002) page 242 plate 426.
Information
Cranes in Japan
In Japan, cranes have traditionally been harbingers of long life, good tidings as well as success in battle. The Red-crowned Crane, Grus Japonensis, also called the Japanese Crane or Manchurian Crane, is a large crane and is now one of the rarest of all cranes. The estimated population of the species is only 1,500 in the wild. Red-crowned Cranes breed in large wetlands in temperate East Asia and winter along rivers and in coastal and freshwater marshes in Japan, China, and the Korean Peninsula. In Japan, this crane is known as the Tancho.
Mon
The term "Kamon" refers to a crest used in Japan to indicate one's origins; that is, one's family lineage, bloodline, ancestry and status from ancient times. It is also referred to simply as "Mondokoro" or "Mon". It is said that there are more than 20,000 distinct individual Kamon in Japan. Kamon are often referred to as Family Crests which are European heraldic device similar to the Kamon in function, but it is different in many ways. Except for European heraldic device, none of the countries have similar traditional heraldic device system which identifies family or clan. Kamon is a unique culture and tradition you can find only in Japan.