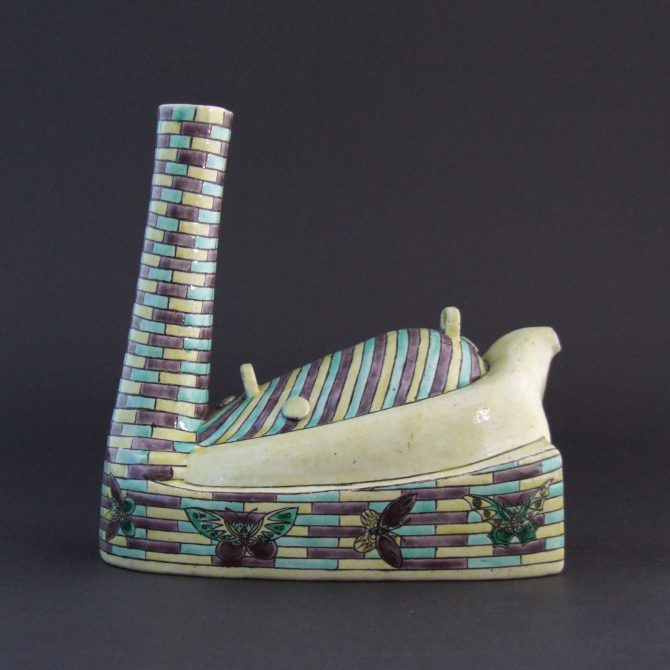 19th CENTURY Famille Jaune
A Rare 19th Century Famille Jaune Biscuit Porcelain Ewer in the Form of a Brick Built Jingdezhen Egg-Shaped Kiln. The Side of the Kiln is Decorated with Butterflies.
SOLD
Condition

In perfect condition.

Size

Length : 15.1 cm (6 inches).

Provenance

N/A

Stock number

24135

References

For an almost identical example see : China for the West, Chinese Porcelain & other Decorative Arts for Export Illustrated from the Mottahedeh Collection (David S. Howard and John Ayers, Sotheby`s,1978) Volume 1, page 121, plate 99. This was sold, see : The Hodroff Collection, Part III, Lot 152, Christie`s New York, Rockefeller Plaza, 21 January 2009. The Hogroff example is also illustrated in Made in China, Export Porcelain from the Leo and Doris Hodroff Collection at Winterthur (Ronald W.Fuchs II in collaboration with David S.Howard, Winterthur Okks, University Press of New England, 2005. ISBN 0-912724-64-1) page 149, plate 96. Here it is dated to the late 1800`s and is under the section of "Drinking Wares". For two similar examples described as "Kangxi or Later", one of which has a cover that can be removed, see : Fine Chinese Ceramics and Works of Art Including Export Art,13 May 2008, Christie`s King Street, London, lot 298.
Information
It appears this rare model of a kiln was in fact a ewer even though there is no lid. One of the examples sold at Christie`s had a removable and the few know examples have two loops of porcelain where the handle would have been attached. Presumably these novelty ewers were sold to tourists at Jingdezhen.
Egg-Shaped Kilns :
"Kiln styles for firing porcelain at Ching-te-chen (Jingdezhen) may not have finally settled down until the late Ming dynasty, when chi-tan-hsing yao or `egg-shaped` kilns were constructed. This design was so successful that it saw continued use over several centuries" From : Science & Civilisation in China, Joseph Needham, Volume V:12 (Ross Kerr and Nigel Wood, Cambridge University Press, 2004. ISBN 0-521-83833-9) part 3 : Kilns, page 366.