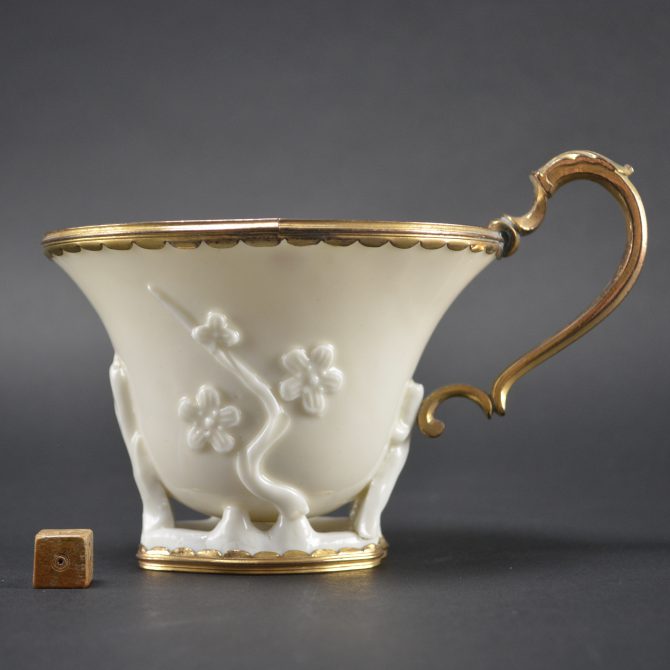 Chinese Blanc de Chine Porcelain Cup with a European Mount
1640 - 1700
Large 17th Century Blanc de Chine Porcelain cup, Dehua kilns, Fujian Province c.1640 – 1680. One side with applied prunus decoration, the other is of magnolia. The European ormolu mount is of good quality and probably dates to the early 18th Century.
SOLD
Condition

In excellent condition. The original join to the ormolu rim appears to be slightly open.

Size

Diameter including the handle 15.2cm (6 inches). Height to the top of the handle - 10.6cm (6 1/4 inches).

Provenance

N/A

Stock number

25598
Information
Painting by Leonard Knyff of 1681 showing a similar wine cup with European works of art.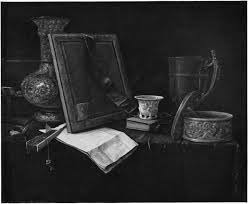 Blanc de Chine Libation Cups :
Blanc de Chine cups of of oval tapering form with integral supports have been traditionally referred to as `Libation Cups`. This is unlikely to be correct, their shape follows that of rhinoceros horn cups which was made locally.
It is interesting baring in mind the important powers that the Chinese attach to this material. By having a Blanc de Chine cup of this form some of the powers of real rhinoceros horn might be conveyed to the drinker. The appliqués were many and varied, there arrangement alters from cup to cup giving an infinite variety.
Plum Blossom (Prunus) / Meihua :
Plum Meihua is one of the most important plants in Chinese art. Their flowers grow on knurled old angular branches, the flowers are fragile and pure. So, they can be a symbol of vigour in old age as well as purity. The tree is the first to flower after the long hard winter, symbolically it can represent perseverance as well as renewal. This meaning is enhanced by a background of cracked-ice.
The design can be seen as representing the end of winter and the beginning of spring with the ice of winter cracking to reveal a new year dawning. Branches of plum blossom convey the `Five Blessings` Meikai wufu, longevity, wealth, health, love of virtue and a peaceful death. The number five, an auspicious number to the Chinese, is taken from the five petals of the plum flower.
Ormolu :
Ormolu, from the French dorure d'or moulu, meaning "gilding with gold paste". It is an eighteenth-century English term for applying finely ground, high-carat gold in a mercury amalgam to an object of bronze. The mercury is driven off in a kiln. The French refer to this technique as bronze doré; in English, it is also known as "gilt bronze".