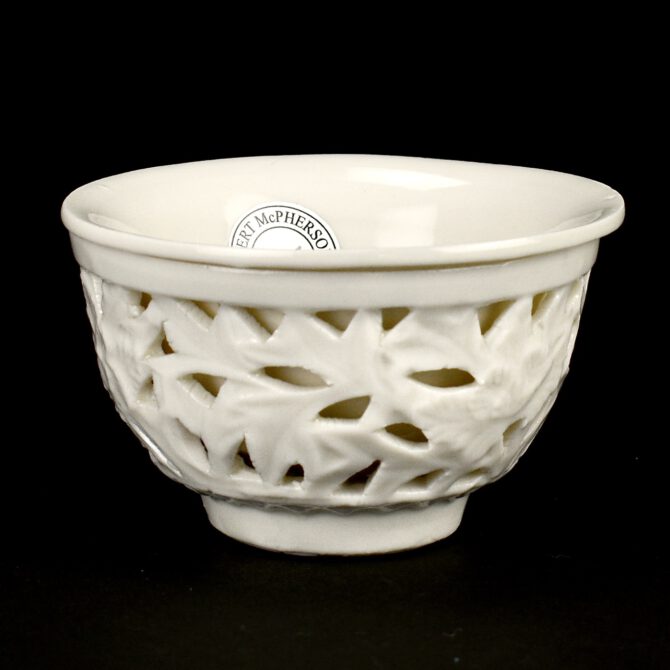 A 17th Century Blanc de Chine Reticulated Cup
Chongzhen to Shunzhi 1628 - 1661
A 17th Century Blanc de Chine Linglong (Reticulated) Cup from the Dehua Kilns, Fujian Province. Transitional Period, late Ming or Early Qing Dynasty, Chongzhen (1628-1644) or Shunzhi (1644-1661). The outer wall of this Blanc de Chine Porcelain Cup is moulded and then sections cut through, the inner wall of the cup was then added. The join can clearly been seen between the inner and outer walls at the top of the cup. The base is carved to represent a Cash symbol.The present piece is an example of what can be referred to as 'reticulated' porcelain, reticulated meaning having the form or appearance of a net, it was used as early the beginning of the 18th Century by the famous Père Francois Xavier d'Entrecolles (1664-1741) to describe this type of work on porcelain . Another popular term for this type of pierced or cut decoration is 'Devils Work' or Guigong. However the Chinese term Linglong is gradually replacing the previous terms, helped by the publication of Jorge Welsh's book 'Linglong' (Jorge Welsh,London,2004.ISBN 972-99045-2-9). There does not seem to be any difference in the use of terms between the free standing pierced porcelain or that supported by an inner wall, nor a distinction made between the most refined work or the type with larger cut-out sections of porcelain. See below for more photographs.
SOLD
Condition

In excellent condition, two very shallow areas under the top rim which are either long very thin chips or firing faults. There is a very minor firing fault, a raised line of clay that is in the interior of the bowl.

Size

Diameter 7.3 cm.

Provenance

From a Private English Collection of Blanc de Chine Porcelain.

Stock number

26367

References

For a very similar Blanc de Chine Porcelain cup see : Blanc de Chine (P.J. Donnelly, Faber and Faber, 1969 (ISBN 571-08078-2) plate 30b dated to c.1700-1750. For a further example, dated to c.1640, see : Exhibition of Blanc de Chine (S.Marchant & Son, Kensington Church Street, London.1985) page 36 plate 83.
Information
A Related Blanc de Chine Beaker Mid-17th Century
Robert McPherson Antiques - Sold Archive - 20783.
One of several similar examples in our Sold Archive.