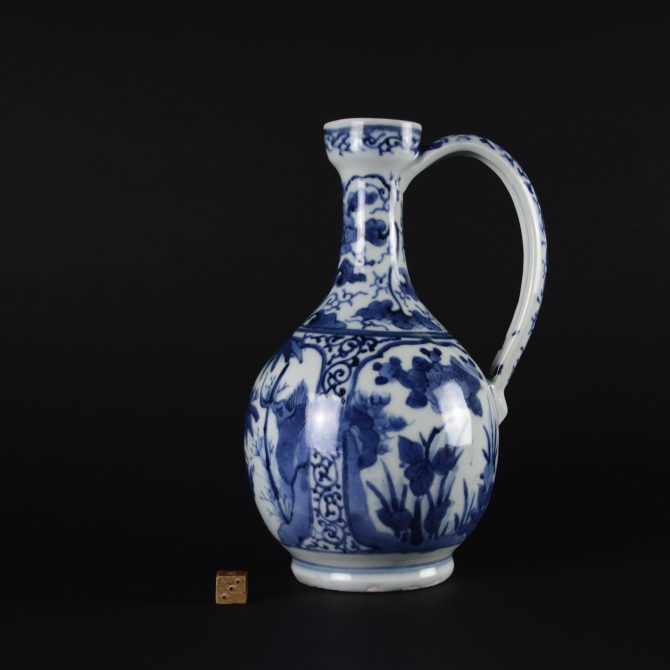 A 17th Century Japanese Export Porcelain Ewer
c.1670 - 1690
A 17th Century Japanese Export Porcelain Jug or Ewer, Arita Kilns c.1670-1690. This elegant Japanese blue and white porcelain ewer is somewhat of a hybrid. The shape is Dutch in origin, and 17th century Dutch Delft examples of this ewer are well known, see 'References'. The painting style is a mixture of Japanese, with influences of contemporary Chinese Transitional porcelain as well as Dutch Delftware. The bulbous lower section of the jug is divided into three panels, these are framed with Karakusa scrolls. One panel lined up below the spout is of a couple wondering around in a rather fantastical landscape, the lady has her parasol open while the man's eye has been caught by something of interest. Large bamboo leaves and curious rocks fill the scene. The panels that flank this scene are of flowering peony and other flowers. The slender high handle has a hole at the top to affix a European mount and cover. The tapering neck flares at the top, which is slightly pinched to form a very minimal, rounded spout. Two sizes of this export porcelain jug are known, this being the smaller of the two. The larger size is around 28cm.
SOLD
Condition

In perfect condition.

Size

Height 20.7 cm (8 1/4 inches). In excellent condition, very minor wear.

Provenance

N/A

Stock number

26070

References

Two similar Japanese porcelain ewers are illustrated by Christiaan Jörg in Fine and Curious, Japanese Export Porcelain in Dutch Collections (Christian J.A. Jorg, Hotei Publishing, 2003. ISBN 90-74822-16-9) page 161, plate 182 and page 162, plate 183. For a similar example but made at Delft, dated to 1670-1680, see : Porcelain for Palaces, The Fashion for Japan in Europe (John Ayres, Oliver Impey, J.V.G. Mallet. The Oriental Ceramic Society 1990. ISBN 0-903421-24-0) page 247, plate 274. A Japanese Kakiemon example is illustrated on page 141, plate 100.