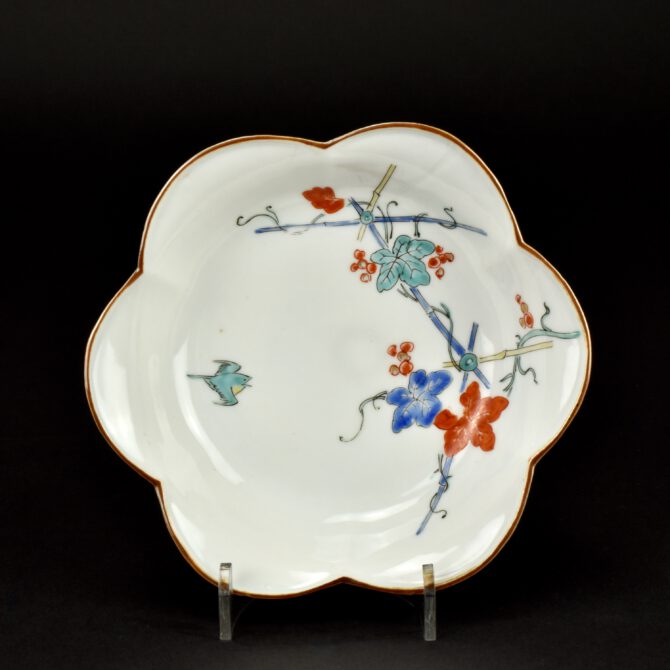 17th Century Japanese Kakiemon Porcelain Bowl
c.1670 - 1690
A 17th Century Japanese Kakiemon Porcelain Bowl, Kakiemon Kilns c.1670 – 1690. This small Kakiemon flower shaped bowl with Nigoshide (milky white) body depicts garden trellis supporting a fruiting vine. Grapes carried various symbolic meanings in Japan, abundance, a rich harvest or leading a long life. They are, of course, the fruit of Autumn. A bird, perhaps a bush warbler, has the grapes in its sight. The rim is dressed in a brown iron oxide glaze. Kakiemon porcelain, like the present example, was popular in Japan but were also exported to Europe. Collections such as those at Burghley House had Kakiemon porcelain.
https://collections.burghley.co.uk/?s=kakiemon
See below for more photographs and references.
SOLD
Condition

In excellent condition, a very minute glaze flakes to the back c.1 mm, rubbing to one red leaf. A small amount of blue enamel smudged on side of the bowl and a tiny amount on the footrim.

Size

Diameter 13.7 cm (5 1/3 inches)

Provenance

N/A

Stock number

26315
Information
Kakiemon Porcelain
Kakiemon decoration is usually of high quality, often delicate and with well-balanced asymmetric designs. The designs were normally quite sparse emphasizing the fine white porcelain body known in Japan as Nigoshide (milky white). The opaque white milky Nigoshide body was used on the finest pieces, it appears that it was reserved for fine quality enamelled decoration. Kakiemon porcelain was decorated with a great variety of imaginative designs which include elements such as the `banded hedge`, `flying squirrel`, and the `Quail and Millet` design. The `Three Friends of Winter` were also a very popular group of designs, other subject taken from nature include flowers (especially the chrysanthemum, the national flower of Japan) as well as birds and rock-work. Figural subjects such as the `Hob in the Well` were also popular. This design illustrates a Chinese folk tale where a sage saves his friend who has fallen into a large fish-bowl by throwing stones at it, breaking open the pot. Banded-Hedges were a formal device within Japanese traditional gardens, they were often incorporated in designs, includes `The Three Friends of Winter` (Pine, Bamboo and Prunus). These three plants signify perseverance, as neither the pine nor the bamboo shed their leaves in winter and the plumb (Prunus) flowers at the very end of the winter, heralding the arrival of spring.
Kakiemon Bowls 
Robert McPherson Antiques Sold Archive