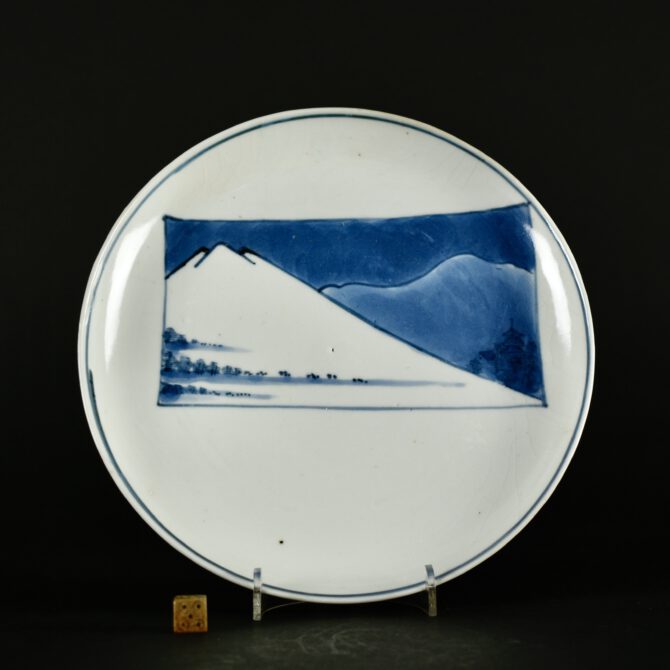 A 17th Century Japanese Porcelain Dish with a View of Mount Fuji
c.1660 - 1680
A 17th Century Japanese Blue and White Porcelain Dish with a Painting of Mount Fuji, Arita Kilns c.1660-1680. This interesting interpretation of the quintessentially Japanese view, shows a scroll painting of Mount Fuji Fujisan Zu placed asymmetrically within the dish where it bumps against the concentric borderline. A number of dish of this design are known, there are differences though, the placing of the Fuji scroll varies. There is a very similar dish in the Kyushu Ceramic Museum, this one lacks the border and the placing of the scroll is different, it is to the lower left. See References ; Complete Catalogue of Shibata Collection. The base with a commendation mark among the stilt marks.
SOLD

Condition

In excellent condition, the glaze has fine crazing all over the surface which is very clean.

Size

Diameter 21 cm (8 1/8 inches)

Provenance

From a Private English Collection of Japanese and Chinese Ceramics.

Stock number

26145

References

For a very similar Japanese dish dated to c.1660-1680 see : Complete Catalogue of Shibata Collection (Contributors Saga Kenritsu Kyūshū Tōji Bunkakan. Published by the Kyushu Ceramic Museum, 1990) page 153, plate 1168.
Information