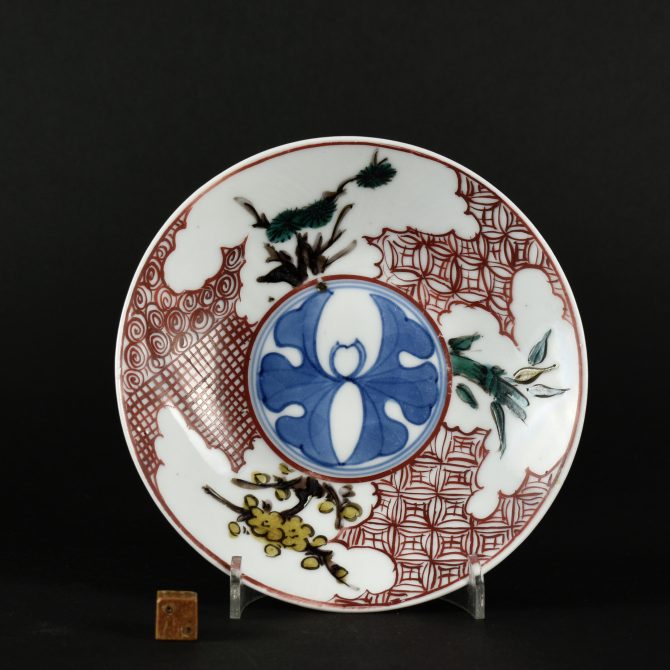 A 17th Century Ko-Kutani Dish
Go-Sai or Reigen Period 1655 - 1687
A 17th Century Ko-Kuntani Dish c.1655-1670. This Ko-Kutani Dish was probably made at the Kutani Kilns, Enuma County, Ishikawa Prefecture, Japan. The design consists of a central roundel decorated in underglaze cobalt blue with what are perhaps two gingko leaves. The overglaze decoration is of shôchikubai or the Three Friends of Winter; pine, prunus and bamboo. These are painted within cloud shaped panels and set against iron-red brocade designs.
SOLD

Condition

In excellent condition, somw minor scratches and very light wear. Two pieces of kiln grit to the front.

Size

Diameter 14.6 cm (5 3/4 inches)

Provenance

N/A

Stock number

25847
Information
Ko-Kutani
The term kutani means 'Nine Valleys'.  According to tradition, clays suitable for porcelain making were found in the Kutani mines of the Daishōji clan, a cadet branch of the Maida clan. The pre-fix Ko just means old but in the context of Ko-Kutani it referes to the earliest period of production.
The site of old Kutani porcelain kiln (right), the memorial to the founder Gotō Saijirō (left)