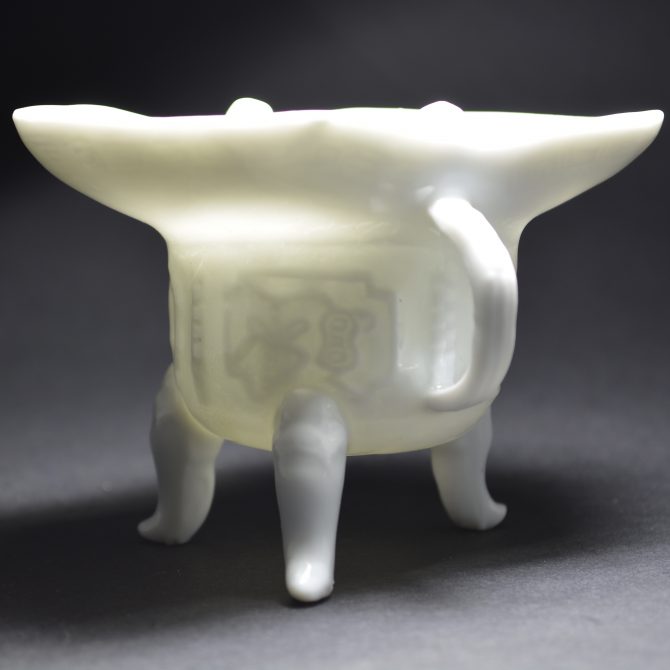 A 17th or 18th Century Blanc de Chine Porcelain Jue
A 17th or 18th century Blanc de Chine porcelain 'Jue' or libation cup, Dehua kilns, Fujian Province. The archaic tripod form with masks at the top of each tapering leg has moulded panels with a single side handle. The interior with two strips that have a shaped terminal. The legs of the original bronze versions kept the body of the cup above the embers so the wine would warm, the inner flanges would have been taller and would probably have been used to retrieve the hot bronze Jue. The colour is a bright clear white with a very slight blue tinge to the glaze.
Condition

There is a small flake that has been skillfully repaired c.8 x 4mm. See the last two pictures, the second one has light shining through the porcelain to show the repair which is difficult to see with the naked eye.

Size

Length : 10.2 cm (4 inches) Height : 6.7cm (2 2/4 inches

Provenance

A Private Collection in the United States.

Stock number

25196

References

For two Blanc de Chine porcelain jue of this type dated Ming/Qing dynasty c.1650 see : Exhibition of Blanc de Chine (Marchant, London, 2014. ISBN 978-0-9568400-7-3) pages 146 and 147, plates 113 and 114. Offered for sale at £4,500 and £6,000 repectively.
Information
Jue :
A jue is a shape of Chinese ritual bronze, a tripod vessel or goblet used to serve warm wine. It was used for ceremonial purposes by the Chinese of the Xia, Shang, and Zhou dynasties. Often the jue had a handle, sometimes in the shape of a dragon. It also has two protuberances on the top of the vessel, which were probably used when lifting the vessel out of heat. 
A Chinese Bronze Jue, Shang Dynasty, 13th-12th century B.C.