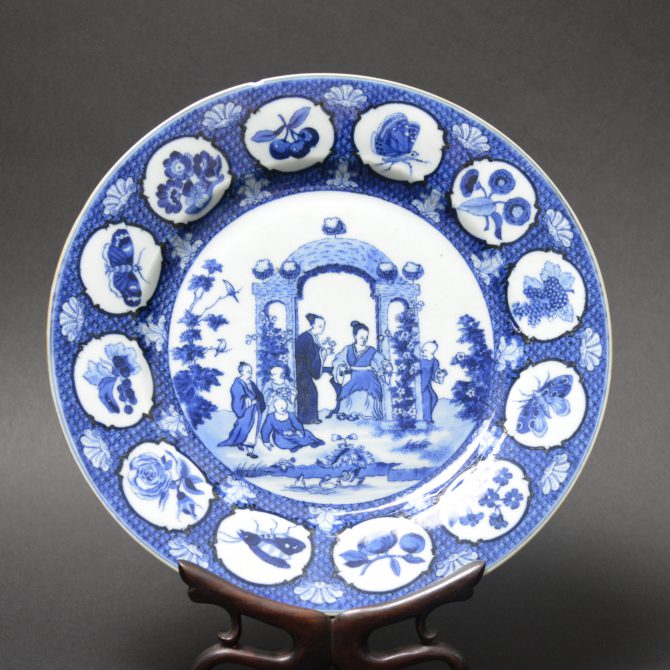 An 18th Century Chinese Export Porcelain 'Arbour' Pattern Plate After Cornelis Pronk
c.1740 - 1750
A Chinese Export Porcelain Plate after the 'Arbour' design by Cornelis Pronk (1691 – 1759) commissioned by the Dutch East India Company (Verenigde Oost-Indische Compagnie or V.O.C.) in 1737. This design is mentioned in the V.O.C. archives, it is perhaps his fourth design for the company. The border contains elements copied from Maria Sybilla Merian's Erucarum Ortus.
This Chinioserie design shows two Chinese ladies, one seated by a table the other holding a flower under a European leafy arbour with climbing roses. Outside the arbour to the left three Chinese boys, to the right one Chinese boy appears from behind the arbour. Around the arbour a garden with two birds perched in a tree on one side and a flowering rose on the other. In the foreground two ducks on a pond. On the rim twelve oval cartouches containing alternately butterflies, fruit and flowers, reserved on a square-diaper underglaze blue ground. The fours insects in the rim are taken from Maria Sybilla Merian's Erucarum Ortus, published in full in 1718, and in an enlarged Dutch edition, European Insects, 1730. Between the cartouches there are feather plumes along the inner edge and shells at the outer edge. On the reverse around the rim tasselled lappets in underglaze blue.
In total, only three underglaze blue and white dinner services painted with the 'Arbour' design, of 371 pieces each, were ordered. Beside dinner services the order also describes nine mantel piece sets and tea services and even twelve wall sconces. Curiously, underglaze blue tea wares with this decoration are not known, even though nine blue and white sets were sent. The blue and white version of the 'arbour' design by Pronk is far less common than its enamelled counterpart and therefore quite rare.
Condition

A chip to the rim at the top. The two figures within the Arbour show feint traces of gilded decoration on their clothes.

Size

Diameter 23.5 cm (9 1/4 inches)

Provenance

N/A

Stock number

25739
More info
Information
Cornelis Pronk 1691 – 1759

Draughtman for the Dutch East India Company, Verenigde Oost-Indische Compagnie (V.O.C.)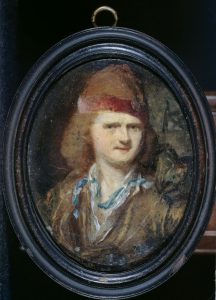 Cornelis Pronk (1691 - 1759) was a Dutch draughtsman, painter and porcelain designer. He is known particularly for his numerous topographical drawings, as well as for his porcelain designs. In 1734, the Dutch East India Company (Verenigde Oost-Indische Compagnie) commissioned Pronk to produce designs for a set of porcelain plates. This specially ordered porcelain or Chine de Commande was produced in China, then shipped to Europe. A set of blue-white plates, for instance, would sell for 1160 Dutch guilders – enough to buy a house in Amsterdam. Pronk made four different designs, perhaps more, 'The Parasol Ladies' was most popular and this can be seen in many different versions. The Dutch East India Company ended the deal in 1740 because the production and shipping from China proved too costly. However, Pronk's designs remained popular and were frequently copied, and some of his designs are still being produced. Four of Pronk's sketchbooks are in the collection of the Rijksprentenkabinet (National Cabinet of Prints), now part of the Rijksmuseum in Amsterdam. In 1997, the Frans Hals Museum in Haarlem held an exhibition of Pronk's work.
A Polychrome version of the Pronk 'Arbour' Pattern