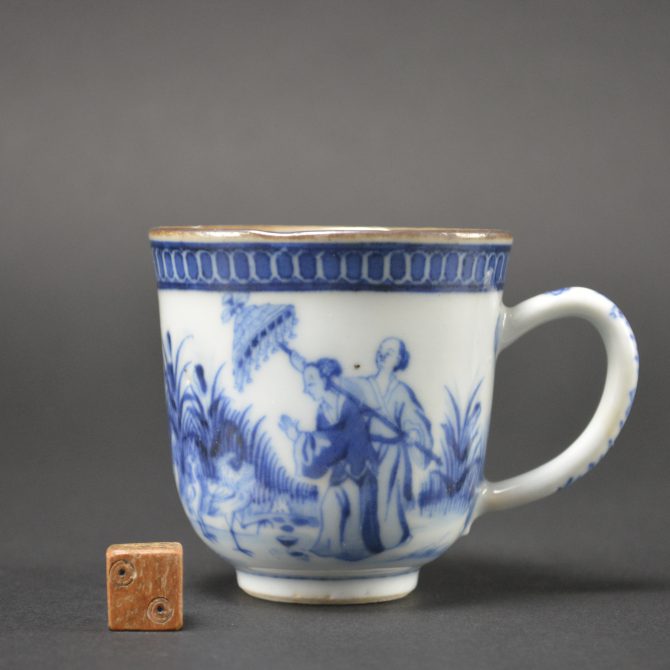 A Chinese Export Porcelain 'Pronk' Coffee Cup c.1740
A Chinese Export Porcelain Coffee Cup Depicting Cornelis Pronk's Design 'Parasoldames' (La Dame au Parasol). This Blue and White version of the well-known Chine de Commande design dates from about 1740, however the pattern was used until at least 1760-1770. It is Chinoiserie in style, which is rather strange considering it was made in China. These tall elegant ladies with their parasol must have seemed rather quaint and exotic to the Dutch middle and upper classes when they were first seen in the Netherlands.
SOLD
Condition

in poor condition - there is a large but fine crack, after about a centimetre it divides into two. It reaches as far as the feet of the birds. There is a very small associated loss to the interior. There are two small chips to the brown iron-oxide rim.

Size

Height 6.5 cm (2 1/3 inches)

Provenance

From a Private Belgium Collection

Stock number

25853
Information
Cornelis Pronk 1691 – 1759, Draftsman For the V.O.C. :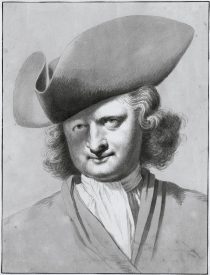 Cornelis Pronk also known as Cornelis Pronck, was a Dutch draughtsman, painter and porcelain designer. He is known particularly for his numerous drawings of cities, towns and buildings (so-called topographical drawings), as well as for his porcelain designs. In 1734, the Dutch East India Company commissioned Pronk to produce designs for a set of china plates. This porcelain (so-called chine de commande) was produced in China, then shipped to Europe and sold there at an extremely high price. A set of blue-white plates, for instance, would sell for 1160 Dutch guilders – enough to buy a house in Amsterdam. Pronk made four different designs, of which "The Parasol Ladies" was most popular. The Dutch East India Company ended the deal in 1740 because the production and shipping from China proved too costly. However, Pronk's designs remained popular and were frequently copied, and some of his designs are still being produced. Four of Pronk's sketchbooks are in the collection of the Rijksprentenkabinet (National Cabinet of Prints), now part of the Rijksmuseum in Amsterdam. In 1997, the Frans Hals Museum in Haarlem held an exhibition of Pronk's work. Information from Wikipedia.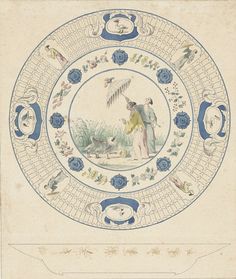 Pronk's Parasoldames (La Dame au Parasol )
In 1734, as an experiment, the Dutch East India Company board, the Heren XVII, commissioned the Amsterdam artist Cornelis Pronk (1691-1759) to design depictions for services and other porcelains. He then designed a chinoiserie, a depiction in Chinese style, featuring a Chinese lady at the waterside and a female servant holding an umbrella. These drawings with the designs, which are now known as the Parasoldames (the parasol ladies) were sent to Batavia and from there to China, where porcelain, decorated after this example, was ordered in 1736. The coloured drawn plate design has been preserved and is now part of the collection of the Rijksmuseum Amsterdam. The High Government ordered porcelain conform to these drawings in both China and Japan.