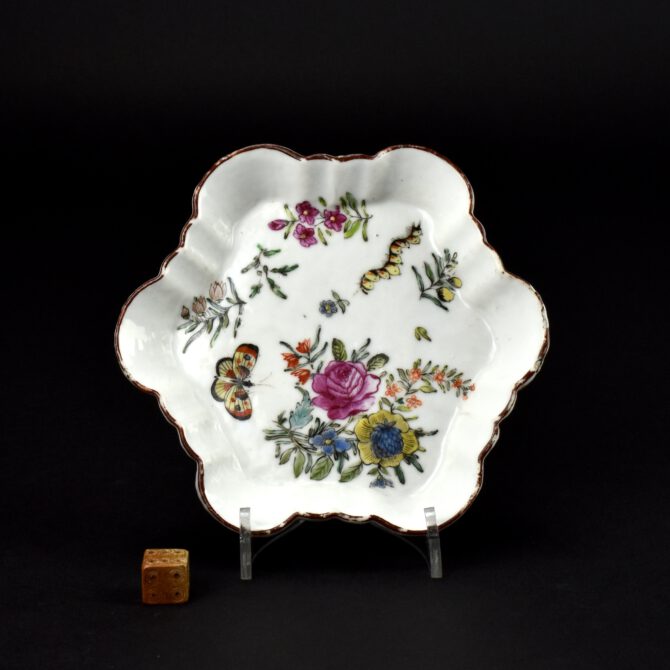 A James Giles Decorated Chinese Porcelain Teapot Stand
Made at Jingdezhen c.1755-1765. Enamelled in London between c.1757-1765
A London Decorated Chinese Export Porcelain Teapot Stand, Made at Jingdezhen c.1755-1765, Enamelled in London between c.1757-1765. This blank silver shaped Chinese export porcelain teapot stand was probably decorated by James Giles's studio. The design is influenced by contemporary Meissen porcelain, it includes a bouquet of garden flowers including roses as well as a caterpillar and a butterfly. All the decoration was added in London, probably at James Giles's studio in either Kentish Town or Berwick Street, Soho between c.1755-1765.
See below for more photographs and information.
Condition

Like most teapot stands, this example has some rim chips and fritting. The central decoration id in very good condition.

Size

Diameter 12.8cm (5 inches)

Provenance

N/A

Stock number

26508
More info
Information
 English Decoration on Blank Chinese Porcelain 
This type of English enamel decoration on Chinese export porcelain should be seen in a different way to what is referred to as `over-decorated` or `clobbered` porcelain. Those terms refer to Chinese porcelain that was imported into Europe as finished articles, but were either too plain for merchants to sell or their profits could be enhanced by adding enamels over the existing Chinese decoration. The present example was plain white when it arrived in England, it would not have been salable and so no merchant would have ordered it to retail. However, James Giles must have ordered allot of white porcelain specifically for decoration at his workshop in London. The shapes ordered were the lasted fashion in Europe as was the decoration he added. To my mind this makes these objects separate and distinct from other Chinese porcelain, China only provided the blank `canvas` and even that was of a form dictated to by Europe. For this reason these objects could primarily be see as English, they would have been totally alien to the Chinese.
A London Decorated Chinese Export Porcelain Teapot Stand
Robert McPherson Antiques - Sold Archive Number : 25747