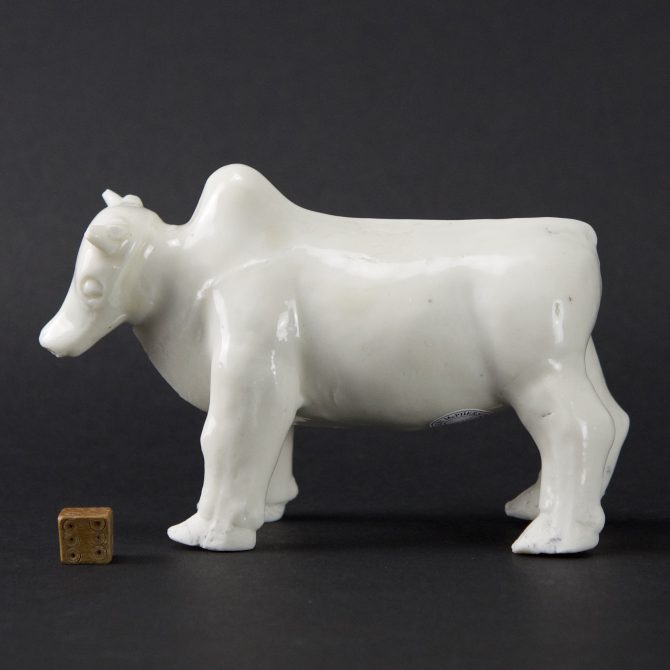 A Kangxi Blanc de Chine Porcelain Model of a Ox
Kangxi 1662 - 1722
An Unusual Kangxi Blanc de Chine Model of an Ox, Dehua kilns, Fujian Province. This Blanc de Chine porcelain model depicts animal that was a beast of burden as well as one of the twelve animals of the zodiac. It was made from many diffierent moulded components. The body was constructed from two sections, each of the four legs was made from two moulded pieces as was the head. These were all luted together and the horns, ears and tail were applied by hand. In fact the tail was made out of a small piece of clay pushed onto the surface, the kink is a nicely observed detail in what is after all a rather bizarre looking creature.
Models such as the present example were luted together from moulded sections. In 18th century England the people who carried out this process were called 'repairers', indeed the process is similar to repairing broken ceramics, except that you use clay as your glue. Wet clay was used to stick the leather-hard moulded sections together, the process is referred to as luting from the Latin Lutum meaning mud or clay. To help made sure the join will be as strong as possible the edges of the clay sections are scored, so the luting material really binds with the joining surfaces, especially when firm pressure is applied. The luted joins are then cleaned, smoothed down, so the piece looks seamless.
SALE PENDING

Condition

The ears are badly chipped, the horns are chipped. There is a fine glaze crack to the body.

Size

Length 15.2 cm (6 inches)

Provenance

From a Private Collection of Blanc de Chine Porcelain

Stock number

25665
Information
Blanc de Chine Porcelain :
The porcelain known in the West as Blanc de Chine was produced 300 miles south of the main Chinese kiln complex of Jingdezhen. The term refers to the fine grain white porcelain made at the kilns situated near Dehua in the coastal province of Fujian, these kilns also produced other types of porcelain. A rather freely painted blue and white ware, porcelain with brightly coloured `Swatow` type enamels as well as pieces with a brown iron-rich glaze. However it is the white blanc de Chine wares that have made these kilns famous. The quality and colour achieved by the Dehua potters was partly due to the local porcelain stone, it was unusually pure and was used without kaolin being added. This, combined with a low iron content and other chemical factors within the body as well as the glaze, enabled the potters to produce superb ivory-white porcelain.