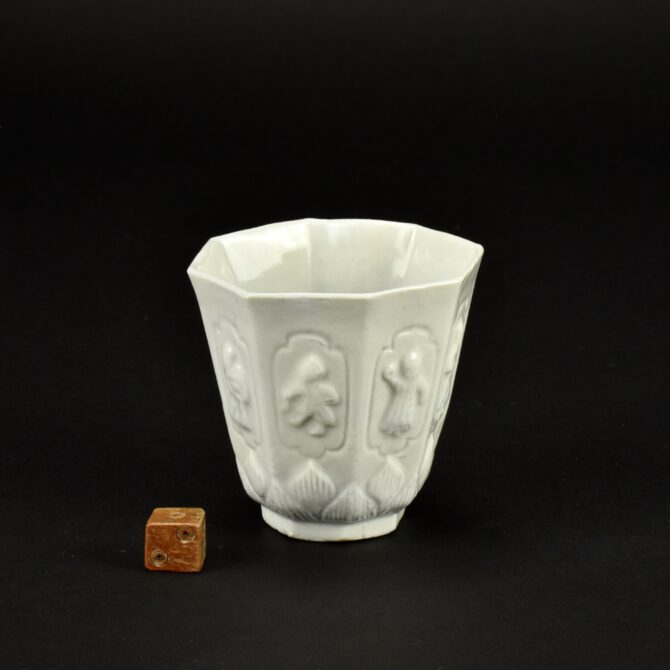 A Kangxi Blanc de Chine Porcelain Beaker Made at the Workshop of Mr. Zhongtun
Kangxi 1662- 1722
A Kangxi Blanc de Chine Porcelain faceted octagonal beaker made in Dehua, Fujian Province by Zhongtun shi (Mr. Zhongtun) c.1700. The sides with recessed moulded panels containing the Eight Immortals. The base with an impressed seal-mark reading Shi Zhong Tun family. Dehua in Fujian province was the center for the production of Blanc de Chine porcelain, the products varied greatly but production was a family business, nearly alway anonymous, the potters names are lost forever. That makes these marked beakers especially interesting as the name of the workshop is impressed into the base prior to firing.
SALE PENDING
Condition

In perfect condition. The line on the bases is from the mould.

Size

Height : 7 cm (2 3/4 inches)

Provenance

From a Private Collection of Blanc de Chine Porcelain.

Stock number

25672

References

For a very similar Blanc de Chine beaker see : Blanc de Chine (Introduction by John Ayers, S.Marchant & Son, 2006. ISBN 0-9554009-0-2) page 151, plate 120. See other references below the photograph gallery on this page.
Information
Blanc de Chine Porcelain
The porcelain known in the West as Blanc de Chine was produced 300 miles south of the main Chinese kiln complex of Jingdezhen. The term Blanc de Chine refers to the fine grain white porcelain made at the kilns situated near Dehua in the coastal province of Fujian, these kilns also produced other types of porcelain. A rather freely painted blue and white ware, porcelain with brightly coloured `Swatow` type enamels as well as pieces with a brown iron-rich glaze. However it is the white blanc de Chine wares that have made these kilns famous. The quality and colour achieved by the Dehua potters was partly due to the local porcelain stone, it was unusually pure and was used without kaolin being added. This, combined with a low iron content and other chemical factors within the body as well as the glaze, enabled the potters to produce superb ivory-white Blanc de Chine porcelain.
Two Very Similar Blanc de Chine Beakers from Mr.Zhongtun's workshop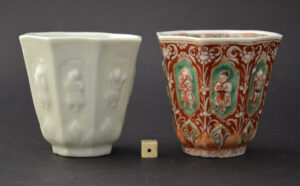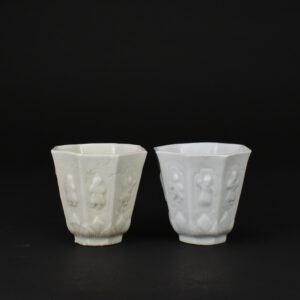 The Eight Immortals :
The Eight Immortals are a group of legendary Xian, immortals or transcendents in Chinese mythology. Each Immortals power can be transferred to a power tool that can give life or destroy evil. Together, these eight tools are called `Covert Eight Immortals`. Most of them are said to have been born in the Tang Dynasty or Song Dynasty. They are revered by the Taoists, and are also a popular element in the secular Chinese culture. They are said to live on Penglai Mountain-Island.
The Eight Immortals are :
Immortal Woman He (He Xiangu),
Royal Uncle Cao (Cao Guojiu),
Iron-Crutch Li (LiTieguai),
Lan Caihe,
Lü Dongbin,
Philosopher Han Xiang (Han Xiang Zi),
Elder Zhang Guo(Zhang Guo Lao),
Zhongli Quan.