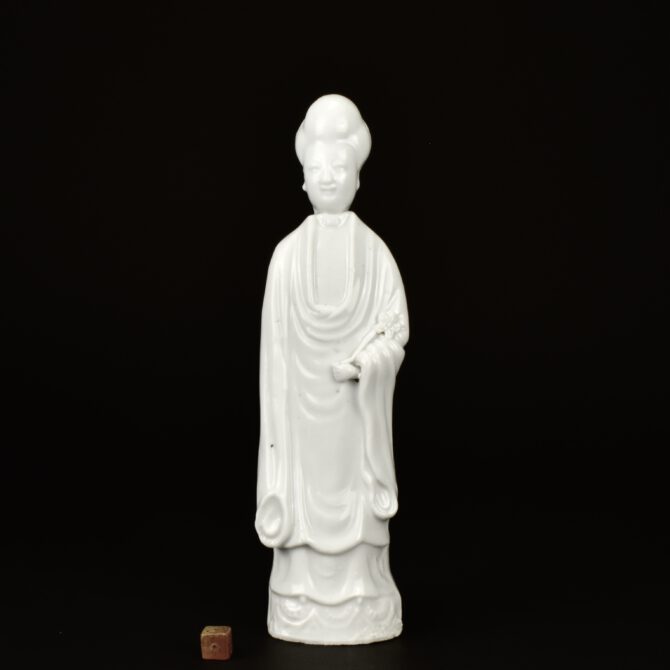 A Kangxi Blanc de Chine Porcelain Figure of a Lady
Kangxi c.1700
A Kangxi Blanc de Chine Porcelain Figure of a Lady, Dehua kilns, Fujian Province c.1680 – 1710. This Blanc de Chine figure depicts an elegantly dressed lady standing upright apon decoration resembling swags. Her long sleeved cloak draps down below a clasp under her chin, her hair is neatly divided into three sections and tightly tied in a double swirl bun. This figure is unusually small for its type, most are twice or even three times taller. Unlike this figure, they tend to have detachable heads. The present example is mould made, from the neck to the base is a line either side where the two parts were joined. This luting line, where wet clay acts as a glue, is clearly visible. The head was also made from two moulded sections and then joined to the body, a tiny nick with a sharp implement has been added to each ear. The moulded had with wrist have been pushed into the sleeve and a handmade stem added with moulded prunus flower at the end. There is clean white porcelain grit on the unglazed foot and to part of the base, this from where the figure stood in the kiln, to keep it from sticking while glaze firing.
See Below For More Photographs and Information.
Condition

In excellent condition, undamaged. If push firmly it does wobble.

Size

Height 25.3 cm (10 inches).

Provenance

N/A

Stock number

25565

References

For Blanc de Chine figure of a lady of this type at Rosenborg Castle, mentioned in an inventory of 1716 or 18, of the Danish Royal Cabinet of Curiosities, see : Blanc de Chine (P.J Donnelly, Faber and Faber, 1969) plate 73 and a pair of coloured Guanyin in situ at Rosenborg Castle see plate 74. An 18th century Turin figure copying the present model is in the British Museum - G. G. Rossetti's factory, Soft-paste porcelain Inscribed Torino. G. G. Rossetti's factory, Soft-paste porcelain Inscribed Torino, c.1737-1743. See below.
More info
Information
A Related Kangxi Blanc de Chine Figure
Robert McPherson Antiques - Sold Archive Number 21899.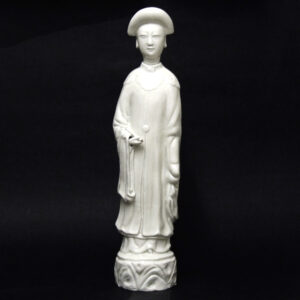 An 18th Century Turin Porcelain Figure Based on a Kangxi Original
G. G. Rossetti's factory, Soft-paste porcelain c.1737-1743.