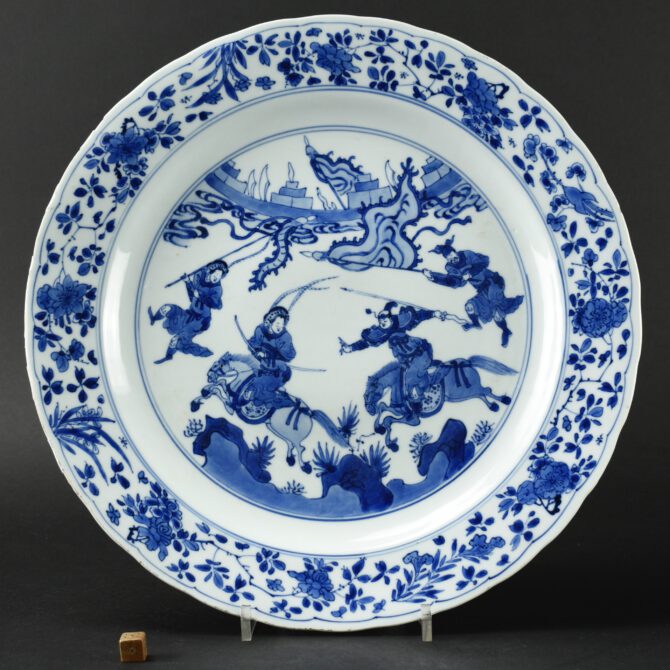 A Fine Kangxi Blue and White Porcelain Dish
Kangxi 1662 - 1722
A Fine Kangxi Blue and White Porcelain Dish c.1700. This well painted shallow dish is painted in rich tones of cobalt blue, it shows with two mounted soldiers in full gallop with their weapons drawn. They are flanked by two bannermen (see details below the photo gallery) with a defended wall in the distance. The border is painted with a full array of plants including peony, prunus, orchid and arrowhead (an aquatic plant). The six-character commendation mark on the back can be translated as Elegantly made like precious stone for sacred friendship (The New and Revised Handbook of Marks on Chinese Ceramics, Gerald Davison, 2010. ISBN 978-0-9564518-0-4). Chinese export porcelain dishes of this type were popular in grand houses towards the end of the 17th and into the early 18th century.
Condition

In excellent condition, some fritting (see photo gallery below), small rim chips to the foot and a small amount of wear due to stacking.

Size

34.5 cm (13 inches).

Provenance

N/A

Stock number

26333

References

For a deep dish showing a very similar scene is in the Rijksmuseum and is illustrated in : Chinese Porcelain in the Collection of the Rijksmuseum Amsterdam, The Ming and Qing Dynasties` (Christiaan Jörg, Phillip Wilson, The Rijksmuseum, 1997. ISBN 0-85667-489-3) page 94, plate 82. The six character commendation mark is in The New and Revised Handbook of Marks on Chinese Ceramics (Gerald Davison, 2010. ISBN 978-0-9564518-0-4) page 173, inscription 2440.
More info
Information
Qing Bannermen / The Eight Banners
The Eight Banners was a military system set up by the Manchu at the beginning of the Qing in the 17th century. Its origins date back to c.1600 in the late Ming period, during the Wanli period. Military units were grouped into large units called gūsa or 'banners', they were differentiated by colours to form a total of eight banners that the Jurchen (the group that overthrew the Ming) carried into battle. The banner system was militarily efficient, but it also played an economic, social as well as a political role. The system allowed the newly formed Qing to unify the different clans into a cohesive fighting force, however the banners were broadly divided along ethnic lines, namely Manchu and Mongo. The Manchu Banner Army totalled approximately 200,000, this was evenly divided between the Forbidden Eight Banner Army stationed in Beijing and the Territorial Eight Banner Army.
The Eight Banners
The Emperor Nurchani, the Manchu warlord who created what would become the Qing Dynasty.