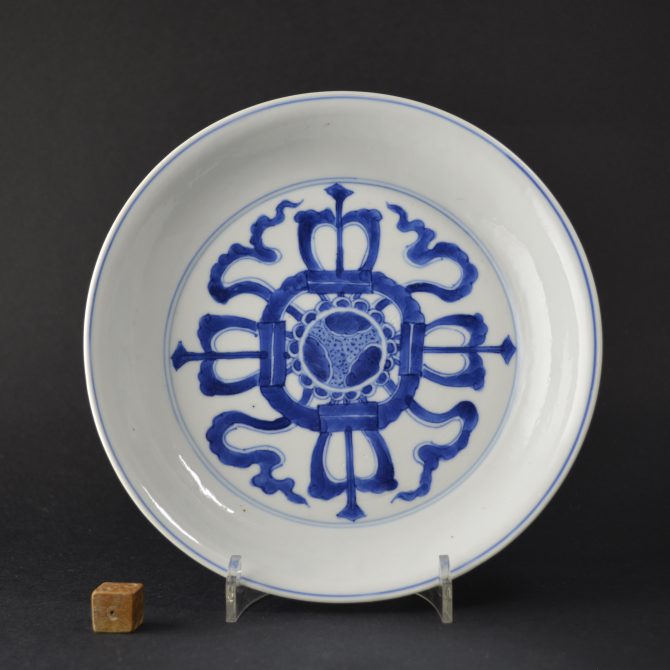 A Kangxi Mark and Period Porcelain Dish c.1700
A Kangxi Mark and Period Porcelain dish c.1700. This none-imperial dish is painted in a rich cobalt with a Buddhist vajra design to the well, it is depicted tided with flowing ribbons. The back is painted with comically ferocious dragons that merge into scrolling foliage. The base with a six character Kangxi mark and of the period within double concentric circles.
Condition

No damage. The dish has been quite obviously warped in the firing. There is a firing fault to the back where there is a small gap between the footrim and the base, this shows very slightly on front.

Size

Diameter : 16 cm (6 1/4 inches)

Provenance

N/A

Stock number

25166
Information
None-Imperial Kangxi Mark and Period Porcelain  :
Kangxi blue and white export porcelain object are sometimes found with the six character mark of the emperor Kangxi (1662-1722) to the base. These none-imperial reign marks are referred to as minyao in Chinese, denoting them as `popular wares` not destined for court use. However the majority of the marked pieces bare the mark of earlier Ming dynasty emperors, some are Jiajing (1522-1566), occasionally Wanli (1573-1620) but by far the most commonly encountered marks are those of Chenghua (1465-1487). David Howard in `The Choice of the Private Trader` (David S. Howard, Zwemmer, 1994) notes that "The Chenghua mark …. was not intended as a forgery, but rather as a compliment to the quality of the piece and to replace the mark of Kangxi who had forbidden the use of his name on porcelain made for export after 1682; a ban which nominally remained in force until the late 19th century". It appears this ban was not enforced, or if it was only partly enforced, as we have had many Kangxi export pieces made after this date (1682) that bare the six character Kangxi mark. It is worth noting that many 19th century copies of Kangxi blue and white porcelain bare a four character Kangxi mark, something you do not on the original, all Kangxi marks on porcelain of the period were of six character form.
Vajra :
Vajra is a Sanskrit word meaning both thunderbolt and diamond. Additionally, it is a weapon won in battle which is used as a ritual object to symbolize both the properties of a diamond (indestructibility) and a thunderbolt (irresistible force).
The vajra is essentially a type of club with a ribbed spherical head. The ribs may meet in a ball-shaped top, or they may be separate and end in sharp points with which to stab. The vajra is the weapon of the Vedic rain and thunder-deity Indra, and is used symbolically by the dharma traditions of Buddhism, Jainism and Hinduism, often to represent firmness of spirit and spiritual power. The use of the vajra as a symbolic and ritual tool spread from India along with Indian religion and culture to other parts of Asia.
In Buddhism the vajra is the symbol of Vajrayana, one of the three major branches of Buddhism. Vajrayana is translated as "Thunderbolt Way"  or "Diamond Way" and can imply the thunderbolt experience of Buddhist enlightenment or bodhi. It also implies indestructibility,  just as diamonds are harder than other gemstones. Information from Wikipedia.