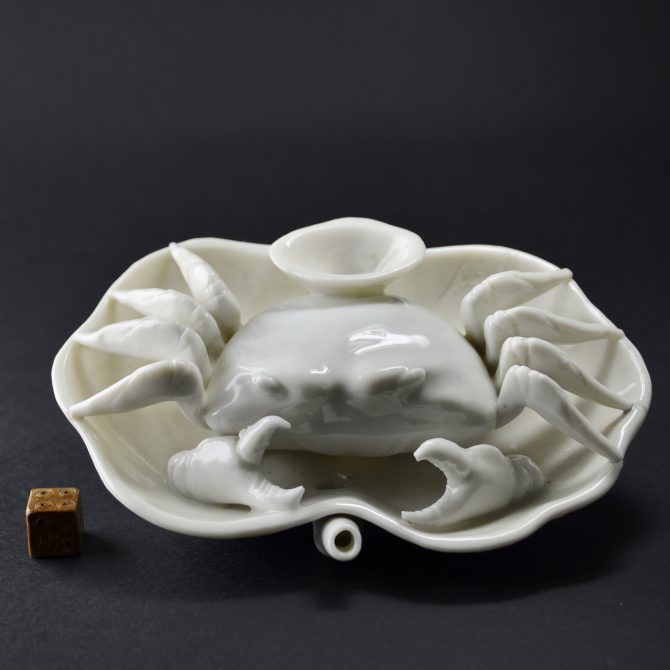 A 17th Century Blanc de Chine Porcelain Crab Water Dropper
A 17th Century Blanc de Chine porcelain crab form water dropper, Dehua Kilns, Fujian Province c.1640 – 1680. Realistically modelled as a crab with its pinchers open in a lotus leaf.
SOLD
Condition

Repaired, there is an old repair to the back, a large section has been broken out and restuck. Within this section there is a related restuck chip only visible from above. The U-shaped section that has been broken out is 60 x 35 mm. There is a flake chip to the back of the water inlet behind the crab 10 x 10 mm.

Size

Diameter : 14.7 cm (5 3/4 inches)

Provenance

N/A

Stock number

25045

References

For a very similar Blanc de Chine porcelain water dropper dated to c.1640 see : Exhibition of Blanc de Chine (S.Marchant & Son, London, 1985) plate 33, offered for sale at £2,000. For a further Blanc de Chine water dropper dated as Ming c.1640 see : Exhibition of Blanc de Chine (Marchant, London, 2014. ISBN 978-0-9568400-7-3) page 96, plate 72. Offered or sale at £12,000.
Information
Blanc de Chine Porcelain :
The porcelain known in the West as Blanc de Chine was produced 300 miles south of the main Chinese kiln complex of Jingdezhen. The term Blanc de Chine refers to the fine grain white porcelain made at the kilns situated near Dehua in the coastal province of Fujian, these kilns also produced other types of porcelain. A rather freely painted blue and white ware, porcelain with brightly coloured `Swatow` type enamels as well as pieces with a brown iron-rich glaze. However it is the white blanc de Chine wares that have made these kilns famous. The quality and colour achieved by the Dehua potters was partly due to the local porcelain stone, it was unusually pure and was used without kaolin being added. This, combined with a low iron content and other chemical factors within the body as well as the glaze, enabled the potters to produce superb ivory-white Blanc de Chine porcelain.
A similar Blanc de Chine porcelain crab water pot c.1640-1680.
From the collection of Mr. Alan Green.
Sold by R and G McPherson Antiques (number 20302) now in a private English collection.
A related Blanc de Chine porcelain crab water pot c.1690-1700
From the Vung Tau Cargo
Sold by R and G McPherson Antiques (number 24799)