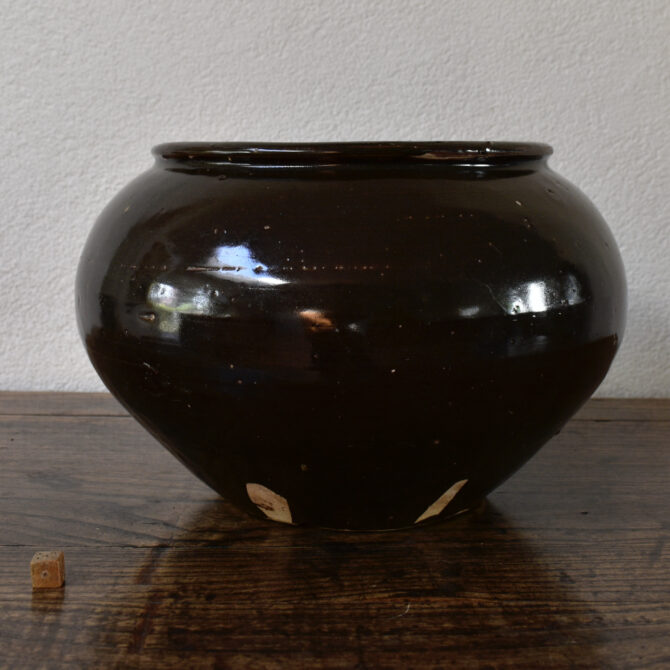 A Large Southern Song or Yuan Brown Glazed Jar
Southern Song or Yuan 12th or 13th Century
A Large and Heavy Southern Song or Yuan Stoneware Jar, North China, 12th or 13th Century. Constructed of putty coloured stoneware this large bulbous jar is covered with a very dark brown iron-rich glaze that ends just before the foot. There are some gaps in the glaze, these follow working marks left in the biscuit body by the potter, some tiny gaps are visible where bubbles have burst. Some pieces from this period have a slip applied to the biscuit body making it smoother and more receptive to the glaze, this was often case Cizhou wares. The form is not dissimilar to Yuan blue and white porcelain, these jars were intended to have covers and it is quite possible the present example would have had a cover. However, the glaze covers the top entirely, one would expect that there would be glaze wiped clear of the top and inner rim to accommodate the unglazed rim of the cover. You see this with similarly shaped Yuan celadon jars and covers of the period, the covers are sometimes in the form of a lotus leaf with a wavy rim.
RESERVED
Condition

In very good condition, a loss to part of the footrim, perhaps a kiln fault.

Size

Height 19.2 cm, diameter approximately 29cm

Provenance

N/A

Stock number

24045

References

For a very similar black glazed jar see : Chinese Ceramics from the Meiyintang Collection, Volume One (Regina Krahl, Azimuth Editions 1994. ISBN 1-8985592-02-0) page 253, item 456.