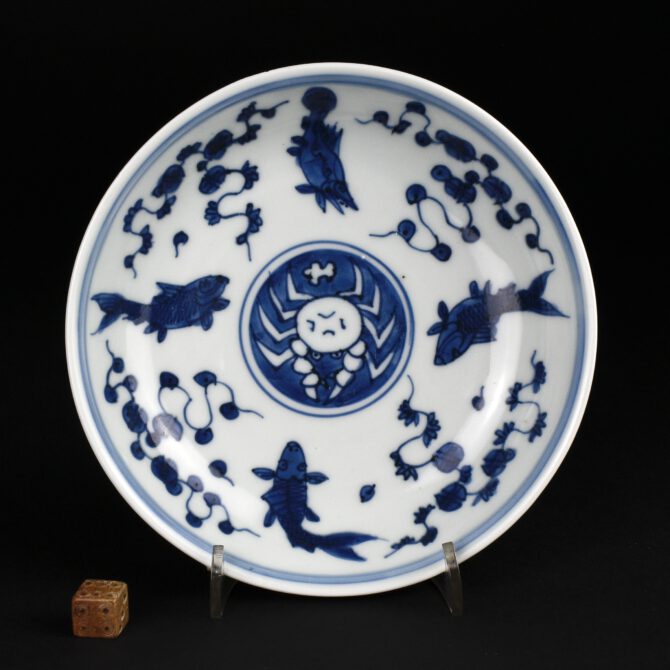 A Ming Blue and White Dish, Wanli Period
Ming Dynasty 16th Century
A Ming Blue and White Porcelain Dish, Jiajing to Early Wanli Period c.1550 – 1580. This small dish is decorated a very strong blue, similar to that used during the Jiajing period (1522-1566). The design consists of a crab against a dark blue ground to the center with four fish among aquatic plants. The back has a shop-mark in underglaze blue. For more information see below the photograph gallery.
SALE PENDING
Condition

In excellent condition, some firing faults to the back.

Size

Diameter 15 cm (6 inches)

Provenance

N/A

Stock number

25031
Information
A Pair of Ming Dishes Decorated with Crabs
Robert McPherson Antiques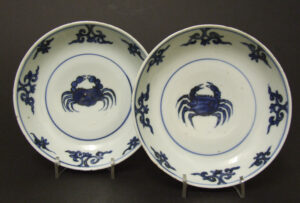 Crab Xie
Xie, Crabs are normally depicted on Chinese porcelain in the context of other marine crustacea together with aquatic plants. On there own the appear only rarely and as single creatures they have a different meaning. They are used to represent achievement as Xie is a homonym for the those who have passed the first examination towards official rank, Xie. In folklore, the crab can repel bad magic and also restore a mans potency.
Fish Yu
The Chinese word for fish `Yu` is pronounced in the same way as the word for abundance. So fish have come to represent prosperity and the carp is often represented as sign of success because of its perseverance, swimming up river. Pairs of fish swimming together, representing marital bliss, were common from the Southern Song (1128-1279) but it was in the Yuan Dynasty (1279-1368) that fish swimming with aquatic plants became a common subject, the patterns were based on popular designs found in Southern China. Some of the earliest Chinese blue and white porcelain (c.1320-1350) depicts fish swimming with plants, frequently lotus as this represented purity. These Yuan designs were shown in the center of bowls and dishes surrounded by concentric geometric borders. It was not until the 16th century that freer, more open designs of fish swimming among sea weed and crabs were popular.