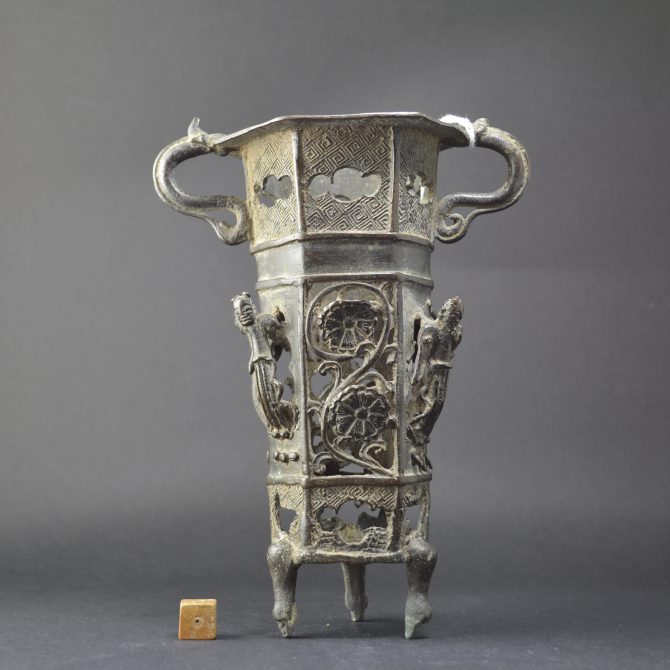 A Ming Bronze Incense Stick Holder or Brushpot
Ming Dynasty 15th or 16th Century
A Ming Bronze Incense Stick Holder or Brushpot, Late 15th or 16th Century. The cylindrical bronze form with high-relief decoration and two dragon handles, the base supported by three legs. The open-work sides depict Immortals holding their attributes interspersed with panels of scrolling flowers, all of which is in high relief.
Condition

Poor : Base missing, part of the rim has been pushed down, one leg probably reattached. The poit on top of one of the dragon handles is missing.

Size

Height : 18.3 cm (7 1/4 inches)

Provenance

N/A

Stock number

23970

References

For a Ming ceramic example of this form with a comparison in bronze, described as a brushpot, see : Catalogue of Late Yuan and Ming Ceramic in the British Museum.(Jessica Harrison-Hall.The British Museum Press, 2001. ISBN 0-7141-1488-X.) page 417 item 13:19.
More info
Information
The Eight Immortals :
The Eight Immortals are a group of legendary Xian, immortals or transcendents in Chinese mythology. Each Immortals power can be transferred to a power tool that can give life or destroy evil. Together, these eight tools are called `Covert Eight Immortals`. Most of them are said to have been born in the Tang Dynasty or Song Dynasty. They are revered by the Taoists, and are also a popular element in the secular Chinese culture. They are said to live on Penglai Mountain-Island.
The Eight Immortals are :
Immortal Woman He (He Xiangu),
Royal Uncle Cao (Cao Guojiu),
Iron-Crutch Li (LiTieguai),
Lan Caihe,
Lü Dongbin,
Philosopher Han Xiang (Han Xiang Zi),
Elder Zhang Guo(Zhang Guo Lao),
Zhongli Quan.