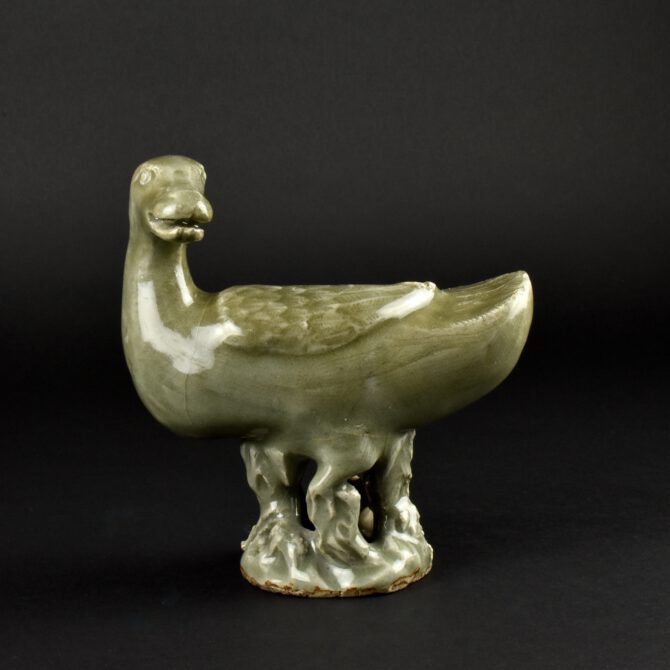 A Ming Duck Shaped Celadon Censer
c.1450 - 1600
A Ming Longquan Celadon Duck Shaped Censer, Longquan Kilns, Zhejiang Province, c.1450-1600. This sculptural Ming censer depicts a duck on a circular base which is modeled as a rocky outcrop. As with the British Museum example, a gift from George Eumorfopoulos (B.M 1911,0607.27), there is a detachable wing. This exposes the body cavity where lit incense can be placed. Then the wing can be put back, so the smoke can escape from its mouth, and somewhat surprisingly its bottom. This is an object was probably made for the domestic desk in China, according to the British Museum (See below for photographs and details of the British Museum example). This makes sense to me, however censers of this form and variants of it, are known in Japan. It seems likely that some were exported to Japan during the Ming dynasty. These celadon censer are similar to the Ming bronze bird shaped censers that occur in a wide variety of forms. Formerly in the collection of Lieutenant Colonel Kenneth Dingwall (1869-1946) see Provenance.
See below for more photographs and references.
SOLD
Condition

The neck has been broken off below the head and neatly restuck, with some minor infilling. There are several glaze cracks, the one around the body just next to the wing partly extends inside the body. The detachable wing has the top restored.

Size

Height 16.3 cm (6 1/2 inches) Length 15.5 cm (6 1/4 inches)

Provenance

Formerly in the collection of Lieutenant Colonel Kenneth Dingwall (1869-1946). Previously sold at Sotheby's London, 6th May 1936, lot 29. Born in Caterham, England, Kenneth Dingwall was a highly-decorated officer and collector of East-Asian ceramics. He was made a Lieutenant in the Gordon Highlanders in 1894 before serving in the North West Frontier from 1895 to 1898. Sent to South Africa in 1899 he was in action throughout the Boer War, for which he received the DSO in 1901. After a short retirement from the army in 1904, he re-joined in 1914 and was frequently employed as a Deputy Judge-Advocate during the Great War. An active collector of Chinese ceramics, Dingwall was one of the founding members of the Oriental Ceramic Society which formed in 1921. He belonged to the National Art Collections Fund and was the single largest donor to the Victoria and Albert Museum between 1910 and 1937, leaving a further bequest in 1948, and donating four items to the British Museum. Part of his collection was sold at Sotheby's London on 10th March 1933, consisting of 90 lots of mostly Tang to Ming ceramics.

Stock number

26691
Information
A Similar Ming Censer in the form of a Parrot at The British Museum
Dated to c.1450-1550.
Description : Porcelain incense burner modelled in the form of a parrot on a circular base with incised decoration and green glaze. This incense burner is in the form of a figure of a parrot on a circular base with one wing folded along its back, the other wing missing, the head turned to one side and the tips of the beak joined. Beneath its tail feathers is a hole. The parrot is hollowed out inside and hollow channels connect this cavity to the open beak and hole beneath the tail feathers. Inside this sculpture, traces of carbon remain, testifying to its use as an incense burner. It probably had a gilt-bronze wing originally (see cat. no. 16:93). The tail of the bird is broken and has been replaced.
Curator's comments Harrison-Hall 2001:
It is probable that this incense burner was manufactured for use on a domestic desk rather than for a shrine or temple. During the Ming period a great variety of forms were used for burning incense.