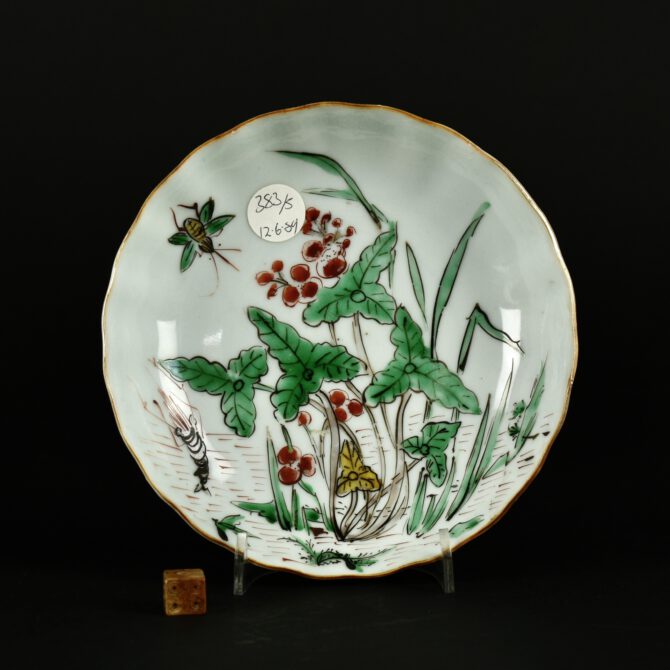 A Ming Porcelain Dish From The Peony Pavilion Collection
Ming, Chongzheng 1627 - 1644
A Ming Porcelain Dish Made for the Japanese Market, Chongzhen Period c.1635-1645. This foliated Transitional Period porcelain dish is painted with bright enamels. The aquatic scene depicts arrowhead  Sagittaria sagittifolia as well as other aquatic plants, there is also a leaping shrimp and a flying insect. The design is taken from a woodblock printed book, first published in the Tianqi period 1621-1627, it was a popular book in Japan, where it was known as Hasshu gafu. This Chinese book Bazhong Huapu 'Manual of Eight Styles of Painting' was an eight volume collection. This specific design was taken from the illustration of the poem "Arrowroot" in the sixth volume of Bazhong Huapu. The base has an apocryphal six-character Chenghua mark (Ming Dynasty 1465-1487). For more details see below the 'Photograph Gallery' below.
SOLD

Condition

In excellent condition, some scratches around the foot. These could be cleaned off.

Size

Diameter : 15 cm (6 inches)

Provenance

Published : The Peony Pavilion Collection ; Chinese Tea Ceramics for Japan (c.1580-1650). Christie`s London 12th June 1989, lot 383. Sold £1,430 (set of 5). From a Private Collection, they purchased this piece as well as many others from the Christie's sale of 1989. I was able to buy the complete group from this private collection.

Stock number

25966

References

Published : The Peony Pavilion Collection ; Chinese Tea Ceramics for Japan (c.1580-1650). Christie`s London 12th June 1989, lot 383. For a Chongzheng dish of this design from Sir Michael Butler, see : Trade Taste and Transformation, Jingdezhen Porcelain for Japan 1620 - 1645 (Julia B. Curtis with contributions from Stephen Little and Mary Ann Rogers. China Institute, China Gallery, New York 2006. ISBN 0-9774054-0-0. 2006). The same dish is also illustrated in : Seventeenth Century Jingdezhen Porcelain from the Shanghai Museum and the Butler Collection (Shanghi Museum,2006. ISBN 1-85759-417-7) page 71 plate 33.
Information
From The Peony Pavilion Collection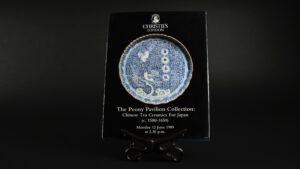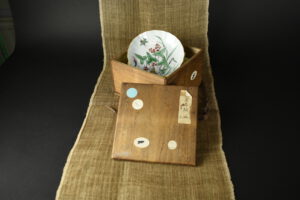 CHINESE PAINTING MANUAL
Sotheby's London, 28th of July 2020 (Sold for 23,750).
Hasshu Gafu (八種画譜). (Bazhong Huapu, 八種畫譜, Chinese). [Eight kinds of painting manual]. Kyoto and Edo, 1672 (Kanbun 12, year of the rat)
FIRST JAPANESE EDITION, 8 volumes, folio (317 x 223mm.), 424 full-page woodcut illustrations, original patterned stitched paper wrappers, printed paper labels, housed in two blue silk chemises, a few repaired wormholes, chemises and wrappers rubbed with occasional slight loss
A FINE COPY OF AN EXTREMELY RARE WORK, of which we have been able to locate only 5 complete copies in the West, and no copy offered at auction in the past 40 years. This is the first Japanese edition of the original Chinese edition Bazhong Huapu, printed between 1620-1628. The original Ming edition of the book is a great rarity both in China and in the Western world.
"The last decades of the Ming Dynasty witnessed the publication of a number of important works illustrating engravings of landscapes and other subjects. These books were designated to meet the desire of the public in order to acquire artistic taste, knowledge and sensibility, a prerequisite of elite status" (Lukacs).
Title and subject of each volume:
Tōshi Gogon (Tangshi Wuyan). Penta-syllabic Tang poems.
Tōshi Shichigon (Tangshi Qiyan). Hepta-syllabic Tang poems.
Tōshi Rokugon (Tangshi Liuyan). Hexa-syllabic Tang poems.
Bai Chiku Ran Giku (Mei Zhu Lan Ju). Plums, bamboo, orchids and chrysanthemums.
Mokuhon Kachō (Muben Huaniao). Flowers and birds.
Sōhon Kashi (Caoben Huashi). Flowers and birds.
Kokon Gafu (Gujin Huapu). Old and contemporary paintings.
Meikō Senpu (Minggong Shanpu). Fan paintings.
LITERATURE:
Lukacs, Dr G. and L.H. Luo. Hasshu Gafu. The Japanese edition of Bazhong Huapu, an important Chinese painting manual. Wayenborgh, 2013 (a copy of this modern analysis of Hasshu Gafu is included with this lot)
PROVENANCE:
Tayasu family, seal stamp. The Tayasu family was closely related to that of the Tokugawa shōguns; Kika Shooku, seal stamp; Donnan, seal stamp; Kokuichidō Tosho In, seal stamp; unidentified seal stamp.
Arrowhead Aquatic Plant Sagittaria sagittifolia
A herbaceous perennial which grows in water from about 10 to 50 centimetres in depth. The name comes from its triform leaf blade. The round tuber is edible, it has a bland taste and is rather starchy. In Japan, it is known as Kuwai and its tuber is eaten particularly during the New Year. In China, it is known as Cí gū and often used in winter hot pots.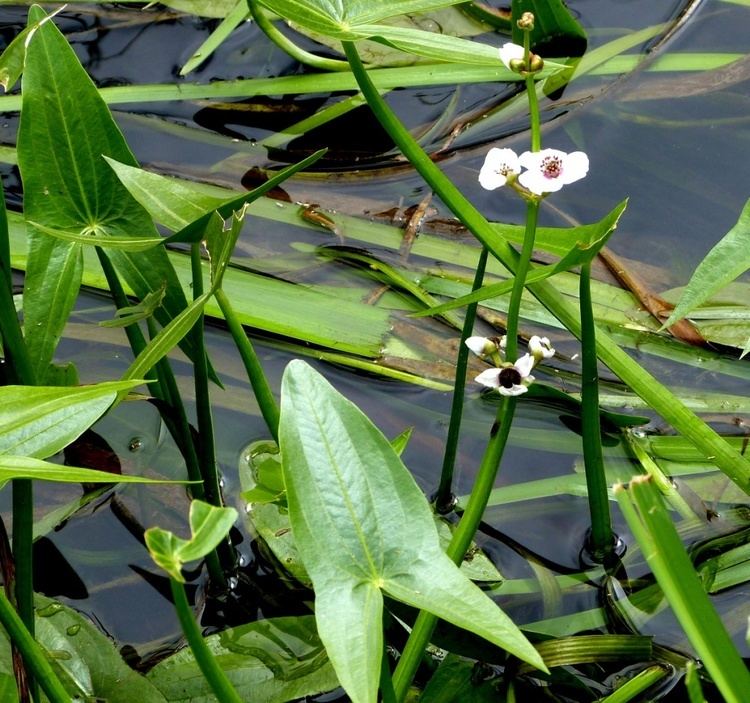 Omodaka kamon depicting stylised arrowhead