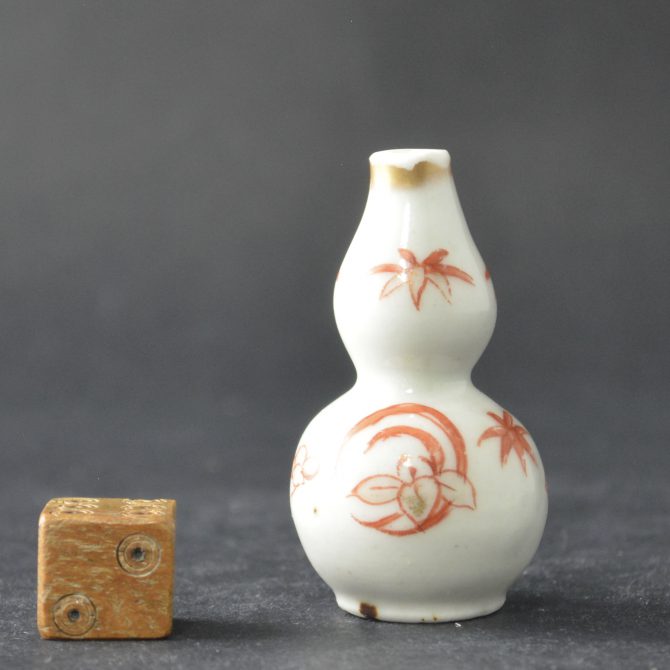 Miniature 18th Century Japanese Porcelain Vase
c.1700 - 1730
An Early 18th Century Japanese 'Dolls House Miniature' vase, Arita Kilns c.1700-1730. This miniature Japanese porcelain object decorated in Rouge-de-fer was probably made for the Dutch market.
Condition

The top has been reduced by 1 or 2mm.

Size

Height 4.5 cm (1 3/4 inches).

Provenance

N/A

Stock number

25252
More info
Information
Kangxi Porcelain and Arita Miniatures For The Dutch Market :
There is a long tradition in China of making miniatures, ordinary object made in a diminutive size. Clearly there is a connection, as there is when one looks at miniatures from around the world, with children but they were also used as models for burial and possibly collectors too. Japanese and Chinese porcelain miniature porcelain objects were made for export to Europe and more specifically for Holland in the late 17th and early 18th century. Seen in a European context these miniature Chinese and Japanese porcelain objects coincide with the production of miniatures in Holland made out of a great variety of material, but especially silver. Indeed, there are thought to have been around 40 silversmiths in Amsterdam alone making these Poppengoed, miniature silver objects. Some were for children, but most were made for doll`s houses. In the 17th century these large, lavish models of the interiors of houses were made for wealthy women, often the wives of prosperous Dutch merchants. Chinese porcelain and Japanese were used in the same way it would have been used in a full-sized house, to decorate rooms and as functional objects. An example of which are the `Dolls House` vases of the Vung Tau cargo of c.1690 to 1700. Some Chinese objects were too difficult to make as miniatures, and when one looks at the magnificent doll`s houses in the Rijksmuseum in Amsterdam and elsewhere in Holland you can see specially commissioned white Bohemian glass with trailed blue decoration was used to imitate Chinese porcelain.