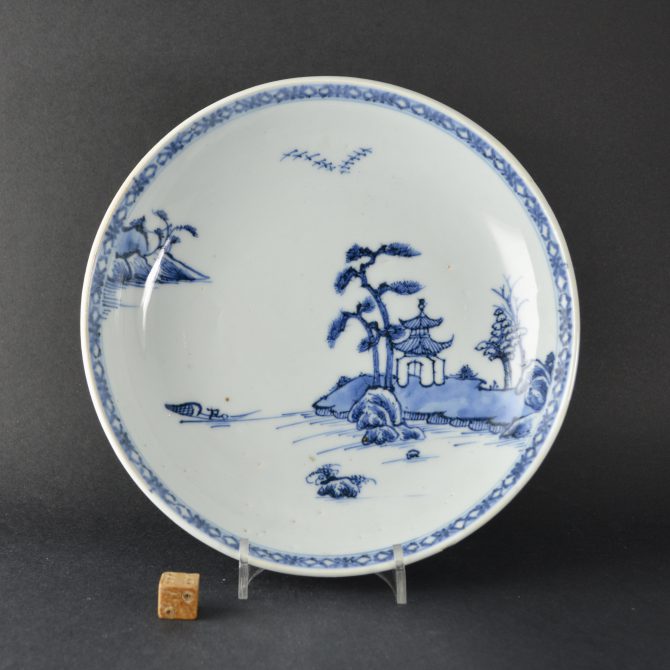 A Nanking Cargo Saucer Dish, Qianlong
c.1751
A Small 18th Century Chinese Export Porcelain Saucer Shaped Dish from the Nanking Cargo, Jingdezhen Kilns c.1751. This Nanking Cargo blue and white porcelain dish is painted with a island with a temple, pine trees and rocky outcrops.
Condition

Very good condition, one small glaze frit. The glaze is in excellent condition.

Size

Diameter : 17.6 cm (7 inches)

Provenance

The Nanking Cargo, Chinese Export Porcelain and Gold. Christie`s Amsterdam (28th April-2nd of May 1986). Christie's label "Lot 2679,The Nanking Cargo". A Private English Collection of Blue and White Chinese Porcelain.

Stock number

25183
More info
Information
The Geldermalsen :
The Geldermalsen built in 1746 was one of the newest and finest Dutch East Indiamen. It is one hundred and fifty feet long and forty-two feet wide. Captain Jan Morel, 33 years old, his many Dutch sailors and sixteen Englishmen set sail from Canton. On Monday January 3rd 1752 the Geldermalsen on its way to Holland hit a reef and sank. The survivors struggle on in a barge and long boat and reach Batavia in eight days. The wreck held a most valuable cargo of tea, as well as Chinese silks and textiles. All now lost. The vast porcelain cargo, as well as gold has survived. Tea was the real reason for the journey, ceramics accounting for only five per cent of the total value. The loss of the Geldermalsen cost the Dutch East India Company 900.000 guilders. However the porcelain from the sister ship the Amstelveen sold for far more than normal because it now carried all the porcelain to be sold in Holland that year.