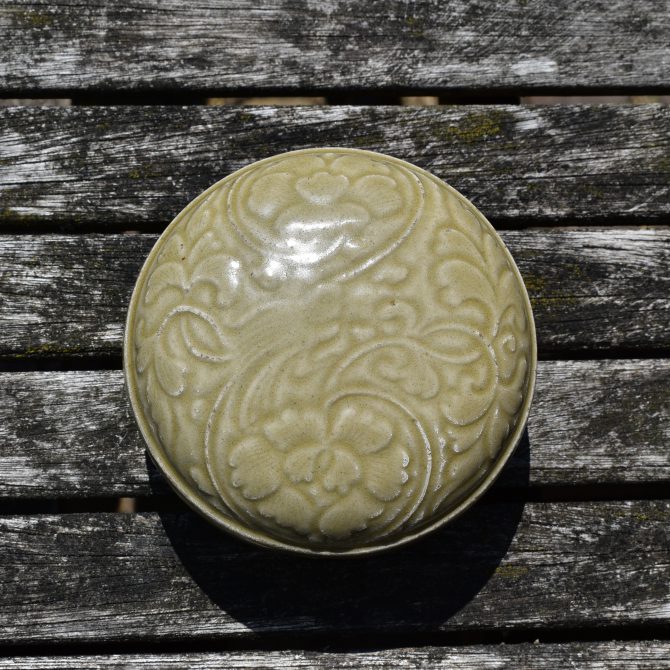 A Northern Song Yaozhou Celadon Moulded Box and Cover
Northern Song 11th or 12th Century
A Yaozhou Celadon Box and Cover from the Yaozhou Kilns in Shaanxi or Henan Province, Northern Song (960 – 1127) or Jin dynasty (1115 – 1234). The decoration of this Yaozhou box and cover consists of a moulded scrolling peony design, the glaze is rather pale and has an olive grey tone to the green. This Song Dynasty celadon ware box has a moulded dome shaped cover and the base has a flared foot. The unglazed rim of the base which supports the cover has eight brown-red marks where it was supported in the kiln, the underneath of the base shows signs of the kiln support.
SOLD

Condition

In excellent condition, very minor loss to the glaze on part of the moulded design on the cover. Some extremities with very minor roughness.

Size

Diameter 10 cm (4 inches)

Provenance

N/A

Stock number

25993
Information
Yaozhou Celadon :
Yaozhou Celadon ware comes in many forms, but small crisply moulded or carved bowls were a popular product, as were miniature press-moulded figures or animals, toys and everyday utensils. The Yaozhou kilns main production at Shaanxi was celadon, but they also produced black and brown wares as well. Song Yaozhou glazes are rather different to both earlier and later Chinese Celadons. Later celadons from Longquan of the Yuan and Ming Dynasties have a very thick rich glaze suffused with bubbles throughout, these diffuse the light hitting the glaze, creating a very soft rich sheen. Yaozhou Celadons have a thinner glaze with smaller bubbles. Yaozhou celadons have a more obvious green than earlier wares but the thinness of the glaze means that the ceramic body is far more likely to be visible than on Longquan celadons. The colour of Yaozhou celadons tends to be more to wards olive green rather than the Longquan celadon which is normally richer and nearer a true green.