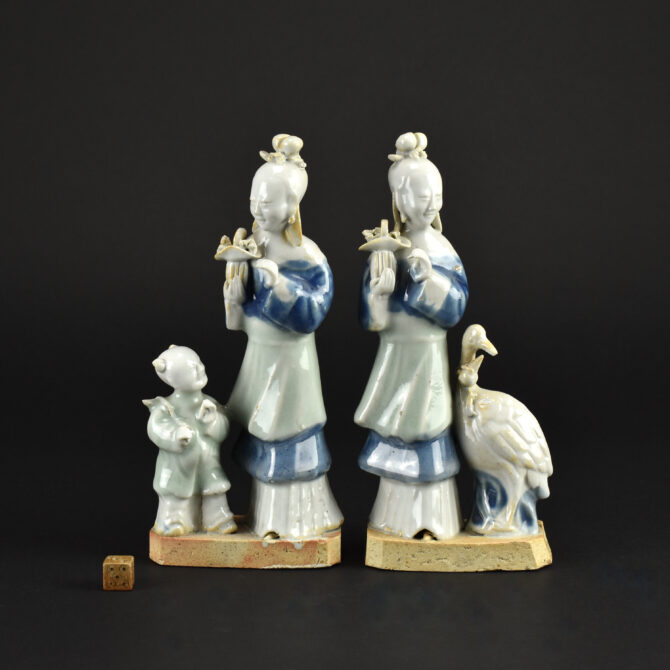 Pair of 18th Century Chinese Export Porcelain Groups
Qianlong c.1740 - 1755
A Pair of 18th Century Chinese Export Porcelain Groups in blue, white, and celadon. Probably representing Ma Gu Xian Shou. It is possible that these figures were produced in Fujian province, rather than Jingdezhen. These Chinese export porcelain figures would have been 'Private Trade', in other words not part of the main bulk of the cargo. More important crew members were given dispensation to buy such pieces as these and sell them when the ship returned. These fragile pieces were made in smaller numbers than the bulk cargo as is illustrated but the contents of the Geldermalsen, the porcelain from this wreck was marketed as The Nanking Cargo. The present example matches closely to some of the figures recovered from this wreck of 1751, see references. Lady Ma, Ma Gu Xian Shou was a Taoist goddess associating with fortune, longevity, and auspiciousness. Ma Gu Xian Shou is sometimes referred to as the Goddess of Hemp (Immortal Xu Miao). This relates to a story depicted in the classic novel `Journey to the West` Xi You Ji. Ma Gu Xian Shou attended the peach banquet held by the Queen Mother of the West, for which she brewed a special wine made of cannabis. She gave this to the Queen Mother Xi Wang Mu, and the image of this scene has become renowned as 'Ma Gu Offers Longevity', Ma Gu Xian Shou. This heavenly birthday party takes place once every ten thousand years. The depictions of Ma Gu Xian Shou show her with presents of peaches, a basket of herbs and flowers on her way to the heavenly party which is attended by all the other gods, she is sometimes shown with a deer.
RESERVED
Condition

Figure with the young boy ; left point of hair comb restored ,right side of hair comb missing. Chips to the outer sides of the hair bun restored. Figure with a stolk; the stolk has been broken through the neck and crudely reattached, a tiny chip under its beak and a tiny repair to the lower part of the ribbon around the birds neck. The side of the hair comb above the stolk is restored.

Size

Height 19.5 cm (7 3/4 inches).

Provenance

N/A

Stock number

26643

References

Similar Chinese export porcelain figures were sold ; The Nanking Cargo, Chinese Export Porcelain and Gold. Christie`s Amsterdam (28th April-2nd of May 1986). For example lots 5743 and 5745.