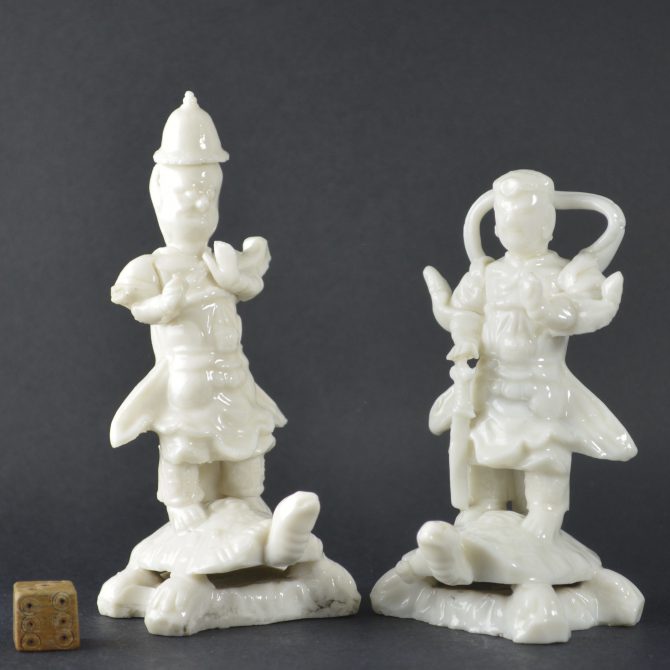 A Pair of Rare Kangxi Blanc de Chine Porcelain Figures
Kangxi 1662 - 1722
A Pair of Rare Kangxi Blanc de Chine Porcelain Figures, Dehua Kilns, Fujian Province c.1680-1720. These unusual Kangxi porcelain figure probably depict Daoist gods, one is Zhenwu in his armour standing on a turtle with a snake, the turtle is inscribed between his feet with a single character. The other figure also in military uniform stands on a turtle which has the same inscription on its back, however there is no snake.
See below for more photographs and references.
Condition

Zhenwu - his hand on the sword has the figures chipped. His other hand has a minute frit, the snakes head under the turtle is missing. The other figure has a section of his robe missing just below his right shoulder and what he is holding is chipped.

Size

Zhenwu - 9.7 cm (3 3/4 inches). Other figure - 11.3 cm (4 1/2 inches)

Provenance

N/A

Stock number

25281
More info
Information
Zhenwu ; Daoist God :
Zhenwu, the Perfected Warrior, emerged as an anthropomorphic deity in the early Northern Song (960-1126) and reached the peak of his popularity in the Ming (1368-1644). Prior to this time he was known as Xuanwu, the Dark Warrior, and appeared as a tortoise entwined with a snake. Widely varying representations of this Daoist god, one of the most prominent in the Daoist pantheon, coexisted throughout the Song and later history of his cult. Different images fashioned to serve different audiences reveal the wide social range of Zhenwu believers and shifting beliefs about the god`s powers. Literary evidence combines with the ubiquitous pictorial and three-dimensional images to demonstrate Zhenwu`s pervasive presence in the religious and cultural landscape. A scripture, sets of ritual scrolls, pictorial stele, cave temple, and an album depicting a corps of thunder marshals affiliate Zhenwu with the Daoist Thunder Department and with certain of its members, notably the Four Saints (si sheng). Zhenwu also appears in Daoist and Buddhist assembly paintings, murals and scroll sets, linked to performances of the huanglu zhai [purgation rite of the yellow register] and the shuilu fahui [rite for deliverance of creatures of water and land]. Fervent Yuan and Ming imperial patronage of the god`s home, Mt. Wudang, gives evidence of Zhenwu`s emergence as an independent deity with a cadre of assistant martial divinities. Many Ming statues represent his role as a tutelary god and his participation in the pantheon of Chinese popular religion. Ming illustrations of his hagiography in a woodblock-printed collection of stories, a canonical Daoist scripture, a painted album, a complex piece of sculpture, and an edition of the vernacular novel Beiyou ji [Journey to the North] indicate the appeal of specific episodes of his life story and show how they were adapted for different audiences. Through interdisciplinary analysis of the literary, historical, social, and religious contexts of key Zhenwu images, this case study demonstrates the extent to which Daoist imagery permeated the visual culture of late imperial China. Noelle Giuffrida see http://www.daoiststudies.org/dao/bibliography/representing-daoist-god-zhenwu-perfected-warrior-late-imperial-china
Blanc de Chine Porcelain :
The porcelain known in the West as Blanc de Chine was produced 300 miles south of the main Chinese kiln complex of Jingdezhen. The term refers to the fine grain white porcelain made at the kilns situated near Dehua in the coastal province of Fujian, these kilns also produced other types of porcelain. A rather freely painted blue and white ware, porcelain with brightly coloured `Swatow` type enamels as well as pieces with a brown iron-rich glaze. However it is the white blanc de Chine wares that have made these kilns famous. The quality and colour achieved by the Dehua potters was partly due to the local porcelain stone, it was unusually pure and was used without kaolin being added. This, combined with a low iron content and other chemical factors within the body as well as the glaze, enabled the potters to produce superb ivory-white porcelain.