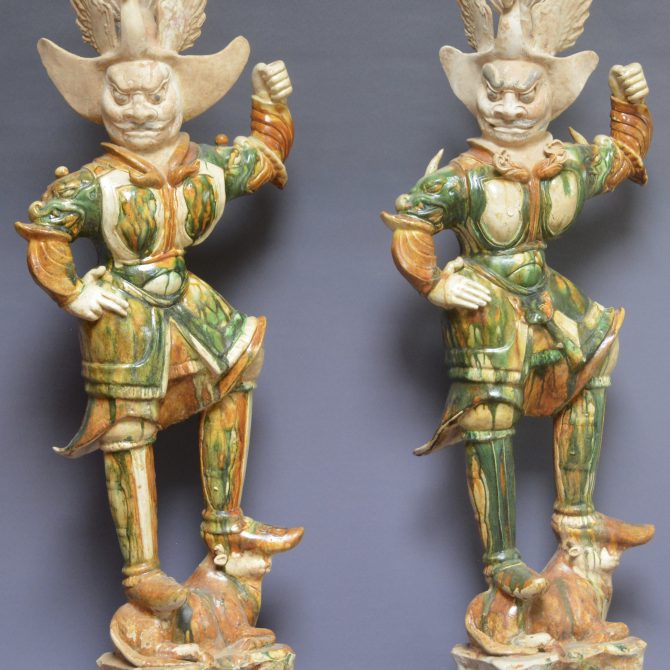 A Pair of Massive Tang Sancai Glazed Lokapalas
c.690 - 752
A Pair of Massive Tang Dynasty 'Sancai' Glazed Lokapalas, Probably from a Kiln in Henan or Shaanxi Province, c.690-752. These imposing partially glazed Mingqi pottery guardian figures look very dramatic and despite their function have an almost theatrical ferocity. They stand in dynamic poses with arms raised in threatening gestures, heavily armoured, with elaborate phoenix-crowned headgear and ferocious facial features, both are supported by a recumbent bull. Originally, they would have been holding weapons, probably made of metal or perhaps a combination of metal and wood. The lead-glazed is coloured in the 'Sancai' palette using different metals, in the unglazed areas remains of Cold-Painted (unfired pigment) are visible, especially on the faces. Due to their size, elaborate modelling and coloured glazes figures such as these would have been made for grand tombs commissioned by wealth and important patrons as part of a large retinue of figures and tomb objects.
With an Oxford Authentication Thermoluminescence Test Analysis Report C118b38 (on one figure). The report which accompanies these figures was carried out on January 22nd 2018 and gives a date of between 900 and 1500 years old. Three samples were taken A) back of the head. B) under rear of robe on left leg. C) into animal's buttock. All three samples yielded a similar result, that means that not only were they of a consistent date but also the clay was consistent.
Condition

As with most large Tang pottery sculptures there is considerable damage. Both figures have been extensively restored, but there is not much missing and no repainting to the unglazed faces. The figures are in similar condition - the unglazed bird headress has parts re-attached, the birds head is restored. Both flaps of the headress restored. The head might be re-attached, the raised arm is restuck. Restoration to one shoulder, repainting to some of the armour where the torso has been restored due to a brake below the waist. Restored through the legs. Some restoration to the base.

Size

Approximately 98cm (38 1/2 inches)

Provenance

N/A

Stock number

1000

References

Two related Tang sancai pottery Lokapalas were unearthed from the tomb of Prince Zhanghuai in Qian county in 1971 see : National Treasure Collection of Rare Cultural relics of Shaanxi Province (mostly in Chinese. ISBN 7-5419-7421-8) page 230, plate on page 231. A Tang Lokapala of this type but of heavier build was exhibited at the Royal Academy in London, see : The Genius of China - An Exhibition of archaeological finds from the People's Republic of China (various authors, Times Newspapers 1973. ISBN 0-7230-0107-3) page 143, plate 297. A Tang Sansai Lokapala c.728. This figure is part of a group of thirteen tomb figures said to have come from the tomb of the general Liu Tingxun, who died in AD 728 and was buried at Luoyang. Now in the British Museum : see Tang and Liao Ceramics (William Watson, Thames and Hudson 1984) page 175, plate 198.
More info
Information
Lokapala :
In Buddhism, Lokapāla refers to the Four Heavenly Kings, and to other protector spirits. To provide the best protection for the deceased, these guardians represent the most powerful military figures known to the Tang Chinese, namely, the very foreigners they so often fought in battle. While the presence of foreign warriors as guardians in Tang tombs was common, these figures also exhibit elements from another tradition: Buddhism. Powerful sculptures of exactly this type in stone and wood are found in Buddhist temples throughout Central Asia, China, and the rest of East Asia, where they served as directional guardians or heavenly kings. The tradition of stomping on demons or beasts is borrowed from Buddhism. Indeed, these ceramic guardians are often called lokapalas, as are the Buddhist examples. The fact that this pair is made of glazed pottery, however, indicates that they were meant for use in a tomb, not a Buddhist sanctuary.
Mingqi Pottery :
This piece is an example of Mingqi, objects made specifically for burial, to be taken with you to the afterlife. The `Terracotta Army` is the most famous example of this type of burial object. Mingqi objects represented people, houses, farms, granaries, livestock and indeed anything important from this world that would give you comfort and status in the next. The `Terracotta Army` were made life size and on a vast scale, reflecting the importance of the first emperor of China but most Mingqi objects were small models, far smaller than the object or indeed person they were meant to represent. Mingqi ceramics were not the only goods to appear in early Chinese tombs, objects that functioned were also buried, some of these had clearly been worn or even damaged, presumably these objects were prized possessions belonging to the deceased that might have been used on a daily basis.
Sancai Glaze :
The glaze of the Sancai pallet contains the oxides of various metals such as iron, zinc, copper, cobalt and manganese. In the firing these were transmuted into rich tones of yellow, green, brown and blue.
Comparable Examples