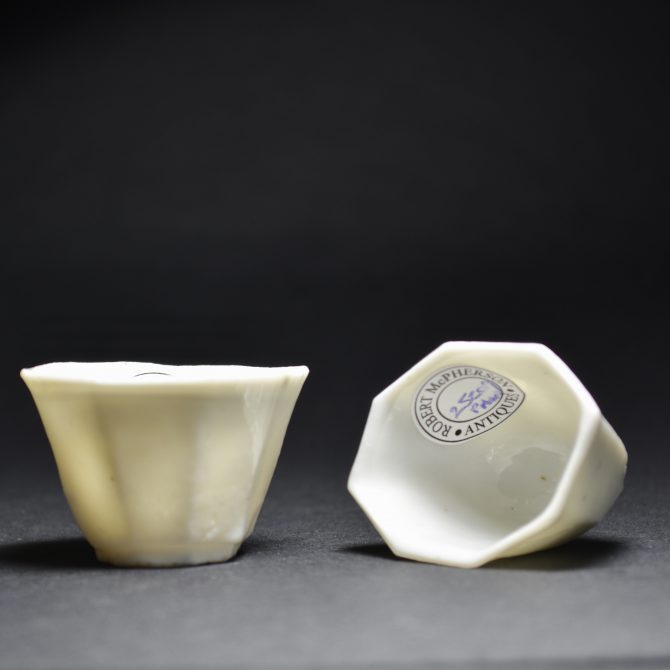 Pair of Miniature Kangxi Blanc de Chine Porcelain 'Libation Cups'
1662 - 1722
A Pair of Miniature Kangxi (1662-1722) Blanc de Chine Porcelain Cups, from the Dehua Kilns Fujian Province. Miniature cups, such as the present examples, are rare and seemingly serve no purpose. Miniature Blanc de Chine seals were imported into England as 'toys', perhaps these cups would have been novelties in a collector's cabinet.
See below for more photographs and information.
SOLD
Condition

In very good condition, one stained burst bubble to one cup.

Size

Height : 2.4 cm (1 inch)

Provenance

Robert McPherson Antiques, The John Drew Collection of Chinese and Japanese Ceramics. John Drew was born in 1933 in Tideswell, Derbyshire, where his father was curate. The family moved to Norfolk whilst he was still a baby and his father became the rector of the parish of Intwood and Keswick. He was educated at Sedbergh School and after National Service in the R.A.F. being taught Russian, he went to Queens College, Oxford to read Greats (Classics). He spent nearly all his working life in various African countries as an archivist, moving to a post at Cape Town University in 1978. He remained in Cape Town after his retirement until his death in 2006. He had a great love of the English countryside (but not the climate) and this is shown in many of the pieces he collected. His taste was varied and ranged from Neolithic right through to the 18th Century. When we sent photograph to his home in Cape Town of pieces we thought he might be interested in, he would write long funny well observed letters back, wanting to add many of the items to his growing collection. Over the years we got to know him better and better, and during the last few years it was very rare for him to not want all the pieces we offered him. We knew his taste, even though his taste was so varied. This was in no small part because he had a very good eye and it was a pleasure finding things that interested him, because they were also very interesting to us. He never got to put his collection on display, something he hoped to do while on retirement in England, so it is with a mixture of pleasure and sadness that we offer these pieces from his collection. Each piece has a John Drew collection label, so when the collection is split up there will be some lasting record of the love and hard work he put into his two decades of collecting.

Stock number

25209
Information
Libation Cups :
Blanc de Chine wine cups of this type have been traditionally referred to as `Libation Cups`. This is unlikely to be correct but their shape follows that of rhinoceros horn cups which was made locally, it is interesting baring in mind the important powers that the Chinese attach to this material. By having a Blanc de Chine cup of this form some of the powers of real rhinoceros horn might be conveyed to the drinker.
Blanc de Chine Porcelain :
The porcelain known in the West as Blanc de Chine was produced 300 miles south of the main Chinese kiln complex of Jingdezhen. The term refers to the fine grain white porcelain made at the kilns situated near Dehua in the coastal province of Fujian, these kilns also produced other types of porcelain. A rather freely painted blue and white ware, porcelain with brightly coloured `Swatow` type enamels as well as pieces with a brown iron-rich glaze. However, it is the white Blanc de Chine wares that have made these kilns famous. The quality and colour achieved by the Dehua potters was partly due to the local porcelain-stone, it was unusually pure and was used without kaolin being added. This, combined with a low iron content and other chemical factors within the body, as well as the glaze, enabled the potters to produce superb ivory-white porcelain. White porcelain was made at the Dehua kilns from early times, some books refer to the white porcelain produced during the Yuan period as being Blanc de Chine, but I think it is not really until the latter stages of the Ming dynasty, during the late 16th century, that a porcelain with clearly recognisable Blanc de Chine characteristics was produced. There is a theory that there was a brake in production during a large part of the 18th century. I am highly sceptical of this, it seams likely that Blanc de Chine porcelain was made all the way through, uninterrupted from the Ming dynasty to the present day.