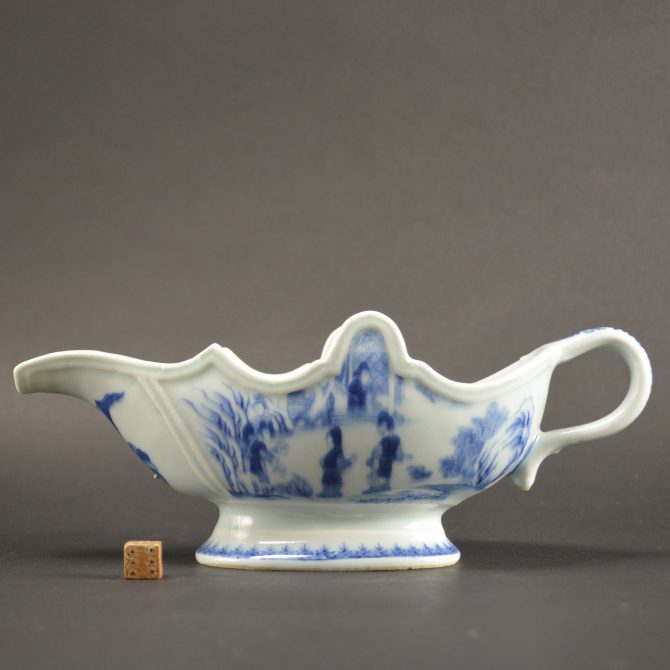 A Qianlong Blue and White Porcelain 'Tea Production' Sauce Boat
c.1740
A Rare Chinese Export Porcelain Blue and White `Tea Production` Sauce-Boat, Early Qianlong Period c.1740. This piece is from the well Known but rare Service depicting the Cultivation and Marketing of Tea. The baroque shell border which appears as border to the plates of this set of patterns is shown in the well,  The base is numbered `3.` in Blue and White.
SALE PENDING

Condition

In very good condition, two small glaze chip to the rim.

Size

Length : 24.3 cm (9 2/3 inches). Height : 9.6 cm (3 3/4 inches)

Provenance

N/A

Stock number

25582

References

For a plate of this pattern See : The Choice of the Private Trader, The Private Market in Chinese Export Porcelain illustrated from the Hodroff Collection (David S.Howard, Zwemmer,1994. ISBN 0 302 00642 7) Page 84 Item 69. Also See : China for the West, Chinese Porcelain & other Decorative Arts for Export illustrated from the Mottahedeh Collection ( David S. Howard and John Ayers, Sotheby`s,1978), Pages 214 and 215.
Information
Related Examples
A very similar Chinese Export Porcelain Blue and White `Tea Production` Sauce-Boat,
Early Qianlong Period c.1740. Numbered '4' on the base. The painting is blurred.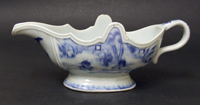 Robert McPherson Antiques - Sold - 204891.
The main design as well as the Baroque border pattern (In the well of the sauceboats) were specially commissioned after a set of Chinese paintings depicting tea cultivation, each of the designs were numbered. Howard (See first reference below) speculates "The border was probably first used (in famille rose) on an armorial service for the Snoek family of Amsterdam. It is possible that there is some link between the two services, for a set a set of twenty four of these plates is known in Holland".
Qianlong 'Tea Production' Porcelain
Keramiekmuseum Princessehof
Grote Kerkstraat 9
8911 DZ Leeuwarden
T: 058 2 948 958
E: info@princessehof.nl