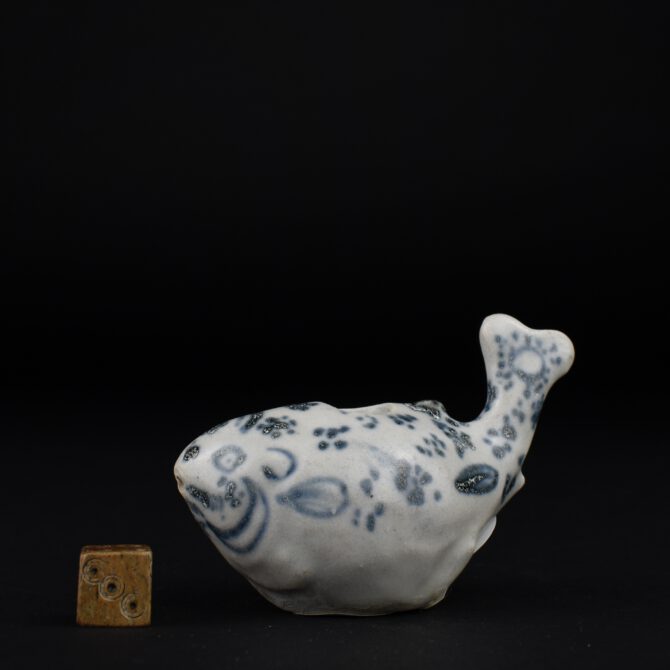 A Rare 15th Century Vietnamese Pottery Water Dropper From the Hoi An Hoard
c.1450 - 1480
A Rare 15th Century Vietnamese Fish Shaped Pottery Water-Dropper from the Hoi An Shipwreck. Decorated in Blue and White this fish is painted with fins, eyes and markings to the body. The mouth is also painted and pierced to allow small drops of water out. The vast majority of this fascinating early cargo comprised heavy dish and bowls, plastic forms such as ewers and animal shaped objects counted as only a tiny fraction of the total Hoi An Hoards cargo. Clearly these novelty items were luxury goods, as such they were made in small numbers and sold at a premium. I had several exhibitions of Shipwreck Ceramics when I had a shop in Kensington Church Street in London, one such exhibition coincided with the auction of the Hoi An Hoard. I purchased hundreds of rare pieces at the auction in America in 2000. I gave a few pieces to the British Museum, some of which were not known apart from a handful of examples recovered from the wreck.  
SOLD
Condition

In excellent condition, the glaze is in an exceptional state of preservation for a ceramic object coming from a shipwreck.

Size

length : 8 cm ( 3 inches)

Provenance

Treasures From The Hoi An Hoard, Important Vietnamese Ceramics from a Late 15th/Early 16th Century Cargo. Butterfield`s, October 11th to 13th 2000. R & G McPherson Antiques, stock number 18607. The John Drew Collection of Chinese and Japanese Ceramics. A Private European Collection of Oriental Ceramics.

Stock number

26069

References

Treasures From The Hoi An Hoard, Important Vietnamese Ceramics from a Late 15th/Early 16th Century Cargo. Butterfield`s, October 11th to 13th 2000. See lot 1764 and 1765 for similar water droppers.
Information
The Hoi An Hoard :
The Hoi An Hoard, as has been the case with several other wrecks, was not found by archaeologists nor even by historians, but by fishermen, though happily not excavated by them. It became in fact the only commercial underwater site to have been excavated in a correct archaeological manner. It is one of the earliest cargoes (dated c. 1450-1500) to have come on to the market and to my mind is the most interesting and important of them all. Moreover, it is the only large Vietnamese cargo to have been discovered. A partnership was formed, to take charge of this landmark excavation, between the Vietnamese Government and M.A.R.E., the Maritime Archaeological Research Unit of the University of Oxford, under the Directorship of Mensun Bound, Triton Senior Research Fellow, Saint Peter's College, Oxford.
Vietnamese ceramics were not treated with the importance they deserved until very recently. Several excellent new books have now been published on the subject and an exhibition of Vietnamese Blue and White has been held at the British Museum, where objects from the Hoi An Hoard featured among the exhibits. Together with the recent excavation of the kiln sites, this cargo underlines the importance and individuality of Vietnamese ceramics. I believe that the cargo in fact contains more Vietnamese ceramics of the period than exist worldwide, taking into account not only all the museums but also all the private collections. The Hoard will be a source of research for years to come.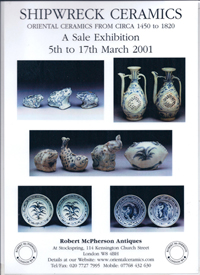 Vietnamese Pottery From the Chu Dou Kilns :
Chu Dou Kilns, six kilometres from Hai Dong was the largest centre of ceramic production in medieval Vietnam. The quality of the ceramics ranged from crude everyday vessels to exquisite pieces decorated with great skill. Large quantities were produced, moulds were employed to form dishes and bowls, the rims were then wiped clean of glaze so they could be fired rim to rim without sticking in the kiln. The style of the decoration was very free and appears often to have been painted at speed using a very wet brush. Individual lines of the decoration have a visible starting and finishing point. The exact spot where the artist first touched the surface of the ceramic object with his brush can be identified and then where he removed it. I say "he" but a most important jar in the Topkapi Saray Museum in Istanbul is signed and dated by a female artist. Men, women and many children were all employed in ceramic production in Vietnam.