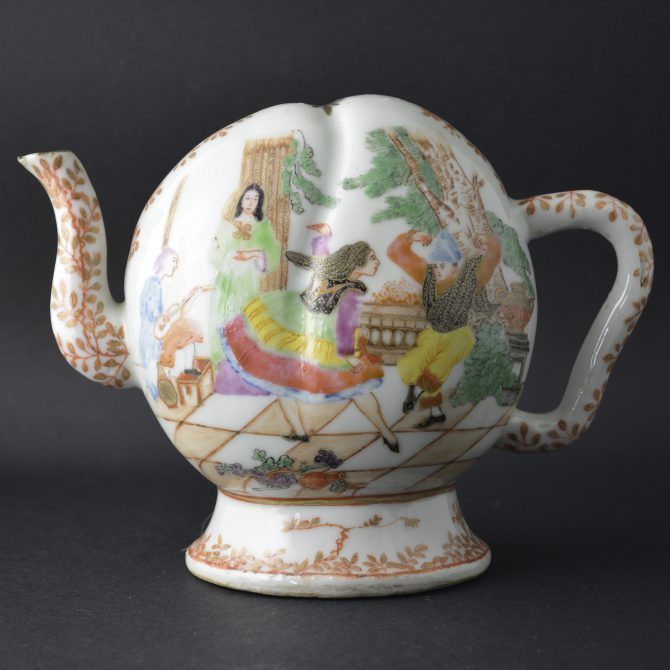 Rare Chinese Porcelain Cadogan Teapot Decorated in Holland
c.1730 - 1740
A rare white Chinese porcelain peach shaped wine ewer of 'Cadogan' form enamelled in the Netherlands. The Chinese porcelain and Dutch decoration both date to c.1730-1740 where it would have been used for tea. The subject matter is of a couple dancing on a terrace with a musician and an instrumentalist, perhaps derived from a coloured engraving depicting Eastern Europeans. It is very rare to find a Chinese porcelain Cadogan that has been entirely decorated in Europe.
Condition

A long shallow chip to the footrim. The spout has some shallow chipping and old retouching, there is a tiny chip visible as white against the retouching. The gilded motif on top has been retouched. Some minor fritting.

Size

Height 14.5cm (5 3/4 inches) Length : 20.2cm (8 inches).

Provenance

N/A

Stock number

25104
More info
Information
Cadogan Wine Ewers :
These peach form winepots were a Chinese novelty meant to be a puzzling curiosity to a gathering of people who were sharing the wine. It appears there is no way to fill the ewer as there is no aperture on top, it seams impossible to fill it from the hole beneath as it would run straight out. So how was it filled ? There is a funnel in the base, so when the pot is righted the liquid stays inside. The later name, Cadogan, refers to teapots made in Europe, as well as the original Chinese wine. It is said that William Cadogan, 1st Earl Cadogan (1675 – 1726), was the first person to own a Chinese winepot of this shape, hence the name. In England the Cadogan teapot was particularly popular in the second quarter of the 19th century.
Other Examples of the Cadogan form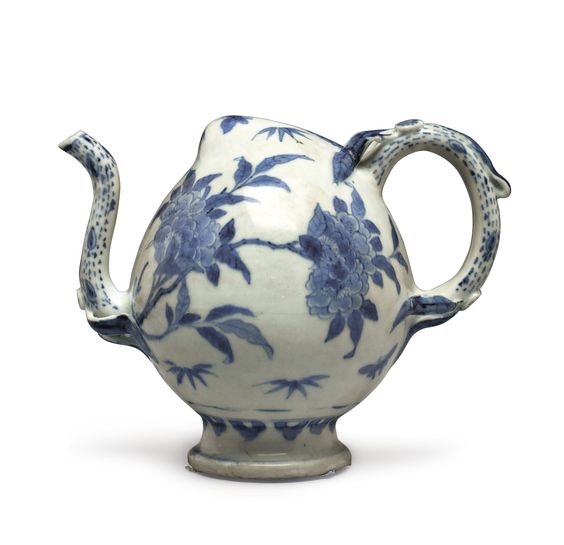 An Early Example of a 'Cadogan Teapot'
Late Ming Porcelain From the Hatcher Cargo c.1643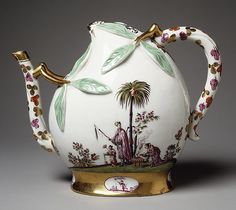 Meissen `Cadogan Teapot' c.1725
(Metropolitan Museum of Art)