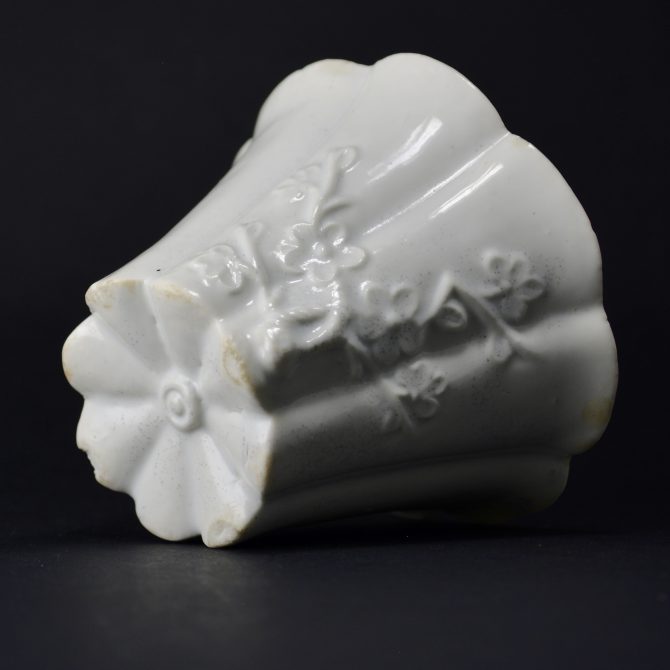 A Rare 18th Century European Porcelain Beaker
A rare 18th century European porcelain beaker in the style of Chinese Blanc de Chine porcelain from Dehua in Fujian Province. The flared lobed form is moulded with gnarled flowering prunus blossom. While the sides give the appearance of Chinese porcelain the sunken base with a small circular boss looking like an open flower is unlike what one would normally find on a Chinese beaker. The glaze appears rather grey, thick and opaque, perhaps due to tin content. There are areas of grey and black speckling to the glaze, the body is hard and fine of a chalky appearance.
I have had this piece 'in the back cupboard' as I wasn't sure what it was. I have shown it to many people over the years, all of whom it seems have differing, rather hesitant, opinions. It is 18th century but from where is heralds in Europe or even England remains a mystery. So, after 20 odd years perhaps it is time to come out of the cupboard !
SOLD

Condition

Three rim flake chips filled ; 6 x 4mm, 2 x 2mm, glaze chip 2 x 2mm. It appears to have a chip on the edge of the base below the prunus, this is under the glaze. The base worn to the extremities.

Size

Height : 6.1 cm (2 1/3 inches) Diameter : 8.5 cm (3 1/3 inches)

Provenance

Philip's Auctions, London West 2 c.1995. Robert McPherson Private Collection.

Stock number

0005