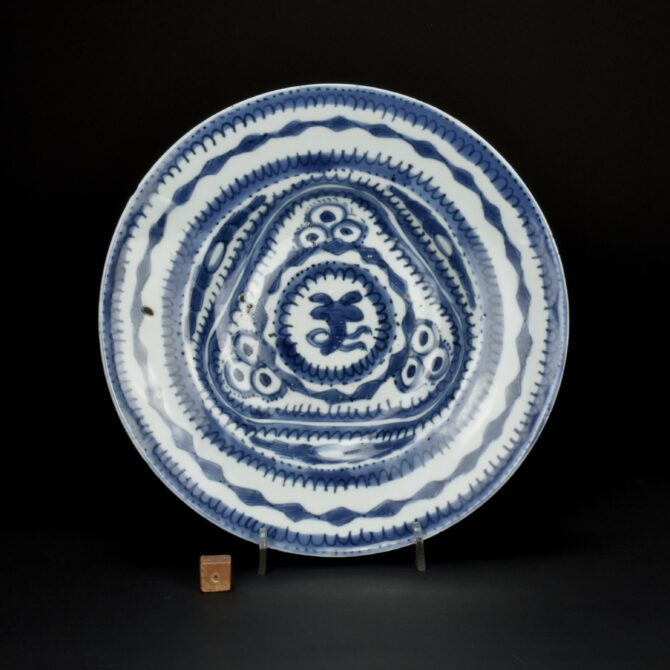 A Rare Late Ming Porcelain Dish for the Japanese Market
Ming Dynasty c.1625 - 1640
A Rare Late Ming Porcelain Dish for the Japanese Market, Tianqi or Chongzhen Period c.1625 – 1640. This unusual Ko-Sometsuke porcelain dish has an especially wide rim which is gently curved up to the rim. The well is small and has rounded sides, the base is recessed with a broad area where the glaze has been wiped off. The design is unusual in several different ways, it is remarkably dense, decorative and lacks any asymmetry. The center of this apparently random decoration is a small fungus, a Lingzhi Fungus (see below the photograph gallery for more details). Dishes of this type are known in old Japanese collections, the present dish comes from a Japanese collection. However, in Vormen uit Vuur (212/213 – 2011/1. page 27, plate 44) an article by Sebastiaan Osterkamp illustrates a fragmentary example of a Ming dish of this shape and design, found during excavations in Amsterdam (Collectie BMA Amsterdam). He dates the dish to 1590-1620. Porcelain for the Japanese market turns up from time to time in the Netherlands in an archaeological context. These important finds might seem surprising, perhaps even confusing but really they shouldn't be. We define things as being for the Japanese market because the pieces of this turn up in Japanese collections but to the makers and traders this was business. The VOC invested enormous amounts of money travelling to China, they couldn't afford to go back to the Netherlands without a full load, it could make the difference between a profit or a loss. So, if their first choice or a pre-ordered group of porcelain wasn't available they would knock some heads together until they got what they wanted and return to the Netherlands to make a profit . See photographs below.
See Below For More Photographs and Information.
SOLD
Condition

In excellent condition, some fritting to the edges.

Size

Diameter 19.6 cm (7 3/4 inches)

Provenance

From A Japanese Collection.

Stock number

27083

References

Vormen uit Vuur (212/213 - 2011/1.) page 27, plate 44, see photographs below.
Information
A Very Similar Ming Porcelain Dish for the Japanese Market, Tianqi or Chongzhen Period c.1625 - 1640.
Robert McPherson Antiques Sold Archive Number 26021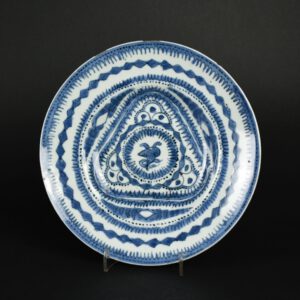 Lingzhi Fungus - Ganoderma lingzhi
Designs in Chinese art often include a Lingzhi Fungus or groups of them. For at leat two thousand years they have appeared in different guises but primarily it is the 'Mushroom of Immortality', it is associated with the god of longevity Shouloa. No exact species can be attributed to Lingzhi fungus but it is a member of the Ganoderma species and is still sold in Chinese herb shops today. Work into the precise nature of this fungus and its health benefits or otherwise are ongoing. A ruyi-sceptre has a part modelled on Lingzhi (sacred fungus), this sceptre is an ancient Chinese object that conveys the holder of it to have what he or she wants. So, the design could be interpreted as a bestowing the wish for children on the recipient of the dish.