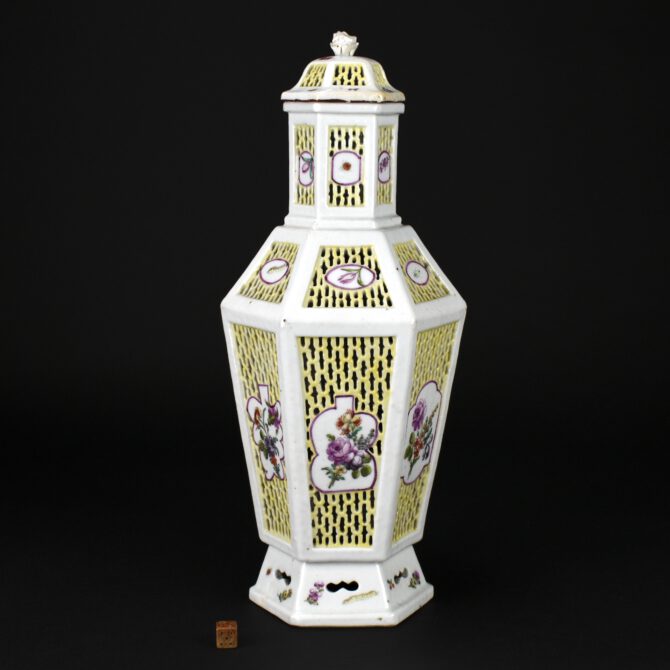 A Rare London Decorated Qianlong Reticulated Vase
Qianlong c.1750 - 1760
A Rare Large Chinese Export Porcelain Reticulated Vase, Decorated at the London at the workshop of James Giles (1718-1780). This large reticulated white porcelain vase was shipped to England so it could be decorated in the latest fashions of the day, in this case in the style of Meissen porcelain. The Dutch and the English both imported white porcelain to be decorated, however I have seen one these large reticulated vases in the white but few pieces from China remained undecorated. The form of the present vase with its pierced work made it expensive to produce, especially as the fine lattice-work of porcelain panels and double wall was prone to braking or distorting in the kiln. The reticulated inset panels are enamelled in a pale translucent yellow, different shape panels have been left to be decorated with flowers. These are framed by puce enamel, the larger panels are in different forms, a leaf, double gourd etc. The smaller panels have an individual insect painted for example a tulip or rose. The larger panels are painted in the Meissen Deutsche Blumen style, with bouquets of garden flowers including roses and tulips. The scattered flowers and insects around the base and cover are also something you find on contemporary Meissen porcelain, these small random bits of decoration were usually used to cover up firing faults. All the ( decoration was added at James Giles's studio in either Kentish Town or Berwick Street, Soho between c.1755-1765. Dr. Bernard Watney categorised this type of James Giles flower painting as 'Group B'.
SOLD
Condition

The vase is in good condition. The hand modelled rose shaped finial is extensively chipped. The base of the vase is slightly warped, so it moves if you push it.

Size

Height 35.8 cm (14 inches).

Provenance

N/A

Stock number

26444
Information
Linglong / Reticulated Porcelain

The present piece is an example of what can be referred to as `reticulated` porcelain, reticulated meaning having the form or appearance of a net, it was used as early the beginning of the 18th Century by the famous Père Francois Xavier d`Entrecolles (1664-1741) to describe this type of work on porcelain. Another popular term for this type of pierced or cut decoration is `Devils Work` or Guigong. However the Chinese term Linglong is gradually replacing the previous terms, helped by the publication of Jorge Welsh`s book `Linglong` (Jorge Welsh,London,2004.ISBN 972-99045-2-9). There does not seem to be any difference in the use of terms between the free standing pierced porcelain or that supported by an inner wall, nor a distinction made between the most refined work or the type with larger cut-out sections of porcelain.