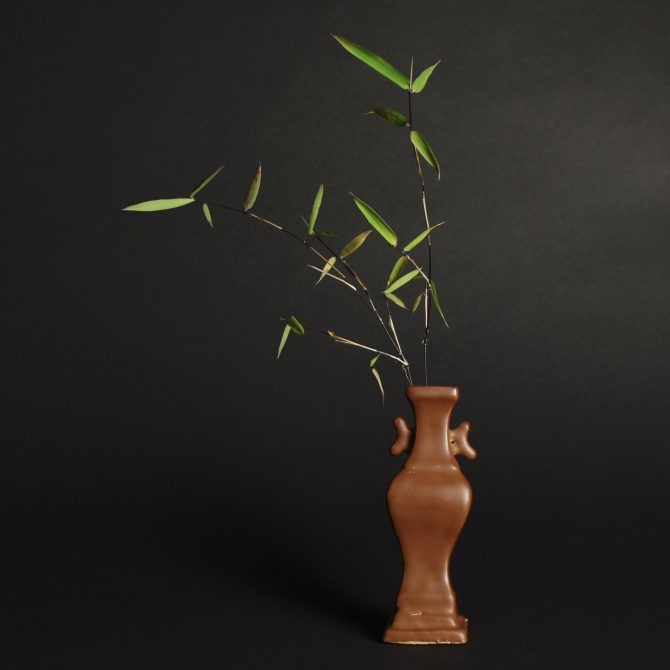 A Rare Ming Period Zijin Glaze Hu Vase
Ming Dynasty. Attributed to the Ming Interregnum Period, Zhengtong to Tianshun 1436 - 1464
A Rare Ming Zijin (purple-gold bronze) Glaze Hu Vase, attributed to the Ming Interregnum Period, Zhengtong to Tianshun 1436 – 1464, Jingdezhen Kilns, Jiangxi Province. This rare iron-oxide glazed vase relates to other small vases from the Ming Interregnum period, see below for two pairs of blue and white Mid-15th century vases of similar form. In recent years there have been pieces of 15th century Zijin (purple-gold bronze) porcelain excavated (see below for a stem cup, H. 10.6cm, D. 15.2cm, excavated from the Yongle strata at Zhushan in 2003). The present example shows typical 15th century traits. An example being the deeply cut foot, this shows sharp rough angular cut marks, no attempt to clean up the foot has been made and the base has been crudely lutted in. This brown glazed vase and the other small blue and white vases are very different to the refined Yongle fragmentary stem cup, they are perhaps Mingqi made for an alter in a tomb or at least a humble alter in a domestic setting. Glazed pieces with a similar colour are known in the Wanli period, however they have a very different look and finish. The construction is more in keeping with mainstream Wanli export ware but above all the glaze is quite different, it is very glossy and looks like a layer of coloured glass sitting on white porcelain. The present example has a rich almost matt glaze which is not in the least translucent.
SOLD
Condition

In perfect condition. Firing faults - it leans slightly, the glaze around the square foot shows gaps where the potter held the vase as he or she glazed it. There are further gaps in the glaze.

Size

Height 14.2 cm (5 1/2 inches)

Provenance

N/A

Stock number

25996
Information
A Pair of Ming Interregnum Porcelain Vases in the British Museum.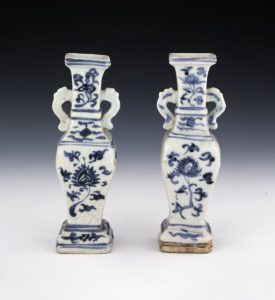 Harrison-Hall 2001:
"Contemporary bronze altar vessels inspired the form of these porcelain vases. A larger faceted bronze altar vase in the Victoria and Albert Museum, London, has six sides but is similar to the present porcelain examples in terms of having dragon-headed handles, pedestal bases and tiered construction. Two blue-and-white porcelain vases of this square form with similar handles were excavated from the tomb of Mme Cai (1405-41), wife of the scholar-official Wang Xi (1405-52), buried with her husband and his other two wives at Pingwu county, Sichuan province, in 1464.
The form of these vases and to some extent their decoration were replicated in porcelain decorated in the 'fahua' overglaze palette of turquoise, ink blue and white at Jingdezhen in the mid fifteenth century (see BM 1930.0719.5 and 6)."
A Pair of Ming Interregnum Vases - Robert McPherson Antiques.
A Pair of 15th Century Ming Vases, Ming, Zhengtong to Tianshun 1436 - 1464, Jingdezhen Kilns, Jiangxi Province. This pair of Ming Interregnum vases are of square form with a baluster body and flared neck and base. The decoration is in a rather uniform rich cobalt blue with a hint of black-grey. The design is of flowering lotus and Lingzhi and peaches. The handles, vaguely resembling dragons, are made using a one-piece mould, so they are moulded on one side only with the reverse being smooth. The front and the back of these vases displays one moulded side and one smooth. The square bases are recessed, they are roughly countersunk with blade marks clearly visible.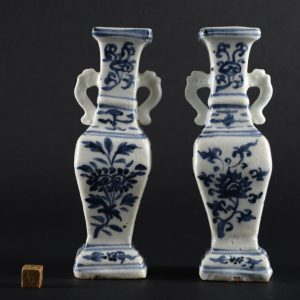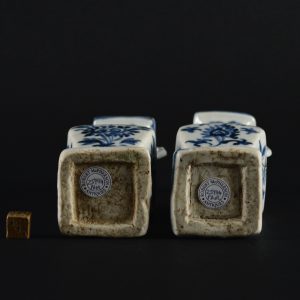 Ming Zijin (purple-gold bronze) Glaze