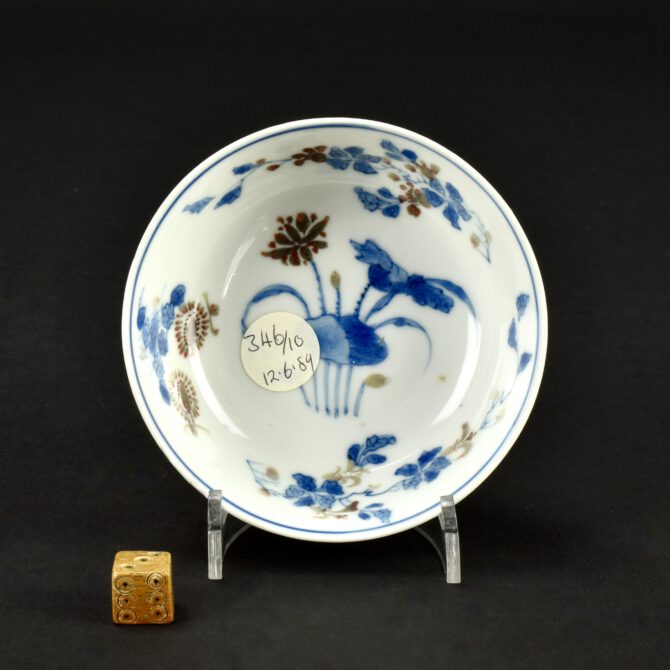 A Rare Ming Porcelain Bowl From The Peony Pavilion Collection
Ming, Wanli Period 1573 - 1620
A Rare Copper-Red and Blue Semi-Eggshell Ming Bowl, Wanli Period (1573-1620), Jingdezhen Kilns, Probably Late 16th Century. Apocryphal Xuande six-character mark to base Ming (1423-1435). This finely potted bowl is painted in tones of cobalt blue with strong copper-red pigment. The leading London Dealers, Marchant, in their catalogue "Seventeenth-Century Blue and White and Copper-Red and Their Predecessors" (see references), date the pair they had in 1997 to Wanli c.1590. This is early for Chinese porcelain made for Japan, but the dating does relate to other pieces of especially finely potted Kraak as well as other blue and white porcelain made at the end of the 16th century. The pieces I have seen from this period differ to the early 17th century Chinese porcelain made for Japan in that they lack the firing cracks, roughness, or tears to the body. Those firing faults were deliberate, making the piece and therefore the owner humble, more modest, in the Japanese tradition of Wabi-Sabi. The earlier pieces are quite different. This bowl is of very high quality, it has a fine silky-smooth glaze, the blue tones are carefully placed but most extraordinary of all is the quality of the copper-red. Despite being applied before glazing it is a very temperamental pigment to work with, it can fire with greens or have flecks of green, it can look dull, grey or even disappear completely. This can happen with the most experienced studio potters of our time, yet these ten Ming bowls from the Peony Pavilion Collection have an excellent even copper-red colour. Copper-red was only just being reintroduced at this period, after production stopped in the Mid-15th Century. The design consists of flowering lotus growing out of a pond or lake with sprays of prunus with cherries, flowering lily and chrysanthemum. So many Japanese designs are deeply connected to nature, showing a respect for living things, our interconnectivity with our environment and the small part we play within the natural world. Box not included.
SOLD
Condition

In excellent condition, a small amount of fritting.

Size

Diameter : 9.6 cm (3 3/4 inches).

Provenance

The Peony Pavilion Collection ; Chinese Tea Ceramics for Japan (c.1580-1650). Christie`s London 12th June 1989, lot 346, set of 10. From a Private Collection, this lot was purchased, this piece as well as many others, from the Christie's sale of 1989. I was able to buy the complete group from this private collection.

Stock number

25948

References

Published : The Peony Pavilion Collection ; Chinese Tea Ceramics for Japan (c.1580-1650). Christie`s London 12th June 1989, lot 346. For pair of very similar bowls, see : Seventeenth-Century Blue and White and Copper-Red and their Predecessors (Exhibition catalogue, S. Marchant & Son June 1997). They were formerly in the collection of Eugene O' Perkins and exhibited at the Phoenix Art Museum, Arizona between 1983-1988 . Another very similar bowl referred to as being from the Kangxi period was sold at Woolley and Wallis Auction, 17th of May 2022, lot 547, sold for £3,900 (Including commission and VAT). "A CHINESE UNDERGLAZED BLUE AND COPPER-RED BOWL KANGXI 1662-1722 The interior decorated with lotus sprays to the centre, encircled by floral branches at different stages of bloom, the underside decorated with two further foliage sprigs, the base with a six character Xuande mark, 11.2cm. Provenance: from an English private collection, London."
Information
From The Peony Pavilion Collection
Christie's Auction Catalogue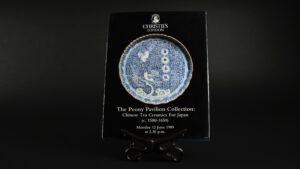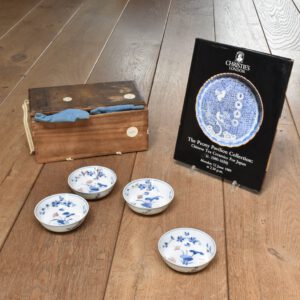 Sold Items From
The Peony Pavilion Collection
(See Our Sold Archive for more details).