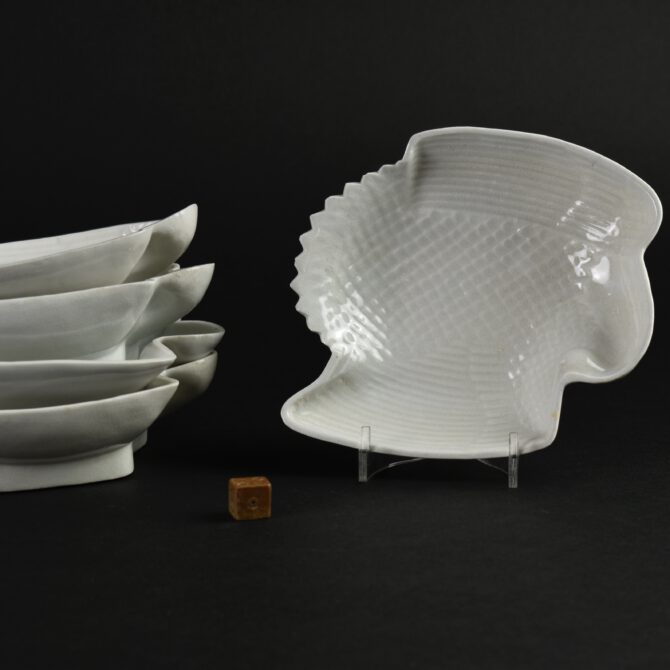 A Set of Five Japanese Porcelain Crane Shaped Dishes
c.1680-1740
A Set of Japanese Porcelain Crane Shaped Dishes, Arita Kilns c.1680-1740. These late 17th or early 18th Century white porcelain serving dish would have been made for the Japanese tea ceremony. They are mould-made, the porcelain is perhaps under fired resulting in the body being softer than normal. So they are more porous than they should be, resulting in a crazed surface and some have become lightly stained. They sit on a deep strait foot, the glaze has a green-blue tint to it. In the West sets are considered to be of even numbers, in Japan a set was normally composed of uneven numbers, five or ten. Dishes of this type exist in different sizes and models based on the form of a crane, therefore they are rather difficult to date precisely. The earliest versions date from the 1660s.
SOLD
Condition

One has several chips to the pointed tail feathers, the others have minute chips. The dishes are crazed and there is some minor light overall staining.

Size

Diameter 13.7 cm (5 1/2 inches) Width 12 cm (4 3/4 inches)

Provenance

N/A

Stock number

25607
Information
Red-Crowned Crane:
The Red-crowned Crane, Grus Japonensis, also called the Japanese Crane or Manchurian Crane, is a large crane and is now the second rarest crane in the world. The estimated population of the species is only 1,500 in the wild. Red-crowned Cranes breed in large wetlands in temperate East Asia and winter along rivers and in coastal and freshwater marshes in Japan, China, and the Korean Peninsula. In Japan, this crane is known as the Tancho.